Most expensive transfer no guarantee of success
For such an overstated situation, Massimo Moratti reduced it all to somewhat understated terms.

"Ronaldo is a costly present to Inter fans," the San Siro president said on the world-record transfer of the Brazilian from Barcelona in 1997. "I'm sure it will pay off."


Florentino Perez never qualified it in such a way. He had already quantified its value. On signing Luis Figo in 2000, the Real Madrid official readied a phrase he would effectively repeat on three other occasions. "He is, in my opinion, the best player in the world," he said. "As Real are the best club in the world, it's normal for the best player in the world to play for the best club in the world."

Such a pronouncement, perhaps, is what breaking the transfer record is really all about. It is a statement of a club's status, capabilities and future intentions. It is also a somewhat basic landmark for the economic landscape of the sport.

Given that the British game was up and running for far longer than so many elite leagues, it is no surprise that English clubs dominated the early history of the record. Outside the context of their time, though, many of the clubs that did so are eyebrow-raising. All of Sheffield United, Sheffield Wednesday and Falkirk have signed the most expensive player in the world once, while the likes of Manchester United, Liverpool and Bayern Munich have never done so. Sunderland's three, meanwhile, trump Newcastle United's two. The list is intriguing:

4 -- Real Madrid, Milan, Internazionale, Juventus
3 -- Napoli, Sunderland
2 -- Newcastle United, Barcelona
1 -- Lazio, Real Betis, Vicenza, Roma, Sheffield Wednesday, Preston North End, Derby County, River Plate, Arsenal, Falkirk, Blackburn Rovers, Sheffield United, Bolton Wanderers, Middlesbrough, Aston Villa

Having set 13 of the first 15 records, however, English clubs would do so again on only one more occasion. The move toward proper continental competitions such as the European Cup did not just mark a watershed in the game's priorities, but also the transfer market. Serie A held the record exclusively from 1952 to 1973, and thereafter only saw its ownership of the world's most expensive player interrupted for six of 27 years up until 2000. The peak of this, in the mid-60s, was known as "the lure of the lira" -- when the economic boom in the north of Italy allowed wealthy industrialists such as the Agnellis at Juventus and Moratti's father, Angelo, at Inter to indulge their pastimes and instigate arms races among the elite clubs.

Perez has followed a similar path in Madrid, if not exactly one set out at Real. The controversial purchase of Figo surprisingly marked the first time that the world's most successful club had bought its most expensive player. They have yet to relinquish the record, thereby only deepening Perez's design for what the club should be about.

The grand question about the purchase of Gareth Bale, of course, is whether he is a talent worthy of such a reported 100 million euros tag. This is to somewhat miss the point, because the record has not always been a reflection of the finest player in the world. Only four players have won the Ballon d'Or at the club which bought them at such a price, and only seven have claimed a Champions League in the five years after moving.

Much like the figures of the fees, such numbers do not really tell the full story. With the world transfer record, like so much in the market and as Moratti intimated in 1997, value is relative.

The question of whether the signings are actually worth it is more complex.

Here, we decided to analyse all of the record-breaking players from the moment when the Italian dominance was broken to judge whether they were successes or failures. (All figures below in pounds)

Johan Cruyff, Ajax to Barcelona in 1973, 922,000
A ground-breaking football figure in so many ways, Cruyff became Spain's first world-record transfer. There, he transformed the history of Barcelona by helping end a 14-year wait for the league title and putting in place the playing philosophy that would define the club. Won a Ballon d'Or in his second year.

Verdict: Success

Giuseppe Savoldi, Bologna to Napoli in 1975, 1.2m
A prolific ratio of 55 goals in 118 games saw Napoli win the Italian Cup and finish second in Serie A -- their highest ever finish until the next time they paid the highest ever transfer fee.

Verdict: Success

Paolo Rossi, Juventus to Vicenza in 1976, 1.75m
If Rossi's return to Juventus made his career, it was his move from there to Vicenza that made his name. This was one of those spells that involved individual glory in spite of collective failure. Rossi maintained a supreme strike rate with 60 goals in 94 games but couldn't prevent an eventual relegation in 1979.

Verdict: Success

Diego Maradona, Boca Juniors to Barcelona in 1982, 3m
Although Maradona's time at the Camp Nou wasn't quite the resounding failure that has been made out, it simply wasn't what was expected of such an exceptional talent. That would come. In the meantime, the Argentine suffered controversy and one long-term injury from an atrocious challenge, but countered it all with some exquisite moments and one Copa del Rey.

Verdict: Mixed

Diego Maradona, Barcelona to Napoli in 1984, 5m
This time, there was no equivocation or argument. Maradona arguably matched his feat with Argentina in the 1986 World Cup by driving Napoli to their first title in history before adding another as well as the UEFA Cup. The Stadio San Paolo saw a historically rare period in which the most expensive player in the world was undeniably its greatest.

Verdict: Success

Ruud Gullit, PSV Eindhoven to Milan in 1987, 6m
One of the marquee players of Silvio Berlusconi's marketing revolution, Gullit fully justified the outlay by winning Serie A and two European Cups in his first three years.

Verdict: Success

Roberto Baggio, Fiorentina to Juventus in 1990, 8m
If injury and then a sale prevented Baggio from enjoying Juve's peak between 1994 and 1998, he played a large part in putting them on that pedestal. The playmaker won both the UEFA Cup and the Ballon d'Or in a sensational first five years that would also earn him the enduring admiration of Italy.

Verdict: Success

Jean-Pierre Papin, Marseille to Milan in 1992, 10m
Although Papin scored 25 goals in 55 games over two years that saw Milan win two league titles and a Champions League, he never felt more than a peripheral figure and missed the 1994 final.

Verdict: Mixed

Gianluca Vialli, Sampdoria to Juventus in 1992, 12m
The captain of Juventus' 1996 Champions League-winning team.

Verdict: Success

Gianluigi Lentini, Torino to Milan in 1992, 13m
Thoroughly influential in Milan's run to the 1993 Champions League, the dazzling winger then suffered an injury that meant he never replicated the rousing form of that first season.

Verdict: Mixed

Alan Shearer, Blackburn Rovers to Newcastle United in 1996, 15m
Although Shearer couldn't end Newcastle's long trophy drought, that was not down to his failures. A total of 206 goals in 404 games made the £15m worth it.

Verdict: Success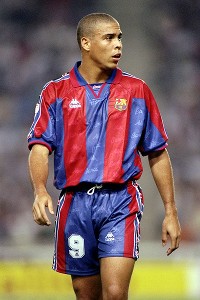 Shaun Botterill/AllsportRonaldo's 1997 transfer from Barcelona to Inter made headlines, but the Brazilian never won a Serie A title in five injury-prone seasons in Italy.
Ronaldo, Barcelona to Internazionale in 1997, 19.5m
If the issues following the 1998 World Cup meant Inter effectively lost Ronaldo for three and a half of his five years there, the historically excellent 1997-98 campaign and UEFA Cup illustrated his value.

Verdict: Mixed

Denilson, Sao Paulo to Real Betis in 1998, 21.5m
A thorough flop. Within two years of Denilson's sensational arrival, Betis were relegated as the forward himself was loaned back to Flamengo.

Verdict: Failure

Christian Vieri, Lazio to Internazionale in 1999, 32m
The Pope decried the transfer but Inter fans could not. Much like Shearer, Vieri couldn't deliver a trophy but did bring an awful lot of goals.

Verdict: Success

Hernan Crespo, Parma to Lazio in 2000, 35.5m
Another who fulfilled his individual obligation but couldn't compensate for the team. Crespo scored 48 goals in 73 games.

Verdict: Success

Luis Figo, Barcelona to Real Madrid in 2000, 37m
The first of the Galacticos, but also the most consistent.

Verdict: Success

Zinedine Zidane, Juventus to Real Madrid in 2001, 53m
The victorious volley in the 2002 Champions League final against Bayer Leverkusen was essentially what he was brought to Real to do.

Crowned Italian champions in their first season without Zidane's talents, Juve so nearly went one better a year later when they overcame their former talisman and his Real Madrid team-mates in a Champions League semi-final, only to lose on penalties against AC Milan at Old Trafford.

Verdict: Success

Kaka, Milan to Real Madrid in 2009, 56m
Immediately overshadowed by his successor, and often undercut by injury, he sadly never rose above the mediocre.

Verdict: Failure

Cristiano Ronaldo, Manchester United to Real Madrid in 2009, 80m
There can be no disputing that league title, that Copa del Ray winner or -- above all -- 201 goals in 200 games.

Verdict: Success