Selling Bale not the end of the road
Recent history provided a chastening warning for Tottenham manager Andre Villas-Boas as he headed into this summer's transfer trading, knowing only too well that he was working for a chairman who would ensure the journey towards the costliest transfer in football history would be long and arduous.


As he proved in the expensive transactions that saw Dimitar Berbatov join Manchester United for £30.75 million in 2008, the nonsale of Luka Modric to Chelsea in 2011 and his eventual £33 million departure to Real Madrid a year later, Levy is not a man to be hurried when a big deal is in the offing. Getting the right price in a transaction has tended to be prioritised ahead of the stability of the team, as Villas-Boas would have known only too well.

So when it became evident as early as mid-June that Real Madrid wouldn't take no for an answer in their pursuit of Gareth Bale, Villas-Boas and his highly respected sporting director Franco Baldini got on with their plans to create a fresh, and even more thrilling chapter in the club's history.

As a new-look Spurs side, featuring record signing Roberto Soldado, Brazilian international Paulinho, the highly rated French international Etienne Capoue and Belgian winger Nacer Chadli, took to the field for its Premier League opener against Crystal Palace, the distant presence of Bale could not be further from Villas-Boas' thoughts.

The general consensus seems to suggest that Tottenham have played this summer's transfer circus to perfection, with their near miss in the signing of Brazilian forward Willian the only blot on a copybook that Villas-Boas, Baldini and Levy have written with poetic brilliance, turning a crisis into an opportunity they have grasped with both palms. In the past few days, Argentine attacker Erik Lamela, Danish playmaker Christian Eriksen and Romanian defender Vlad Chiriches have also signed on while the Bale deal was completed.

While losing a player of Bale's extravagant talents can hardly be celebrated by Spurs supporters -- especially after a 1-0 defeat to Arsenal this weekend -- they can feel content that their club have shown suitable ambition in a summer when they have been forced to trade their leading light. Football folklore confirms that the sale of Bale could well be the start and not the end of a glorious era for the north London club.

The departing superstar may well be noted in the history books as one of the finest players to have played for Tottenham, yet selling your greatest player does not always mean disaster is an inevitable byproduct, with the tales of these heroes of past and present confirming as much.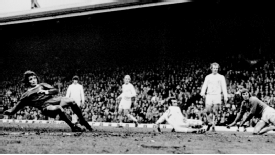 GettyImagesKevin Keegan joined German side Hamburg after life at Liverpool.
Kevin Keegan (sold by Liverpool to Hamburg in 1977)

Keegan was the hero of the Anfield faithful when he made the shocking announcement that he wanted to leave the club in 1977, yet his desire to test his skills on foreign shores saw him take the plunge and join German side Hamburg.

The idea that a replacement was waiting in the wings for this attacking dynamo seemed implausible, but a youthful and quietly spoken Scot by the name of Kenneth Mathieson Dalglish was given his chance to step into Keegan's boots. King Kenny ended up becoming Liverpool's greatest in the club's most glorious era.

Ian Rush (sold by Liverpool to Juventus in 1987)

Rush had a curiously elongated farewell to Liverpool as he agreed to join Juventus in the summer of 1986 and had a final season on loan with the Anfield club before finally making the move to Turin.

Liverpool's solution to replacing the goal machine, who was eager to sample pastures anew, was to sign a lookalike who proved to be even more prolific than the hero he replaced, with Scouser John Aldridge more than capably filling Rush's boots at Anfield. In fact, it was only when Rush returned and Aldo was edged out of the club that their decline began in earnest. How the mighty fall.

Diego Maradona (sold by Barcelona to Napoli in 1984)

There was little doubt that Maradona was a majestic talent and his record of scoring 38 times in 58 games for the Catalan club confirmed as much, but his uncertain temperament and injury-prone tag meant he was considered to be surplus to requirements in the summer of 1984.

While the Argentine genius went on to become the world's greatest player at Napoli, Barcelona thrived without him, as Englishman Terry Venables guided the club to the Spanish title in the first year post-Maradona and then to the European Cup final a year later, where they lost on penalties to Steaua Bucharest.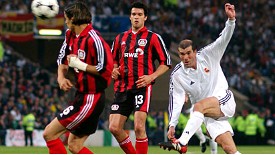 APZinedine Zidane strikes his famous goal in the 2002 final
Zinedine Zidane (sold by Juventus to Real Madrid in 2001)

A world record transfer fee of £46 million saw Zidane make the move from Italy to Spain 12 years ago, and while Champions League glory was to be the majestic Frenchman's reward in his first season at the Bernabeu, the team he left behind didn't do too badly without him.

Crowned Italian champions in their first season without Zidane's talents, Juve so nearly went one better a year later when they overcame their former talisman and his Real Madrid teammates in a Champions League semifinal, only to lose on penalties against AC Milan at Old Trafford.

Mark Hughes, Andrei Kanchelskis, Paul Ince (sold by Manchester United in 1995)

Sir Alex Ferguson appeared to be embarking on a foolhardy mission when he sold a raft of senior, proven performers and replaced them with a clutch of youngsters in the summer of 1995.

Losing the Premier League title to Blackburn the season before meant heads had to roll, yet few suspected his decision to offload Hughes, Kanchelskis and Ince and replace them with raw talents like David Beckham, Paul Scholes, Gary Neville and Nicky Butt. A Premier League and FA Cup double proved the cynics wrong.

Ronaldinho (sold by Barcelona to AC Milan in 2008)

This brilliantly unpredictable Brazilian was showing signs of wear and tear in his final season at Barcelona, but this was a No. 10 who had dominated the Nou Camp for five glorious years.

Still only 28 at the time, this was a lavishly gifted talent who appeared to have so much more to offer, yet Barcelona knew they had a platinum generation of talent exploding through their ranks and needed to remove Ronaldinho from the spotlight to ensure the new kids on the block got their chance. The decision was justified time and again in the years that followed.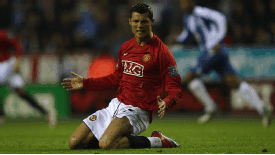 GettyImagesCristiano Ronaldo became an Old Trafford icon during his six-year spell at Manchester United
Cristiano Ronaldo (sold by Manchester United to Real Madrid in 2009)

The flags could have been lowered at Old Trafford as a player who had flourished into one of the very best in the world realised his dream and joined Real Madrid. While the £80 million offer from Real Madrid was a valid reason to sell this Portuguese maestro, all at United appreciated that they had sold a player who was irreplaceable.

Yet Ferguson brushed off the departure of his prodigy and proceeded to win Premier League titles in 2011 and 2013, while also reaching the Champions League Final in 2011. Life after Ronaldo may not have been as much fun, but it wasn't so bad after all.

Zlatan Ibrahimovic (sold by Inter Milan to Barcelona in 2009)

Inter boss Jose Mourinho was Ibrahimovic's biggest supporter as he succeeded in managing his talents and ego at Inter, yet he turned the loss of his star to Barcelona into a positive when he acquired Samuel Eto'o as part of the deal.

Roll the clock forward less than 12 months and Mourinho was dancing around the Nou Camp after dumping Barcelona and Ibrahimovic out of the Champions League at the semifinal stage. Two and a half weeks later, he was a European champion all over again.