Bale ready for burn of the Bernabeu spotlight
The Premier League has lost its premier talent. La Liga's galaxy has another shining star. Continental drift from England to Spain continues.

Footballers rarely turn down the chance to join Real Madrid or Barcelona. Gareth Bale proved no different. The key difference is that this is a British talent heading to Spain. That type of thing has not been happening for a decade or so, though Bale's ability has always stood him apart from his fellow Britons.


Comparisons with Cristiano Ronaldo in 2009 are obvious. The selling club has received an offer too good to turn down and traded in its prime player. Manchester United managed to stay at the top of the English game, but their position was one of far greater strength than Tottenham's current perch.

And Ronaldo, at a very similar age, was a player of far greater achievement than Bale. When Real's interest hardened into financial reality, they were buying the player in possession of the Ballon d'Or, second only to Lionel Messi in what his talent could achieve. Yet Bale has cost more, to the bemusement of many, including Ronaldo himself. The pressure to deliver will be immediate, though Bale has confidence in his footballing abilities to belie a quiet demeanour.

Daniel Levy, Willian saga excepted, has all but spent the Bale cash already. Paulinho, Roberto Soldado, Nacer Chadli, Erik Lamela, Etienne Capoue, Christian Eriksen and Vlad Chiriches is a massive haul, and it seems like a sensible policy on Levy's part. After all, the Bale money would place a premium on incoming deals.

Can Spurs be as good without Bale as they were with him? It seems unlikely. He carried them on his shoulders to the brink of the Champions League last season. He won match after match for them, playing some games when clearly injured. Sometimes just having Bale on the pitch was enough to get the job done.

Managing without Bale will be proof of Andre Villas-Boas as a Premier League manager. At times, Bale made the job easy, but ultimately, fourth place was missed out on. That made it inevitable that Bale would go. Close-run failure led directly to Bale's new status as the world's most expensive footballer.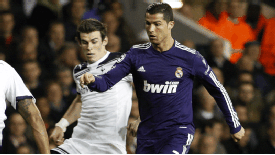 GettyImagesHow Gareth Bale and Cristiano Ronaldo fit into the same team will be a conundrum for Carlo Ancelotti.
Ronaldo was convinced to stay one more year by Sir Alex Ferguson. Villas-Boas did not manage the same, and the suspicion is that Levy would not have been offering his support. Only this summer would such a deal be on the table. Spurs are not Manchester United; this type of money can build the foundations for years to come. It simply could not be turned down.

The reason for Real's splash lies in their attempt to keep up with Joneses at the Camp Nou. Barcelona landed Neymar and Real needed someone equally stellar. The signing of Isco landed them a playmaker for the next decade; Asier Illarramendi can be their next Xabi Alonso. Such cogent team-building is still not enough. The ego-driven space race of the rivalry between Real and Barcelona means that stars must be reached for. Bale is the latest astronaut to be launched.

In England and in Spain, doubts persist about Bale's ability to adapt. The likes of Ronaldo could settle well within familiar Iberian surroundings. While Ronaldo had become used to the celeb lifestyle to the point of partying in LA with Paris Hilton, Bale is a homely young man, father to a toddler. Harry Redknapp used to joke that he would offer Bale time off to go abroad and the player would instead go back to his mum in South Wales.

But such images mask the high ambition of a player who has been readying himself for greatness since Southampton spotted him when he was barely into his teens. He has lived away from home surroundings for nearly a decade. Whereas predecessors in prodigy like Ryan Giggs stepped aside from the chance to go continental, Bale has spoken of wanting to play for the world's biggest club since he was an apprentice. Moving to Madrid is the achievement of a long-held dream, another echo of Ronaldo's reasons for joining Real.

Though they are very different people, Bale might spare some thoughts for his new team-mate. They seem to play from a rather similar position. The talk suggests that Ronaldo will be shunted to the centre of attack to accommodate Bale, which might not sit easily with the previous incumbent. And then there is the fact that the dream move, for all the goals and the money, has hardly been a bed of Ronaldo roses. He has never seemed as happy as he once was at Manchester United. He is not adored, not indulged in the same way.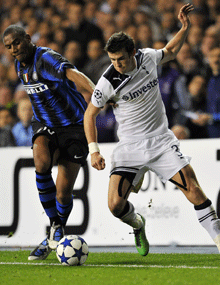 GettyImagesGareth Bale's devastating displays against Inter Milan in the 2010 Champions League saw Europe's elite sit up and take notice of his talent.
Real are signing a player of devastating ability. When Bale set into a defence with attendant pace and athleticism, very few Premier League defenders offered a valid answer. Spanish football, beyond the big two and a few teams competing for Europe, can offer a chance to improve an already impressive goal tally. Messi and Ronaldo, neither of whom are strikers in the classic sense, have made merry hell, breaking record after record.

How Bale copes in the pressure cooker of a title challenge which is nothing if not a two-horse race remains to be seen. On the opening day, Barca's blitzkrieg at Levante had the hammer down on Real even before they had made their first competitive kick of the season against Betis. These are inestimably higher stakes than the Premier League's race for fourth.

No Tottenham player had blown apart teams in the fashion Bale did since Paul Gascoigne. And Gascoigne never destroyed the reigning European champions in the fashion of Bale against Internazionale in the winter of 2010; Maicon's career has never fully recovered from the disembowelment he received from Bale.

Since those twin acts of glorious destruction, Bale has been on the radar of Europe's great and good. Until now, Tottenham's pricing had always been too prohibitive. Real Madrid -- where paying over the odds is almost a symbol of an aristocratic difference to everyone else -- were the only club who would pay so handsomely. Their largesse has converted a dream into an impossibly expensive reality.