The tyranny of the Champions League
It is the prize that elite players and managers crave; it is a franking of true greatness. It has made domestic football a far less level playing field as the years have drawn on. It also holds the key to success in the transfer market.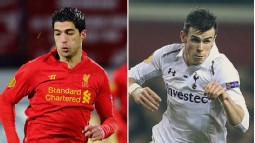 Getty ImagesLuis Suarez and Gareth Bale have been looking for summer moves that will provide them with Champions League football.
Arsenal have made Champions League qualification their be-all and end-all, their raison d'etre. An entire campaign rested on a match just four days into their 2013-14 season. Victory at Fenerbahce breathed oxygen into a club already on a life-support machine. All for a trophy that Arsenal have next to no chance of actually winning. Still, the gap of their advantage going into the second leg allowed them extra time to land transfer targets that Arsene Wenger had previously omitted to think of.

Battles for fourth can keep a season interesting, as they did last season when Spurs and Arsenal were going toe-to-toe into the final day when the title had long been secured and relegation was all but decided. A glance at the final-day scenes of desolation at White Hart Lane, and those of joy among Arsenal players at Newcastle, tells much of the importance attached to finishing fourth. In the boardroom, Stan Kroenke and co were on their way to an integral revenue stream. This was football glory in its modern sense.

At its apex, the quality of Champions League football is higher than anything else available on the planet. Last season's knockout rounds were truly thrilling, from Real Madrid's victory at Old Trafford to Bayern Munich's decapitation of Barcelona, to Borussia Dortmund hanging on for dear life in the Bernabeu. This is blue-chip football, envied, admired and consumed ravenously across the world.

Participation has become shorthand for the aspirant megastar. No player truly worth his salt can absent himself from the competition. The Champions League has become an acceptable and valid reason for departure. Luis Suarez and Gareth Bale can depart from their current clubs because they are not in the competition. Loyalty is such a foreign country to football that it hardly seems to matter that both players were part of teams that failed to reach their targets.

The one thing widely agreed about Suarez's much-disputed buyout clause was that only clubs in the Champions League were able to discuss a transfer with Liverpool beyond the £40 million threshold. Liverpool, English football's most prolific conqueror of Europe, are forced to admit in a legal document that their inability to guarantee the Champions League leaves them vulnerable to having star names picked off.

Absence from the competition since the 2009-10 season has damaged Liverpool to the point of almost no return. The elastic band of their absence has been stretched to breaking point. Fenway Sports Group bought the club three years ago with the expectation of a swift revisiting of the Champions League. Under Kenny Dalglish and now Brendan Rodgers, transfer spending has been heavy, yet not heavy enough. This summer, the spending has not been quite so heavy. Fenway's financial plan was geared on the Champions League. They will not keep spending beyond their means.

Liverpool supporters no longer look up to the top of the table as they did as recently as four years ago. Instead, they weigh up the credentials of their rivals for fourth place. Only when fourth has been secured can a tilt at the title be consequently considered. Only with Champions League football would they be able to attract the players good enough to win the Premier League.

"The club has a responsibility to attract top players and to make all our jobs easier in trying to get back in there," said Steven Gerrard rather pertinently earlier this month. "I know they are trying their best to do that but what we have to accept is that there are other big clubs out there offering big money, and if they bid more than you there is nothing you can do."

The big clubs with big money that have attracted Liverpool's targets are invariably in the Champions League. Henrikh Mkhitaryan chose Dortmund over Merseyside, even though the Bundesliga club will be paying lesser wages than Liverpool offered the Armenian. The modern Champions League meant there was nothing Liverpool could do. Foreign stars are far less aware of history, legacy and tradition. Instead, they think of which teams are in the group stages and beyond.

"Every player who wants to join us, first question is, 'Do you play in the Champions League or not?' Simple as that," said Wenger on Friday.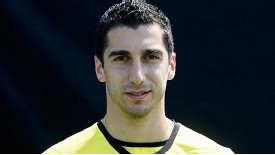 GettyImagesHenrikh Mkhitaryan opted for Champions League runners-up Dortmund ahead of five-time European Cup winners Liverpool.
Last weekend saw Scouse excitement perked into paroxysms when they headed the queue for Anzhi Makhachkala's Willian. Disappointment soon descended when Spurs jumped in front. Living in London over Liverpool was seen as the probable reason, though other thinking suggested players might now favour Tottenham because logic and probability dictates that they are more likely to be playing Champions League football in the near future than Liverpool are.

And then came Chelsea's mischievous bid for a Brazilian who few see them actually needing. Whatever the tactical logic behind landing Willian, Chelsea held the ace of the Champions League. Willian may have chosen the roubled Europa League charms of Anzhi Makhachkala in January instead of Shakhtar Donetsk, but he seems unlikely to repeat the same this summer. Chelsea could arrive late into the process and wave their trump card. The conclusion of Chelsea's gazumping seemed almost inevitable.

Which leaves the likes of Arsenal, Spurs and Liverpool to fight for fourth. Fourth, previously a false ceiling of success, has become the second-greatest prize in English football. Wenger has admitted he would swap fourth for the FA Cup; Dalglish lost his job despite winning silverware with Liverpool. His team's challenge for fourth had not been strong enough for Fenway to accept. Fourth is the gateway to financial security and the higher reaches of the talent market.

The Champions League has a tyrannical hold on England's domestic league. Absence can rip the heart from a club, and destroy its status as a destination of choice.