Top Tenner: Jose Mourinho feuds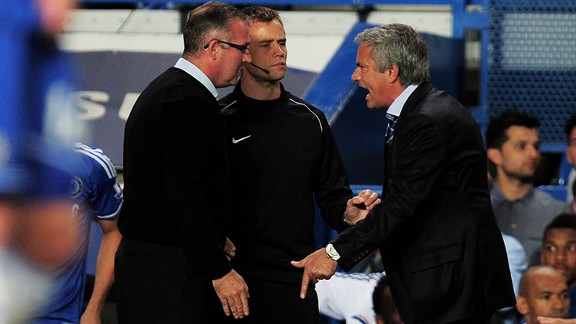 GettyImagesAston Villa's Paul Lambert is the latest manager to feel the wrath of Jose Mourinho.
10 -- Sir Alex Ferguson:
Before they were best pals, chuckling about dodgy Portuguese wine, Sir Alex Ferguson and Mourinho had words. The enduring image of the 2004 Champions League second round was Mourinho bounding down the Old Trafford touchline, but in the first leg Roy Keane was sent off in for "stamping" on Vitor Baia, about which Ferguson was extremely displeased. We would become accustomed to the manner of Mourinho's response. "I understand why he is a bit emotional," he said. "You would be sad if your team gets as clearly dominated by opponents who have been built on 10 percent of the budget."

9 -- The managers of Italy:
Mourinho was clearly a busy man while in Italy, because rather than taking the time to argue with his contemporaries individually, he managed to insult them all in one news conference. After a disputed penalty gave Inter a 3-3 draw with Juventus, Mourinho railed against Roma's Luciano Spalletti, Juve's Claudio Ranieri and Milan's Carlo Ancelotti, accusing them of "intellectual prostitution." Mourinho repeated that his rivals had won "zeru tituli" (zero titles) several times, which would become a catchphrase due to Mourinho's mispronunciation.

8 -- Manuel Pellegrini:
Sometimes Mourinho's arrogance is entertaining, but often it is simply crass and unnecessary. Mourinho succeeded Pellegrini at Real after the Chilean was sacked despite accruing a record points total, eclipsed only by a Barcelona side at their peak. Ahead of the first encounter with Malaga, Pellegrini's new club, Mourinho said: "Second place is just the first loser. If Madrid were to fire me, I wouldn't go to Malaga. I'd go to a top-level team in Italy or England."

7 -- Arsene Wenger:
When you or I think of a "voyeur," it's probably a chap with a telescope and impure intentions, but not to Mourinho. In the aftermath of Ashley Cole's move from Arsenal to Chelsea, Mourinho became annoyed by Wenger's "obsession" with Chelsea - "a voyeur," he called him. Indeed, Wenger very nearly took legal action against his foe, before balking at English lawyers' fees. "They say 'Hello' and it's £100,000 before they shake your hand."

6 -- Stephen Hunt:
An innocuous collision that led to an unfortunate injury. That's how most people saw Hunt's collision with Petr Cech that would fracture the Chelsea keeper's skull, but not Mourinho. He compared it to Ben Thatcher's assault on Pedro Mendes, accused Hunt of deliberately hurting Cech and "laughing right in front of us" afterward.

5 -- The people of Barcelona:
It seems that in football, and especially when it comes to Barcelona, the most hated ones are those who were once your own. During Luis Figo's first game back at the Nou Camp following his move to Real Madrid, a banner read "We hate you so much because we loved you so much." Catalonians may not have loved the man who was assistant to Bobby Robson and Louis van Gaal, but boy do they make clear their contempt for the man they still call "The Translator."

4 -- Pep Guardiola:
Toward the end of his time at Barcelona, Pep Guardiola looked like a broken man. Gaunt, tired, at least 50 shades grayer, he needed that sabbatical. Partly this was of course the natural erosion of the spirit that happens to any manager of Spain's big two, but it also had plenty to do with having to tolerate two years of constant sniping, chipping and other assorted forms of unpleasantness. Speaking of which ...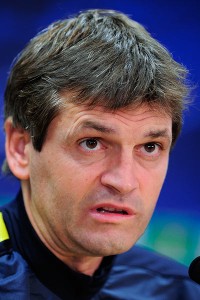 Getty ImagesJose Mourinho and Tito Vilanova shared a frosty relationship in La Liga.
3 -- Tito Vilanova:
In the 2011/12 and 2012/13 seasons, Real Madrid and Barcelona played each other 11 times. Perhaps Mourinho was worried the games were going to get monotonous, that familiarity would lead to apathy. That could be the only rational explanation for creeping up behind then Barca assistant Vilanova and gouging his eye, a move not even allowed in UFC. Jose had apparently become irked by, of all things, ball boys (or lack thereof), branding Barca a "small club" for allegedly employing time-wasting tactics. Mourinho has since apologised, and wrote a very nice message of support when Vilanova underwent treatment for cancer.

2 -- Rafael Benitez:
A feud that doesn't particularly have one defining moment, but rather one that has been a constant presence over the years. Mourinho has seemed to hover over Benitez like a German zeppelin over London in the 1930s, menacing and omnipotent. Whatever the opposite of a spirit animal is, that's Mourinho to Benitez. You almost think Mourinho will take the Liverpool job at some point, win the league, then saunter off, a "This Is Anfield" sign tucked under one arm then casually tossed into a bin, just for laughs.

1 -- Anders Frisk:
This is probably the most unpleasant of all the spats, because it led to a man being forced out of his job. Mourinho accused referee Frisk of meeting with Barcelona (them again) manager Frank Rijkaard during halftime of a Champions League game, something both men denied. Things got really unpleasant as Frisk received death threats, causing him to retire prematurely from the game. UEFA's refereeing chief, Volker Roth, called Mourinho an "enemy of football," and in this instance, it's hard to argue.