Scott Sinclair: A swift, stark fall from grace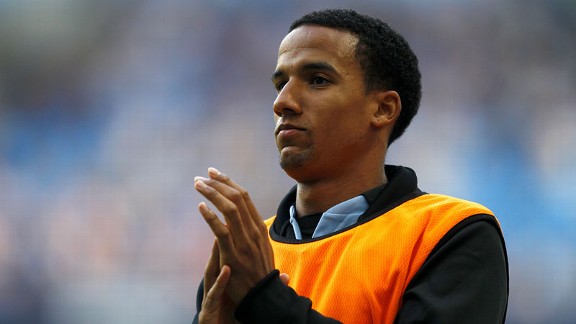 PA PhotosScott Sinclair was unable to make any kind of impact during his solitary season at Manchester City.
"I felt it was time for me to have a challenge and go back to a world-class team. It's going to be great for my development as a player." -- Scott Sinclair, September 2012.

Seen again 11 months on, Sinclair's first interview as a Manchester City player makes painful viewing. It's not that the questions are particularly difficult or the answers especially revealing -- it is simply that the early optimism of a new recruit proved so misplaced so quickly, and that the flaws in the club's thinking were apparent so soon after his £6.2 million move from Swansea.

For a long time, Steve Daley -- an unexceptional midfielder strangely made the British record signing in 1979 -- was a byword for City's transfer market mistakes. Now it is Sinclair. He was not as well-paid as Wayne Bridge, as expensive as Roque Santa Cruz or as uncoordinated as Jo, who squandered far more of Sheikh Mansour's millions, but the speed with which his dreams turned to dust gives Sinclair an unwanted status among the failures.

The reality is that, while he has just joined West Bromwich Albion on a season-long loan, his City career was over inside a month. That month brought both his league starts, the latter of them curtailed at half-time. In October, November, December, January, February, March, April and May, Sinclair played a grand total of 69 minutes of Premier League football. He did begin a Champions League dead rubber, but wasn't even trusted to start FA Cup ties at home to Championship opposition.

At first, he was City's forgotten man -- no one bothered to ask Roberto Mancini about him before Swansea visited the Etihad Stadium, for instance -- and then, perversely, his absence raised his profile. If City had 19 fit senior players, one wouldn't get on the bench: Sinclair. If they had four experienced outfield replacements, one wouldn't come on: Sinclair. With every snub, he became more prominent.

He wasn't disliked, just distrusted. "It's not his fault, it's my fault," Mancini said in May. "Scott is a good guy," he would insist. Just not, the implication was, a good enough footballer.

He became the personification of a failed policy. City refused to spend on superstars last summer and ended up with the substandard, with the notable exception of Matija Nastasic. It was, they have since concluded, a false economy. Twelve months ago, they bought late, frantically signing players to fill up the squad, and then discovered that most of them weren't good enough to get into the team.

Indeed, there wasn't even a spot in the side for a player of Sinclair's type. The winger was an endangered species in Mancini's reign -- Adam Johnson, frustrated at representing Plan B, decamped to Sunderland. Yet Johnson still made 26 league appearances in the title-winning campaign, albeit often as a substitute. He was often involved. Sinclair was usually ignored.

If Johnson, like Scott Parker and Shaun Wright-Phillips at Chelsea, belongs in the category of the young Englishmen whose willingness to join a top club and confidence in their own ability blinded them to the potential problems, Sinclair's fall from grace was swifter and starker. Many have to beat a retreat to the mid-ranking clubs; few are chewed up and spat out so soon.

He is rare, too, in making the same mistake twice. After three years on Chelsea's books, during which he barely featured and spent much of his time out on loan, he nonetheless signed for a second club where first-team football rarely looked likely when the likes of David Silva, Samir Nasri and James Milner were around.

West Brom, with a reputation for astute recruitment, may be the place to rehabilitate him, just as Swansea, another homely and well-run club, brought the best out of him. The interest from several other members of the Premier League -- Southampton, West Ham and Crystal Palace among them -- is confirmation that he still has admirers. Yet it is undeniable that Sinclair's fortunes nosedived in a chastening year.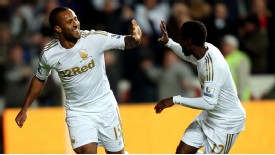 PA PhotosWayne Routledge and Nathan Dyer continued to impress at Swansea as Sinclair was marginalised at City.
It was not merely that City did not need him -- it was also that Swansea never missed him. Damning comparisons were drawn with Nathan Dyer and Wayne Routledge, the wingers the Welsh club kept and whose dynamism helped them win the Capital One Cup. Indeed, it was not unusual to hear someone suggest that Mancini's error had not been in raiding the Liberty Stadium but in picking the wrong wide man.

And while his successor, Manuel Pellegrini, has offered a second chance to many of those who were disillusioned under the outspoken Italian, it has long been apparent that everyone concluded Sinclair would be best served by moving on.

City are playing with an out-and-out winger again, but Jesus Navas -- a more expensive, early signing, a player who topped his manager's shortlist, and a World Cup winner -- is everything Sinclair is not. And that, for any City recruit, has to be the aim -- to prove the opposite of Sinclair.