Riches of a glorious production line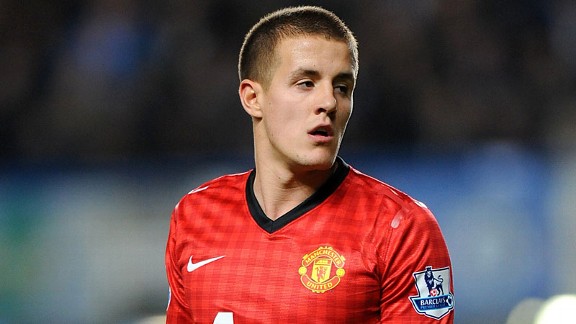 PA PhotosScott Wootton has been moved onto Leeds in a successful deal for both parties.
Amid talk of Wayne Rooney and Cristiano Ronaldo, of Cesc Fabregas and Thiago Alcantara, of Leighton Baines and Marouane Fellaini, Scott Wootton almost went unmentioned. The supposed and proposed incomings at Manchester United revolved around rather grander figures than a reserve-team defender.

But if it is easy to overlook Wootton, his £1 million move to Leeds has a significance that stretches far beyond the loss of a fringe player. Rather, this was the latest indication of one of the more lucrative sidelines of a multimillion-pound business. Just how lucrative became apparent last year. The demands of the financial markets have occasional benefits. Over the years, few specialised in secrecy quite like United, but last summer's IPO (initial public offering) to the New York Stock Exchange prompted them to be unusually open.

- Wootton joins Leeds
- Okwonga: Rethinking transfer business

And it was then, at a roadshow presentation to prospective investors, that chief operating officer Michael Bolingbroke, not a man known for his public pronouncements, revealed more about one of United's more profitable revenue streams than Sir Alex Ferguson would ever have dreamed of doing: United expect to bank between £5 million and £10 million every year, he said, by selling graduates of the club's academy.

It must make them the envy of many another club. On average, they expect to make enough money in a season to fund the arrival of, say, Javier Hernandez, who cost £6.9 million (or, less usefully, the £7.6 million misfit Bebe). Or a transfer such as Robin van Persie's £24 million move from Arsenal can be financed every three or four years because of the academy.

And that is not its primary purpose. It is impossible to say how many of United's 20 titles would not have been won but for the two golden generations of homegrown players, the Busby Babes and Fergie's Fledglings. It is also pertinent that the finest products to roll off the production line were not designed for sale: rather than being traded for sizable profits, Ryan Giggs, Paul Scholes and Gary Neville have gone on to play 2,263 times for United between them. No money has been recouped, but they have saved the millions it would have cost to buy players of their pedigree.

Their fellow fledgling, David Beckham, has proved a money-making business who has transcended football. Because of his marketing value, the £25 million Real Madrid paid for the midfielder in 2003 still represented a bargain. Compared to the proceeds of other sales, his fee may represent an outlier, one that can distort the figures, but United have benefited from the departures of several long-serving players. Between them, Nicky Butt and Phil Neville brought in £6 million; Wes Brown and John O'Shea, who both signed for Sunderland after making a combined 755 appearances for United, garnered a similar sum.

Yet the proof that there is no more prolific youth system comes from those barely featured in the first team under Ferguson. There are Championship clubs or lower-ranking Premier League teams with whole contingents of United alumni.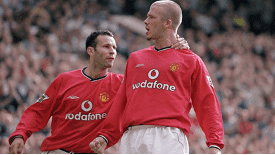 GettyImagesThe success of Manchester United's youth system was most evident during the rise of Ryan Giggs, David Beckham and co.
In recent years, Stoke have selected Ryan Shawcross, Danny Higginbotham and Danny Pugh. Sunderland, with former United captains Roy Keane and Steve Bruce among their managers, have included Brown, O'Shea, Phil Bardsley, Paul McShane, Fraizer Campbell and Kieran Richardson.

Drop a division and consider the Hull team promoted to the top flight last season. Seven have a background at Old Trafford: Ben Amos, who was on loan; Alex Bruce, who was released at 16; and five more -– Robbie Brady, James Chester, Joe Dudgeon, McShane and Cameron Stewart –- who commanded a fee.

Playoff semifinalists Leicester featured a further five: the borrowed pair of Michael Keane and Jesse Lingard, and Ritchie de Laet, Daniel Drinkwater and Matty James, all transferred permanently. The second tier is populated by players such as Wootton, Ipswich's Lee Martin, Blackpool's Craig Cathcart, Huddersfield's Oliver Norwood, Burnley's David Jones and Blackburn's Josh King, who passed through Old Trafford en route to less glamorous destinations.

Few of the fees are huge but most are nonetheless in six or seven figures; Wootton, unconvincing in his four first-team appearances for United, is a case in point, rendered more expensive because of the quality of his education. And collectively they add up in what has become a self-perpetuating business: United take in large numbers of youngsters, lured by the club's standing and status as well as the promise that, unlike at Chelsea, there is a path to the first team for the most promising and the likelihood of a good career elsewhere if they do not make it. Other clubs sign them on the assumption they have been schooled properly. Sometimes, indeed, they overvalue them because of an upbringing at United: Simon Davies, a teammate of Beckham in the Champions League, made a swift descent through the divisions.

That does not deter other buyers. United keep on churning out players, whether local lads or those acquired at an early age from elsewhere, and selling them on. In all probability, that is where the future of Ryan Tunnicliffe, Will Keane and Lingard lies; the chances are they will not get the first-team chances afforded to Tom Cleverley and Danny Welbeck, two who, if David Moyes wished to get rid of them, could render the academy still more profitable.

And United are increasingly expert at maximising their turnover. It is now up to £367 million but while they embark on a worldwide search for commercial allies, to find an official paperclip partner in Papua New Guinea and a trouser media sponsor in Seoul, they have long excelled in monetising one part of the football industry: producing players.