How do you put a value on a guy like Gareth Bale?
As I write this, the deal to bring Gareth Bale to Real Madrid may or may not be done. One of the most respected transfer reporters out there, Gianluca Di Marzio, reported on Tuesday that an agreement had been reached, but as of right now, there is no confirmation.

Yet whether it happens or not, the numbers discussed -- $145 million or thereabouts -- are staggering. As such, it's as good a time as any for a reflection on how you value a player like Bale and the factors you might consider.

The starting point is how much better he would make Real Madrid and whether you can put a value on it: the benefit part of the cost-benefit analysis. Because we're dealing with numbers, you'd look at it in terms of revenues. What added revenue can Bale bring?

Prize money
This one's quite straightforward. If Bale helps Madrid advance further in the Champions League, the club will earn more prize money. Last year they reached the semifinal, whereas in previous seasons they didn't go past the round of 16. Bale is 24 years old; you figure that if he does well, he'll stick around for seven or eight years. So you try to put a number on how much better he'll make Real Madrid in the Champions League during that time frame and what that will yield in prize money.

Note that domestically prize money is not really an issue because Real Madrid have a big guaranteed TV contract. So Bale's impact won't really be immediately felt there. But when the deal expires in 2015, if Bale makes Real more popular and appealing than they already are and the club can secure a bigger contract, you'd want to factor that in.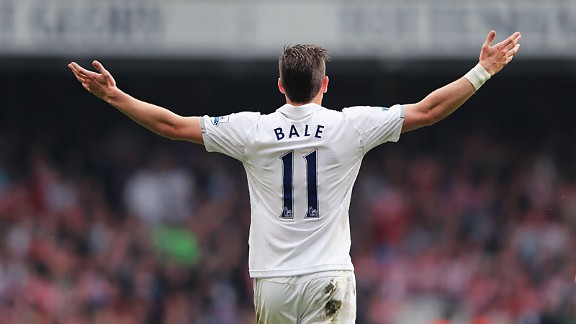 Ian Walton/Getty ImagesIs Gareth Bale a big enough star to sell millions of shirts at Real Madrid? This is just one question Florentino Perez must consider.
Box office
Real Madrid drew nearly 70,000 a game in La Liga last season. There's room for 15,000 or so more per game at the Bernabeu, and of course, ticket prices can be increased, both for the average fan and corporate visitors. How much of an impact will Bale's presence have? If Real Madrid become more successful, they'll draw more (and be able to charge more), so the concept really is extrapolating how much Bale's presence alone contributes here.

Merchandising
Real Madrid president Florentino Perez loves to make a big deal out of this, citing the millions of David Beckham and Zinedine Zidane shirts the club sold over the years. It's tempting to figure that if you sell a million shirts at, say, $80 a shirt, that's $80 million right there. But, in fact, it doesn't work that way. For every Bale jersey sold, you have to ask yourself this: Is the purchaser a Real fan who, if Bale hadn't signed, would have bought a shirt anyway, just with another player's name on the back? Or is it someone who bought the Bale jersey only because of Bale?

(In the case of Beckham, both in Madrid and, especially, the L.A. Galaxy, the answer was obvious: Plenty of shirts went to folks who would otherwise never have bought a Real or Galaxy shirt. In the case of Zidane, I'm not so sure.)

Even more important is that when clubs sell a jersey, they keep only a royalty ranging from 10 to 20 percent of the value. And depending on the image-rights contract, they might have to split that amount with the player. So a million jerseys sold -- once you've factored sales cannibalization and netted out the split with the manufacturer and the player -- might add up to only a few million
dollars of revenue. And, remember, you don't get that every year.

The type of people who will buy a Bale shirt every season are few and far between.


Sponsorship
Sometimes you'll have a player who is so popular that you'll be able to cut better deals with sponsors or attract new ones simply because he's there. Beckham is an obvious example. In 1998, when Hidetoshi Nakata signed for Perugia, the club made an absolute killing because suddenly the best and most popular player from the world's second-biggest economy (at the time) had joined the biggest and best league in the world (at the time).

That obviously wouldn't be the case with Bale. Also, the fact that he's Welsh means he's unlikely to feature in major international tournaments like the World Cup or the Euros, which in turn limits the sponsorship impact he might have (relative to, say, Lionel Messi).

Brand-building/maintaining
This is the most difficult one to assess and, apparently, a real driver in Florentino's thinking. In his eyes, Real Madrid's reputation as a great club is based on attracting the biggest and best players. Signing Bale would maintain that tradition, and that, in turn, would further cement the club's status and yield all sorts of ancillary benefits down the road. It's a fuzzy concept that is tough to measure, but that doesn't mean it's not necessarily important.

---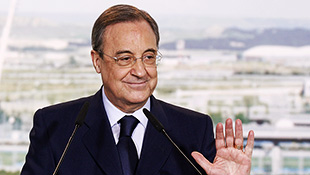 Angel Martinez/Real Madrid/Getty ImagesReal Madrid fans have to hope that president Florentino Perez has properly crunched the numbers on this potential mega-deal.

So against all those benefits, you'd weigh up the costs and risks associated.

It begins with the transfer fee and wages, obviously, but then you'd consider the following:

Is Bale, given his history, at greater risk of suffering some sort of career-ending/altering injury? From what we know, it's unlikely to be an issue with Bale, but you'd always want to ask: Does he have some personal issue or a difficult personality that could disrupt the harmony on your squad?

What will the impact be on the other players on the team, specifically the ones who'll be shunted to the bench by his arrival? Bale will be one of the highest earners at the club. How much of an impact will this have on other players who might look for a raise as a result of his arrival?

At just 24, you'd expect Bale to have a decent resale value if you need to sell. However, you would also need to take into account the enormous fee (and wages) and the fact that very few clubs in the world could afford him. You'd also want to try to assess the chances that he'd improve as a player and become better than he is now. All of this helps you answer the question: What might his resale value be?

And then you'd work in other factors that could impact your calculation, such as:

- What's the economy like in Spain and elsewhere? Will it improve or deteriorate, and what impact will this have on revenue?

- Is there some major organizational change that could impact the footballing landscape? This could be as simple as a change in how La Liga or Champions League revenues are distributed or as seemingly far-fetched as a European Super League or salary cap.

- Could income tax rise or fall substantially in Spain in the near future? (You may recall the so-called "Beckham Law" that allowed the club to save themselves a shedload of money because he was paying only 13 percent in tax. Now imagine what would happen if, say, Spain adopted France's proposed plan for a 75 percent highest income tax rate.)

If you have all the numbers at hand, plus educated guesses as to the variables and are of an analytic mindset, you could boil all this down to a formula that would spit out an answer of how much you ought to pay for Bale and whether $145 million is likely a bargain or waste.

And then, once you have a number and projections and estimates, you figure out the opportunity cost. Take that number and ask yourself if there's a better way to spend it, whether it's on different players, marketing, a transfer fund for the future, whatever.

My gut instinct is that if we're really talking $145 million, Real Madrid are overpaying substantially for Bale and will regret the move. But I don't have access to all the numbers Florentino has. I just hope that, for the sake of Real Madrid, someone has thought everything through along the lines outlined above.