Discussing Arsenal's summer of discontent
As the post-mortem into Arsenal's home defeat against Aston Villa last weekend gathered momentum in recent days, it has become increasingly evident that a growing majority of the club's supporters have lost faith in manager Arsene Wenger, and the board he speaks for.

The jeers and acrimony that echoed around Emirates Stadium on Saturday set the tone for a debate that, in essence, has been ongoing for much of the past five or six years. Yet this appeared to be the summer when Wenger and chief executive Ivan Gazidis had the financial muscle to finally steer the club back into the big league.

- Cross: Panic at the Emirates
- Wenger upset at accusations
- Mangan: Gunners have to make do

Many will argue that Arsenal supporters were naive to believe Wenger and Gazidis were ready to transform a club policy of prudent spending in an instant, yet the duo's public declarations of intent raised expectations that a revolution was about to take place within a club that has long been respected for being one of English football's most dignified sporting giants.

Their shabby pursuits of Liverpool's Luis Suarez and Newcastle's Yohan Cabaye suggested Arsenal's long-cherished desire to go about their business in a dignified manner has been parked at the side of the road, as Wenger and Gazidis looked to relieve themselves of a transfer kitty said to be bulging with as much as £80 million in spare change.

It seems fitting that those who hold this great club closest to their heart should be given a chance to pass their judgements on the ongoing soap opera engulfing Arsenal, as ESPN canvassed the views of those who can offer varying perspectives on a story that is destined to dominate the opening month of the Premier League season.

THE JOURNALIST -- Jim van Wijk (Press Association's Arsenal reporter):

Are journalists too soft on Arsene Wenger? It is an accusation that is often thrown in our direction, and while there is some argument to suggest he has been given an easier ride than some managers, I would like to think those of us who attend briefings with Arsene do our best to push him as much as we can.

The success he brought to the club and the wonderful football his teams have produced down the years ensured he built up a lot of good will, and there are still certain journalists who he will be more open with than others. That said, I can barely remember an occasion when Wenger has refused to answer a question on any subject, and there are not many managers who you could say that about.

Where Wenger goes from this point forward is a question we have all been asking in the last few days, and in my view, part of the problem he is facing now stems from the comments of Arsenal chief executive Ivan Gazidis, who promised this would be the summer when the club spent big on marquee signings. As it turns out, nothing has happened yet.

A concern for me would be that Arsenal appear to be offering money for players below their market value this summer. Did they really believe they were going to get Luis Suarez for the price they offered Liverpool? I'm not so sure. If you want these players, pay the extra money. After all, this is not Arsene Wenger's money or Ivan Gazidis's money; it's the club's money, the fans' money, and they want to see top players coming to their club.

I suspect we may see a scenario where two or three middle-of-the-road signings arrive in the next couple of weeks, unless a big-name player can be brought to the club who has not been mentioned in the media yet. The trouble is, the last time they signed players in a trolley dash late in a transfer window, they ended up with a couple of decent buys, as well as Andre Santos and Park Chu-Young.

THE ARSENAL SEASON TICKET HOLDER -- Dan Graham:

I've paid £2,500 for my Club Arsenal season ticket for the last few years, and while I am still not ready to join the increasingly vocal ranks calling for Wenger to be removed, there cannot be an Arsenal supporter who is not getting frustrated by everything that has gone on this summer.

Why didn't we pay the extra few quid that was required to sign Gonzalo Higuain from Real Madrid last month? That was a big worry for me.

Wenger seems to have a market value for a player and refuses to consider spending a little extra to get a top player. Then we were made to look stupid with a bid for Luis Suarez that was never going to go anywhere, and now we find ourselves in this position.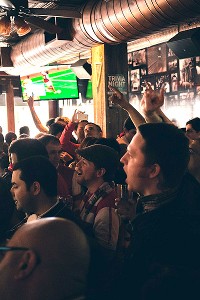 Courtesy of Quaid KocurThe patience -- and faith -- of Arsenal fans is being tested this summer.
Then I heard Wenger suggesting in his press conference last Friday that Wayne Rooney was still a target for Arsenal this summer, but many of us are wondering whether these names are thrown out there just to keep the fans happy. We are bidding for players we know we are not going to get.

We have gone backwards in the transfer market this summer because the squad was dramatically reduced by getting rid of the likes of Andrei Arshavin, Denilson, Andre Santos, Vito Mannone, Sebastien Squillaci and Gervinho, and yet the replacements have not come in. It means Wenger's squad is now a very thin squad, and while the arrival of Newcastle's Yohan Cabaye would be welcome, he is not the kind of player we need right now. A goalkeeper, powerful midfielder and players with a bit of strength are required.

I still think Wenger is a brilliant manager, a great tactician, but we need to get back to a setup where Wenger manages the team, others look after the business side of the club, and we function like a normal football club again. The way Arsenal is being run right now just isn't working.

THE FORMER PLAYER -- Niall Quinn (Arsenal striker 1983-90):

You still have to be a Wenger fan, after everything he has done for Arsenal down the years. That does not mean people aren't allowed to question him now, and he does have some questions to answer.

I look at the performance of the Arsenal team at the back end of last season, and how Wenger orchestrated a miraculous recovery when they seemed to be out on their feet after they lost to Tottenham and Bayern Munich in quick succession. The way his players performed in the final few weeks under extreme pressure in the race for a top-four finish was phenomenal, extraordinary.

However, there is a piece missing from Wenger's setup, and David Dein's name springs to mind. David provided a lovely cushion between Arsene and the board, and that has been missing since he was forced out of the club. I don't think the comments that Arsenal had great funds to spend would have been made public if David was still at the club.

The pressure increased dramatically on all at Arsenal when they announced they had money to spend and then everyone expected big signings. The Gonzalo Higuain deal not going their way was a concern, and then they got themselves involved in the whole Luis Suarez mess, which is the only way we can describe it.

Wenger might prove us all wrong again; he might make three top signings in the next two weeks and we could say Arsenal are right back in the mix, but it doesn't look like it's going to happen at this moment.

THE OBJECTOR -- David O'Leary (Arsenal Black Scarf Movement):

We set up our Arsenal supporters' group a few years back in a bid to highlight what we believe to be the misguided direction the club is moving in, but I have to admit that even I dared to believe everything was about to change when chief executive Ivan Gazidis spoke to the fans at the back end of last season.


His confidence that the club would have broken their transfer record two of three times ahead of the start of this season to sign the sort of star players we have been crying out for over the last few years was very convincing. Well, sadly, it appears we have all been hoodwinked once again.

I decided not to renew my season ticket this year, as I've lost faith with the way the club is being run, and those who are still paying the big money for season tickets must be wondering why they continue to do it. We will always be Arsenal supporters -- that will never change -- but we are being spun a load of rubbish by Wenger and Gazidis time and again.

After all that was said at the end of last season, it is staggering that we are entering the final two weeks of the transfer window with no major signings. It's like they put these names out there that we are meant to be signing just to tease us.

Having lots of money in the bank and a team that is sliding backwards on the pitch is increasingly hard for Arsenal fans for accept. We do not want to see Arsenal being run like this, so we feel it is right to stand up to those in charge in the hope that they will change their ways.