Grobbelaar to Mignolet - Anfield's goalkeeping heroes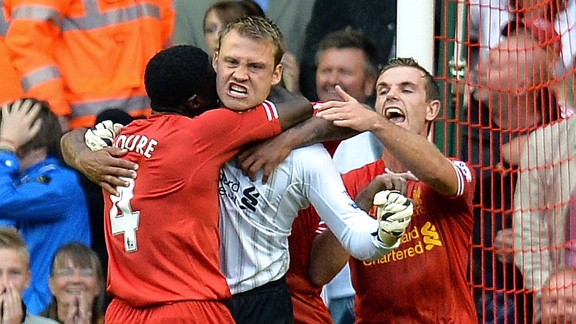 GettyImagesSimon Mignolet is mobbed after saving a penalty against Stoke.
Simon Mignolet's Liverpool beginnings may yet lead to benefits that stretch far beyond a 1-0 win over Stoke. From Ray Clemence to Pepe Reina via Bruce Grobbelaar, history suggests that Liverpool are more likely to pick up a trophy or two with a goalkeeper who is handy at facing penalties.

In thwarting Jon Walters on Saturday, Mignolet became the first Liverpool keeper to save a spot-kick in a league game at Anfield since 1999. For the keeper, it did no harm as he begins a bid to become Belgium's No. 1 in a World Cup year. For his club, it was a reminder of times when their keepers helped bring home cups by standing tall when put on the spot.

Even the great Bill Shankly was a beneficiary of that. Shankly won one European trophy in his 15 years at Anfield. The 1973 UEFA Cup came his way thanks, in part, to Clemence. With Liverpool 3-0 up late in the first leg of the final at Anfield, the England goalkeeper was called into action when Steve Heighway nudged over Borussia Monchengladbach's Danish winger Henning Jensen. Clemence's penalty save from future Real Madrid and Bayern Munich coach Jupp Heynckes proved crucial; denying Monchengladbach an away goal and ensuring Liverpool won the tie despite losing the second leg in Germany 2-0.

What Clemence did for Shankly, he did twice for Bob Paisley in the UEFA Cup three seasons later. Liverpool's passage through the first round against Hibernian in the autumn of 1975 was helped by Clemence stopping a penalty from John Brownlie. Another spot-kick save from Peter Kotte in a tight quarterfinal first leg against Dynamo Dresden in March 1976 allowed Paisley's men to escape from East Germany with a 0-0 draw. The second leg at Anfield was won 2-1. Liverpool went on to lift the trophy that May.

When it comes to penalties, Liverpool goalkeepers have tended to thrive. The club have won all five of the shootouts they have faced in major finals -- six, if you count the 1974 Charity Shield against Leeds. The last two of their five European Cup triumphs were secured from the spot. Both of those victories, 21 years apart, owed something to the showmanship of Grobbelaar.

In his 13 years at Anfield, Grobbelaar had a decent penalty record. He didn't stop any, though, in the 1984 European Cup final shootout against Roma at the Stadio Olimpico. Instead, he relied on an eye-catching routine of biting the goal net, playing up to the photographers behind him and wobbling about on his line to put off first Bruno Conti and then Francesco Graziani.

"We all went into a team huddle before the penalties," Grobbelaar recalled years later, "and Joe Fagan, the manager, put his arm round me and said: 'Listen, we're not going to blame you for not stopping any penalties. But try to put them off.' So, that stuck in my head."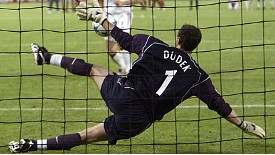 GettyImagesA Bruce Grobbelaar-inspired Jerzy Dudek saves from Andriy Shevchenko as Liverpool win in Istanbul
The scenes in Rome that night stuck in the head of a 6-year-old Jamie Carragher. More than two decades later, Carragher encouraged Jerzy Dudek to repeat history against AC Milan in Istanbul. It worked. Dudek re-enacted Grobbelaar's "spaghetti legs" routine and saved penalties from Andrea Pirlo and Andriy Shevchenko which -- in addition to a Serginho miss -- helped Liverpool to their fifth European Cup.

Dudek recalled later: "Jamie Carragher jumped on my back, telling me: 'Put them under pressure. Do something on the line like Grobbelaar.' When I went to take my position in the goal, I was thinking I would try a little bit to destroy them."

Out of 13 penalty shootouts they have faced in their history, Liverpool have won 11; mostly without requiring their goalkeepers to pretend to be pasta. Sander Westerveld saved two Birmingham penalties as Liverpool won the 2001 League Cup; Pepe Reina stopped three as West Ham were defeated in the 2006 FA Cup final.

Perhaps the finest moment of Reina's eight years as Liverpool first choice, though, came in another shootout, against Chelsea in the 2007 Champions League semifinal. The Spain international saved from Arjen Robben and Geremi on one of Anfield's great European occasions.

"I have never experienced anything like the atmosphere that night," Reina said later of a match that cemented his place in club folklore. He would enjoy one more shootout triumph without having to save a penalty, as Cardiff missed three in the 2012 League Cup final. Liverpool's goalkeepers, though, have not always come out on top in spot-kick battles.

A 1993 League Cup fourth-round replay at Wimbledon was lost on penalties, despite a Grobbelaar stop from Vinnie Jones, on a night when an erratic Hans Segers punched a cross into his own net but still came out the hero. But the greatest embarrassment came in Roy Hodgson's only penalty shootout as Liverpool manager, as Brad Jones was unable to rescue an abject Liverpool side from League Cup humiliation at the hands of League Two Northampton in September 2010.

Mignolet's competitive debut, though, suggests Liverpool might have a new penalty king between the posts. "I had hoped to do something like that, but you never really think you will," he said after stopping Walters' penalty. Matching the achievements of Clemence, Grobbelaar & Co. is a lot to ask, but he has, in one sense at least, made a start.