Drama stays on pitch as late winner saves Ancelotti's Madrid debut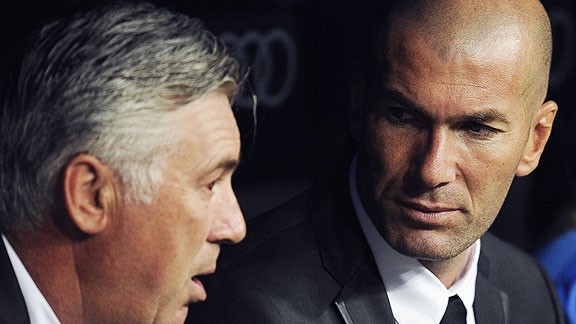 Pedro Armestre/AFP/Getty ImagesReal Madrid manager Carlo Ancelotti, left, confers with assistant coach Zinedine Zidane in the dugout during Ancelotti's La Liga debut.
Carlo Ancelotti's side had rarely looked in control of Sunday's La Liga opener at home to Real Betis, and had seemed about to drop two points until Isco showed he is to the Estadio Bernabeu born by heading a late winner. But the new Real Madrid boss professed himself content with the performance after the 2-1 victory.

"It is never easy at the start of the season," Ancelotti said. "The important thing today was to win the game. Betis are a good team, played a very good game, but I believe we deserved to win, we had many chances."

The result was possibly just about fair, but the game showed both how the Italian is trying to tactically move the team forward this season, and also how some of the issues which plagued Jose Mourinho's last campaign in charge have not yet gone away.

-Rigg: Isco gives Madrid reason to dance

Betis shocked an almost-full stadium by going ahead early through Jorge Molina, and even after Karim Benzema had equalised before the break Pepe Mel's side often looked the slicker and better organised. Isco's late winner gave the headlines to the 30-million-euro starlet, but the display showed -- and Ancelotti himself accepted -- that his new side are still learning exactly what he expects of them.

Under Mourinho, Madrid were really a counter-attacking team, most dangerous on the break even against 'smaller' opponents, something which irked some fans and many in the Madrid press. Ancelotti popularly promised 'spectacular' football at his presentation in June, and stated at Saturday's press conference that "My desire is to win, to win well, with attacking football. The idea is not to play on the counter-attack."

The Italian often crammed Andrea Pirlo, Clarence Seedorf, Kaka and Rui Costa into the same team regularly at Milan, so successfully the team won the Champions League. His first competitive Madrid XI looked quite similar -- with Luka Modric and Sami Khedira in the centre of a midfield four, with Isco (left) and Mesut Ozil (right) on either side. The two nominal wide men generally moved centrally -- with the width being provided by the full-backs Marcelo and Dani Carvajal on either side.

Benzema's equaliser did come from a move we can expect to see a lot of from Ancelotti's Madrid side. The ball was nicely worked across and into the box by Modric, Khedira and Marcelo, before Isco freed the Frenchman to lash the ball past Betis keeper Stephan Andersen.

Less positive for the Italian were the issues whenever Betis had the ball. Neither Modric nor Khedira could get close enough to the visitors' twin creators Joan Verdu and Emmanuel Nosa, who often had time and space to pick up the ball and drive forward. Verdu's clever movement lead to the opening goal, when he pulled Modric away so that winger Cedric, a €1.21 summer signing from Numancia (€1.21 is not a typo), could run centrally to exploit the space left, drive past Sergio Ramos' weak challenge and tee up Molina to scuff the ball home.

Khedira -- the most defensive of the four starters -- often looked all at sea, and it was noticeable that the German international was the first player withdrawn as Ancelotti looked to change things after the break. He accepted post-game that his midfield remained a work in progress.

"We made many chances, lots of good link-up play, above all on the wings," he said. "The problem was more defensively. Especially in the first half we did not have balance, we did not play close together. We gave up a lot of space between the two lines. The second half was better on that aspect."

Madrid's new shape also means a new position for Cristiano Ronaldo -- during preseason Ancelotti said he would be played as close as possible to the opposition goal. In practice this saw Ronaldo -- in his 200th competitive Real Madrid game -- floating around Benzema while moving where he wished across the front-line, but not really influencing the game too much. At one point in the first half, he was fighting to regain possession in open play in right-back position. The second period brought at least five shots from the Portuguese, but none really troubled Betis goalkeeper Stephan Andersen.

Ronaldo's performance was so muted that it -- possibly for the first time in those 200 games -- merited zero questions from the Bernabeu press pack afterwards. It was Isco who stole the headlines, by adding to his assist for the first goal by bulleting in a rare header to decide the game with four minutes left.

"Isco did everything in this game, scored a fantastic goal," said Ancelotti, although he seemed keen not to single any player out.

There were more questions about the decision to leave Iker Casillas on the bench, with Diego Lopez keeping his place in goal even with Mourinho gone. Four of the first five questions concerned that decision, which Ancelotti said -- and then repeated patiently -- did not mean he had yet chosen a first-choice goalkeeper for the season.

"I took that decision for today," he said. "Diego was keeper for this game, we will see what happens for the next game."

With such focus on Casillas, there was no time for a question about Gareth Bale, showing again how the momentum behind the €100 million-plus move appeared to have slowed in recent days. The Tottenham attacker would have been perfect for last season's Madrid, where his pace and power on counter could have been ideal. But that was then. It is not clear at all how Bale would suit the system which appears to have been chosen for this campaign.

Xabi Alonso will return soon, presumably for Khedira, and help to bring the 'balance' which the new coach mentioned more than once. Isco and Ozil will have to work on their defensive sides.

However, Ancelotti knows what he wants and seems happy with what he has. The narrow win against Betis showed there is still plenty of work to do, but it seems Bale is not the answer to the questions the performance posed.