Rooney's attitude taking him in damaging direction
SWANSEA, Wales -- Satisfaction and relief were the overriding emotions for those connected with Manchester United returning from a rain-sodden trip to Swansea. Well, apart perhaps from one individual.

Substitute Wayne Rooney supplied two assists, received the fulsome praise of manager David Moyes and was even given a chorus of "Rooney, Rooney" by United's travelling support. There had been a bashful wave from the striker to fans when his first warm-up run headed in their direction. Yet as his teammates left the field and returned the applause of the away contingent, Rooney failed to acknowledge those who had journeyed deep into South Wales to support him.

The refusenik was a hot topic of conversation among those supporters who stayed in Swansea on Saturday night. "I'm finished with Rooney now," said Paul, 36, a cab driver from Bolton. "I've spent all week defending him, and he does that."

Paul is more than entitled to his opinion. He hasn't missed a Manchester United game -- home or away -- since September 1992, when United lost on penalties away to Torpedo Moscow, an incredible run of devotion that includes trips to Saudi Arabia, Nigeria and more than 40 other countries.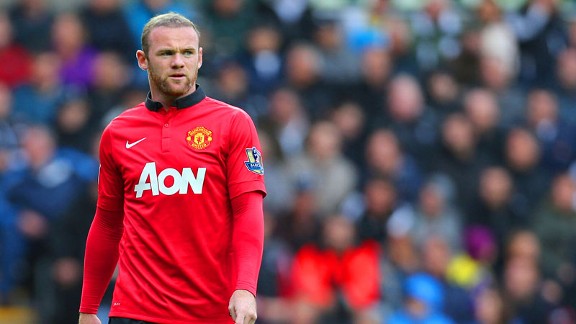 John Peters/Getty ImagesWayne Rooney is doing himself no favors by snubbing the die-hard fans whose support he used to be able to rely upon.

Maybe this is the latest Rooney exit strategy. If he can enrage the die-hard fans, then a fresh avenue for departure can be opened. Players still recognise what the upshot of their actions can be among match-going supporters. "You can talk about the 659 million fans Manchester United claim worldwide, but it's convincing the 100,000 hardcore who live around Old Trafford that matters," said Gary Neville in his Mail On Sunday column this week.

For someone who denies that he put in a transfer request, Rooney sure acts like a player who wants to be elsewhere. There was the risible cat-in-hell's-chance demand for Sir Alex Ferguson to publicly apologise. Then came the injuries that ended his summer tour and prevented him playing in the Community Shield.

There were briefings that Rooney's decision might rest on the reception he expected to receive at Rio Ferdinand's testimonial, a game he eventually never took part in. Then there was the glowing tribute paid to Roy Hodgson on Facebook, its subtext being widely interpreted as a dig at the management of Manchester United.

Central to Rooney's whinges is the continuing influence of Ferguson, whose relationship with the player and agent Paul Stretford is irreparable. Ferguson might not have been publicly seen near United since May, but he and Moyes are close. The new man admitted last week that he has been a regular visitor to Ferguson's Wilmslow mansion and that regular text messages are exchanged between the two. The friendship even extends to swapping horse racing tips.

Though the Rooney problem is viewed as an unwanted remnant of Ferguson's final days, Moyes refuses to be seen to be treating it like that.

"I never fell out with Wayne," insisted Moyes last week. The new manager kept up his compliments to Rooney in Swansea while also making a pointed reference to the importance of fans.

"The supporters recognise good players at Manchester United, and I think they recognised that when Wayne came on," said Moyes on Saturday. "He's still lacking match fitness, but another 30 minutes today will bring him on. I thought when he went on, he was incredibly committed."

"Committed" was extending matters a little beyond credibility. Rooney looked nowhere near his pestilent best, though his undeniable ability was reflected in the key role he played in the goals that took United beyond Swansea's reach. One thing Rooney cannot resist, and cannot refuse, is playing football.

Yet it's clear that Moyes and United are not going to make it easy for Rooney to leave. Their public charm offensive leaves Rooney in the position of having to be the bad guy. As such, the fragility of his ego may eventually bring him back into the tent. From United's point of view, there is little footballing sense in selling him to Chelsea. Had Chelsea had a striker worthy of the name Sunday, then Hull City Tigers would have lost by a cricket score.

Depending on which Sunday newspaper you read, Rooney is finally going to put in that transfer request, has resigned himself to another year at United or will watch Chelsea break the bank for him. "Not for sale" is the likely United response.

The footage of Rooney's lack of celebration for the two goals he supplied has been much discussed. In mitigation, for Danny Welbeck's second goal, Rooney had been clattered by Michu and was lying prostrate. Previously, even though he was close to Robin van Persie when United's third was struck, he played no part in teammates' back-slapping by the sideline. In so doing, he didn't look like someone who felt a full part of his current club.

Perhaps Rooney, a shy character, feels sheepish after the summer has made clear his intentions. He, like Luis Suarez or perhaps even Gareth Bale, might be in the process of learning that sometimes in football, just like life, you can't always get what you want.

When that realisation has dawned, Rooney would be best advised to properly acknowledge the fans who devotedly follow the club he still plays for.