Stuck in the middle, but United find top gear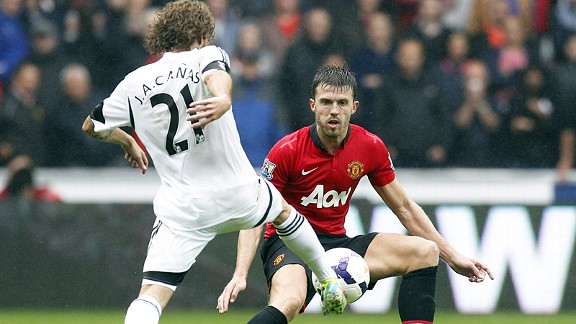 GettyImagesMichael Carrick keeps a close eye on Swansea debutant Jose Canas.
SWANSEA, Wales -- It was the question that even Sir Alex Ferguson struggled with. David Moyes has spent a frustrating summer trying to answer it. When will Manchester United sign a quality midfielder again?

United have the Premier League's best striker in Robin van Persie. David de Gea is a goalkeeper of limitless potential, and Moyes has a raft of quality central defenders to call on. Were United to find the player to complement Michael Carrick, they would not have begun Saturday as third favourites for the Premier League title.

- Okwonga: Welbeck performance a sign of growth

Crushing victory at Swansea showed off United's ability to kill off teams, with winning performances in defence and attack, but the centre of the field still needs work. Swansea City are mid-rankers. Despite their win and a dream start for Moyes, United almost lost the midfield battle. Better teams can and will hurt United. Chelsea, flush with midfield talent, might fancy their chances at Old Trafford on Aug. 26. Control midfield, control your opponents.

The genius of Van Persie can paper many cracks. It did last season. Add a central midfielder to supply and support him and Moyes has a team as strong as any. The next fortnight of transfer tangles must come up with a solution.

"I'm hoping to get things done," said Moyes of transfer business.

He was far happier to talk of a text message of good luck from his predecessor.

"I thought we were incisive. Our finishing was fantastic, though we could have played better at times," said Moyes, making a partial nod to the continuing midfield conundrum.

Paul Scholes was so irreplaceable as to have to replace himself at one point. Owen Hargreaves, the last senior midfielder Ferguson signed, way back in August 2007, is now a co-commentator on BT Sport. Anderson, signed a few weeks earlier, is still around but is rather too round; his fitness levels have never justified his £18 million price tag. Ryan Giggs will be 40 in November. Time will eventually beat even him.

Which leaves Carrick, last season's players' player of the year. Without him anchoring, prodding and probing in his languid style, United would be a distinctly lesser force. There had been panic among United fans when Mrs. Carrick's prematch tweet was construed as her husband being out with the eye infection that caused him to miss England versus Scotland. Relief resulted when Carrick's name was scribbled on the team sheet in the block-capital handwriting of new assistant manager Steve Round.

Carrick is Scholes' heir in metronomic control: consistent, reliable and perennial. His quiet effectiveness continued, but he still needs help.

United's list of midfield targets suggests confusion about what they want. Cesc Fabregas is nothing like Marouane Fellaini, who bears no resemblance whatsoever to Luka Modric, who in turn plays in a totally different position to Mesut Ozil.

The chase of Fabregas, which may yet be resurrected, makes sound sense. When Scholes, Steven Gerrard and Frank Lampard, the best English midfielders of the age, were at their peak, a teenage Fabregas held his own. His problems at Barcelona have been borne of his being better suited to English football than tiki taka in La Liga. Jose Mourinho talks of the Premier League as his "natural habitat," but the same is perhaps more true for Fabregas.

Instead of Fabregas, Tom Cleverley accompanied Carrick. Two years ago, until injury intervened a month into the 2011-12 season, Cleverley looked like an answer of sorts. He did for some of last season too before being given a Ferguson freeze as the campaign entered its final stretches. Sharp of technique and energetic, he should be more effective than he is; for a player who learned his trade as an apprentice left back, his tackling can be slapdash.

Another option in midfield was available except Wayne Rooney was back in the place where Sir Alex left him -- the bench -- and sees himself as a striker, a Chelsea striker. Mourinho sees him as that too. If Rooney stays -- United are not budging -- he will have to fight for a starting place. Van Persie's brilliant finishes for United's first and third goals reminded who is the team's No. 1, while Danny Welbeck doubled last season's goal tally at the first time of asking.

At one point, after Rooney replaced Giggs, all three played together. Rooney looked much the rustier. A run onto a Welbeck through ball was so poorly timed as to find him offside, and a later poor pass gave an overlapping Patrice Evra too much to do. Still, there were two assists to suggest his continuing value.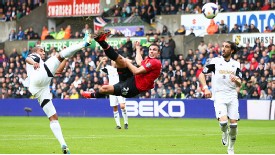 GettyImagesRobin van Persie acrobatically puts Manchester United in front at Swansea.
"Wayne done well when he came on," Moyes said. "The ball he slipped through for Danny was lovely weighted."

Until the game was taken away by the brilliance of United's finishing, Swansea were a distinct threat. Leon Britton, a bite-size Carrick, was the epicentre of a team looking honed after an early start to their Europa League campaign. There has been a change of approach from Michael Laudrup. Jonjo Shelvey and Jose Canas can both mix it in midfield. The passing for the sake of it that Swansea played under Brendan Rodgers has been removed, and there is a new directness to their game.

Shelvey's willingness to set off deep into United territory caused regular trouble. He created two first-half chances for Michu that might have made Moyes' first outing more troublesome. Had consolation goal scorer Wilfried Bony been fit to start -- making a late return from international duty -- perhaps the Swansea danger might have doubled.

"To concede two goals in two minutes against Manchester United, it's just too much," Laudrup conceded. "The difference is in the finishing."

"They were better at the start, but the first goal changed it." Van Persie said.

The orthodoxy of Moyes' initial 4-4-2 had counted against his team as Swansea gained early territorial advantage, and it was soon switched to a 4-5-1/4-3-3, with Giggs moving central to a role that looks made for Shinji Kagawa, yet which was not granted, presumably due to a lack of fitness.

Eventually, after Giggs had twice gone close, Van Persie and Welbeck wreaked havoc. Pretenders to the Premier League title were reminded that even without Ferguson, United are very much still around. Should they bolster their midfield, they might be as potent as ever.