Cardiff learn the hard way back among the elite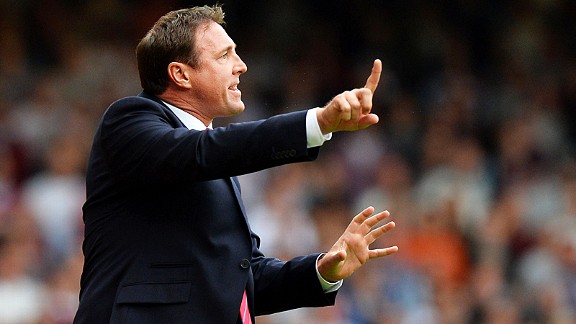 GettyImagesMalky Mackay
LONDON -- Malky Mackay defined the difference in the plainest terms. "In the second half, they scored their one real chance; we didn't score ours," the Cardiff City manager said. "It's about being clinical."

It is also a common refrain of those suddenly stepping up to a new level. Along the same lines, Mackay was correct in praising some of the passing of his newly promoted team as it fell 2-0 at West Ham United.

The truth of their first game back in England's top tier since 1962, however, was that it all went a little deeper than that. This was evidence of a team suffering from an elevation in quality in almost every sense. It wasn't just that Cardiff couldn't take their chances. It was that West Ham barely allowed them any, let alone sufficient space in the home side's half.

While Mackay insisted that did not represent a "lesson" for his team because it knew exactly what was required before the game, he admitted the squad didn't exactly apply that knowledge in the opening spell.

If they have waited 51 years to return to this level, it took them just 15 minutes to realise the quality of it. By then, West Ham United were already 1-0 ahead after a sharp turn and finish from Joe Cole at the end of a move he started. There was a certain irony in the fact it was also the most difficult of the No. 26's three chances in the opening period.

This is what Mackay and Cardiff are going to have to adapt to.

His opposite number, to his credit, has proved the master of adaptation. For all the stereotypes about Sam Allardyce's teams, he does marry industry and innovation to an impressive degree. How else to square a team that balances repeated long balls forward with the craft of someone like Mohamed Diame in the middle? Kevin Nolan's supremely curled finish that sealed the game was also a far remove in terms of aesthetic technique from the flick-ons he's become associated with.

When West Ham weren't shuffling Cardiff's defence around with finely calculated bursts, they were completely shutting down their attacks. That, more than anything, was the real difference. It was that superior application at an accelerated pace, just when the moment demands it. Although Cardiff were feisty and initially matched West Ham, the home side essentially won every individual battle that mattered. That was something that greatly pleased Allardyce after the game.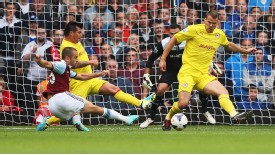 GettyImagesJoe Cole needed just 13 minutes to breach Cardiff City's defence for the first time.
"We won the game comfortably, perhaps not taken as many chances as we would have wanted, but that doesn't matter now," Allardyce said. "It was a 2-0 victory, a clean sheet. When we didn't have the edge over the opposition [in terms of play], we defended superbly well. They only had one shot on target in the entire game. We've done the job in and out of possession very well today."

It is everything other than possession that Cardiff have to improve in. Afterward, Mackay maintained that his side "were a match for West Ham in terms of the ebb and flow of the game."

There were, to be fair, occasional passages when they looked promising. The continued problem was that it ran short. One moment that effectively summed up their game came toward the end of the first half. As Craig Bellamy awaited a pass in acres of space, playmaker Kim Bo-Kyung went for a shot. It wasn't the only time the playmaker chose the wrong option, and Bellamy let him know with choice words.

Beyond his side's finishing, it was a lack of vision that Mackay acknowledged with a little more reflection.

"It's about the choices, that final pass, that final decision," he said.

Bellamy got so frustrated that he ended up continuously dropping back to attempt to secure possession for himself, meaning Cardiff were almost completely toothless. In their only chance, Nicky Maynard put the ball over from just yards out. That all pointed to the other grand caveat to this defeat. The side's main signing and striker, £8 million Andreas Cornelius, will be out for another week with an ankle injury.

It is likely they will look much more lively up front with such an option, but the risk of putting the Danish forward out for even longer prevented his inclusion. Mackay explained that he may yet go into the market to strengthen further.

Allardyce, however, declared himself very happy with his squad and first win. Indeed, given the fact that Stoke are now undertaking a new departure in terms of style, it is possible that a trip to Upton Park could become the new acid test for the Premier League.

West Ham's fine home record was something that both managers mentioned as they discussed what Cardiff need to do to fully adapt to this Premier League.

"For your first game in the Premier League, you'd want it to be home, not away," Allardyce said. "When we came up from the Championship [in 2011-12], we won more games away. But last year, it was a huge task for us to pick up points away from home. We only won three. Your home form is what you need to put right."

Mackay concurred. "He's certainly someone that knows about it, and I don't disagree," he said. "It was always going to be a tough game. I played here, but as I said, it's something to try, make our stadium a fortress."

It may yet prove the difference in the long term.