Liverpool new boys survive first day scare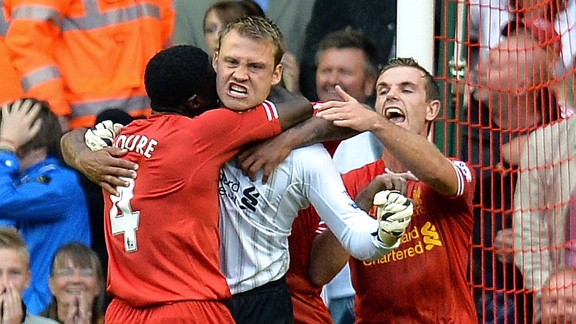 GettyImagesSimon Mignolet is mobbed after saving a penalty against Stoke.
LIVERPOOL, England -- Inside Anfield, the carpets are immaculate, the walls gleaming with evidence they have been freshly painted. Liverpool's historic home has been spruced up and the team have been subjected to their annual makeover. Every year's influx is designed to turn them into contenders; too many in recent summers have made them look more like pretenders.

Too many times, their ambitions have unravelled in the opening weeks. As this was a welcome exception for Liverpool, they had a newcomer to thank. Eighty-seven minutes in, an impressive victory threatened to become a frustrating draw. Yet as Jonathan Walters struck his penalty, Simon Mignolet dived to his right to parry. When Kenwyne Jones attempted to steer the rebound in, the goalkeeper was on his feet to stop again. On such moments seasons and careers can turn.

- Walsh: Mignolet saves more than three points

"He made a good first save and his second action to get up and make the double save was impressive," said Brendan Rodgers, who exiled a World Cup winner, Pepe Reina, to make way for Mignolet. The Spaniard has left Liverpool's back door unlocked rather too often in recent years. The Belgian slammed it shut. A debut that had begun nervously ended magnificently. "He made three terrific saves in the game," said Rodgers.

The exception came early, Mignolet providing echoes of an error Reina made against Manchester City last August. A cross came and, to use a less-than-technical term, Mignolet flapped at it, allowing Robert Huth to volley. 'The Berlin Wall' hit the Liverpool bar.

The £9 million-Belgian fared better thereafter. A fine stop from Walters' snap-shot was a greater indication of his capabilities. He avoided the embarrassment of being beaten from the other half when Charlie Adam, part of a previous summer spending spree at Anfield, went for the spectacular. Then Daniel Agger was deemed, rather harshly, to have handled and Mignolet came to Liverpool's rescue.

Rodgers, as is his wont, was similarly effusive about his other recruits. Luis Alberto remained an unused substitute but Kolo Toure slotted seamlessly into the defence and Iago Aspas roamed intelligently in attack.

The name seems Shakespearean and, after a solitary season in La Liga, the role model may be Michu, another late-blooming Spaniard with an eye for goal, but the £7.7 million arrival from Celta Vigo ticks many of Rodgers' boxes.

"Iago Aspas is a real clever player, he wants to shoot and combine with people around the box," he said. In particular he linked up well with Coutinho, a kindred spirit.

The criticism is not what he did, but what he didn't do: score. Recent Liverpool strikers can be divided between those who struck early on (Fernando Torres, Luis Suarez and Daniel Sturridge) and those who didn't (the rest, broadly speaking). Their first few games have proved an accurate barometer of if they will prosper at Anfield.

Aspas' clearest chance was stabbed straight at the excellent Asmir Begovic but he did record an assist, teeing up Sturridge to drill in from 25 yards, and almost had a second, when Jordan Henderson hit the post. "For 70 minutes, he was excellent and tactically he understands the game," Rodgers added.

If his slender physique is a concern and Aspas, like many a man of average height, was dwarfed by Stoke's band of man-mountains, he nevertheless came close to a goal from a corner, heading just wide. Similarly, Toure, one of the shorter central defenders, found himself in the land of the giants but headed against the upright, further testament to Steven Gerrard's set-piece expertise.

And yet while the superlatives were sprinkled liberally by Rodgers when discussing the recruits, one obvious conclusion is that however the Liverpool manager bought in the summer of 2013, his January buys were bargains. Coutinho oozes class and Sturridge delivers goals. Should Liverpool's years as also-rans finally be ending, that may prove the pivotal transfer window.

The most glamorous arrival of the current period may still be to come. "We are confident of having one or two in before the window shuts," Rodgers said. Willian was not mentioned by name but would represent much the biggest buy and mean Liverpool, who currently have a profit this summer, go back into the red.

Much of the focus, however, has been on the man who has gone nowhere. Suarez was neither out of sight nor out of mind, on the pitch before kick-off and then watching on from an executive box. The stand-off with Rodgers has been consigned to the past, the manager looking to the future. "I am very satisfied with how everything has been resolved," the Northern Irishman added. The new-look Liverpool seem likelier to feature an old and familiar face.

MAN OF THE MATCH: Asmir Begovic. The Stoke goalkeeper was in superlative form to prevent a heavier defeat. Brilliantly as Mignolet did to save the penalty, he wasn't actually the most impressive shot-stopper on show.

LIVERPOOL VERDICT: Very good. They already have more points from one game than they took in the first five last season. The only real complaint is that dominance did not bring more goals.

STOKE VERDICT: "We're Stoke City, we're passing the ball," chorused the fans, and a shift in style is underway. Marc Muniesa, who has traded aesthetic extremes by leaving Barcelona for Stoke, was on the bench and if nothing else, his transfer should prove a fascinating experiment. The one debutant for them was Erik Pieters, who proved quick on counter-attack, unlike many a previous Stoke full-back; he also hooked a Sturridge cross off the line. Manager Mark Hughes skipped the post-match press conference to go on a scouting trip in Europe.