Mourinho primed for Premier League return
LONDON -- It is a moment that Chelsea have been waiting just six years for, but still one many clubs will never get to experience in their entire history.

For the Stamford Bridge support, that is no exaggeration. On Sunday, one of the greatest figures in the club's history will arrive home. Moreover, this is no nostalgic anniversary nor veteran's tour. It is that figure returning in the prime of his managerial career, to conditions that would seem set to allow him finally to complete the job intended in the first place.

- Bennett: Mourinho's still got it
- Marcotti: Revolution at the top
- Chelsea season preview

After all the ructions of the past few years and the apparent disconnect between club and support last season, you could forgive a particularly fervent atmosphere at Stamford Bridge. Hull City will be walking into a raucous homecoming party.

Many will feel a shiver down the spine as he steps out. Jose Mourinho himself will have done so the day before. Because on Saturday afternoon, as seven other packed Premier League stadiums cheer on the start of the new season, the Portuguese will be walking around an empty Stamford Bridge in anticipation.

"We train there tomorrow so the boys can work out where the dressing rooms are, where the tunnel is, about the pitch. They've never been here.

"To be back here will be a different feeling. I had it when I came back here with Inter [in the 2009-10 Champions League], but now I go to my dugout, my stadium, my people. I have to control it a bit, but a couple of minutes and, after that, I have to be focused on the game.

"The fans probably before the match will focus on me and Roman [Abramovich]: me because I'm back and Roman because he celebrates 10 years at a club that owes him so much. But after that they have to support the players and the team.

"We have to focus on this game, this competition and try and make Stamford Bridge a tough place for everyone to play, and make my people feel we are really at home."

That last line is particularly pointed. In Mourinho's first spell at the old west London stadium, Chelsea never lost a league game there. The Portuguese coach chuckled about that on Friday, describing it as "not normal." That's for sure. It remains the finest home record English football has seen, and played a large part in contributing to the accumulation of the highest points totals in the country's history. Chelsea's hauls of 95 and 91 points over the 38-game campaigns of 2004-05 and 2005-06 set new standards.

Moreover, it meant that they became the only club other than Manchester United to win consecutive titles in the 21 years since the Premier League's birth. That sense of relentlessness is perhaps the most relevant aspect of Mourinho's return for the competition at large, not least given the timing.

For virtually all of the Premier League's history, the one absolute guarantee has been that Alex Ferguson would have Manchester United competing for the title. For virtually all of Mourinho's career, however, he has been the closest thing to a guaranteed success that you can get in management. As many as 16 major trophies have been collected in just 12 years of employment, with seven of them domestic titles and two the Champions League. Even the arguable failure at Real Madrid involved all manner of records being broken and the temporary deposing of one of the greatest in history at Barcelona. These are the kind of absolutes that Mourinho has dealt in, which he was only too happy to talk about on Friday.

"The story is always the same. Record number of points in the Premier League: Chelsea. Record points in La Liga: my Real Madrid. Record of goals: my Real Madrid."

These are also the kind of absolutes that Mourinho feels have been missing from the English top tier over the past few years.

"You think Manchester United won the Premier League last year because they were an unbelievable team? I don't think so. The other contenders didn't have a very good season. The same the year before when City won the title. Were they an extraordinary team? I don't think so. Others made so many mistakes that City eventually won the competition. In the past few years you've had a fantastic Arsenal who were champions [in 2003-04] without a single defeat. You had a Chelsea with a points record in the Premier League. You had a United side who won the title after our double and had an unbelievable season [in 2007-08]. I think the champions, in other seasons, were magnificent. And especially in the last two seasons, I've felt no.

"Sometimes you win because you are tremendous. Other times you win because you are the best. But you can be the best without being tremendous."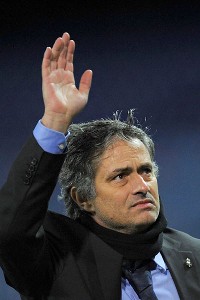 Denis Doyle/Getty ImagesHas Jose Mourinho changed his ways since his last stint at Stamford Bridge?
As the Premier League faces a new era of even greater uncertainty without the cast-iron assurance of Ferguson, this is the kind of level Mourinho is capable of restoring.

The key question, of course, is whether his team can be that "tremendous" again. Mourinho admits that the 2004-07 Chelsea side came together at a particularly opportune point.

"My squad was a squad of end products at that time," he says. "We were the kind of team I felt immediately that, with tactical work, some group work and especially mentality for a team that didn't have a winning culture, the team was in conditions to win [the league] immediately. We can this season. Of course we can. But it's a different process."

It also remains to be seen whether it's a truly different Mourinho. At the end of last season, the Portuguese looked badly in need of a rest after toxic infighting at Madrid even worse than that which ended his first spell at Chelsea. Just weeks later, however, he was sitting back in Stamford Bridge and talking about how he was a changed manager with much more long-term priorities now in tune with his boss's.

Is it too cynical to think that is just an act borne of a temporarily relaxed period, and with the potential to drop at the first real complication?

On Friday at Cobham, at least, Mourinho certainly looked contentedly at home. He was laughing and joking, in the kind of mood to offer one of his customarily evocative quips as he waxed lyrical about the positives of the Premier League.

This time, it was more to do with spice than anything special.

"I love the salt and pepper of football," Mourinho said, "the unpredictability of every game, the result, of who is going to win, who is going to qualify for the top four, who is going to be relegated. I love all that. So let's go for it, full of joy."

That will certainly be the case at Stamford Bridge on Sunday. It is that very issue of certainty, however, that may go a long way to deciding whether they are full of joy come May.