PL Top 10: Reasons to watch
Although we don't need much more motivation to engage with the Premier League in 2013-14, here are 10 points that will draw us in.

1. Retrospective punishment

Callum McManaman might prefer to be remembered for a match-winning performance in the FA Cup final, but history might instead recall him as the miscreant who finally forced the Football Association's hand to change the rulebook.

• Palmer: New kids on the block
• Tyler: PL Top 10: Players we'll miss
• Brewin: PL Top 10: A point to prove

McManaman's midair surgery on Newcastle's Massadio Haidara -- and subsequent escaping of a ban -- provoked such a reaction that video evidence will finally be used to punish those whose misdeeds escaped the referee's eye.

A panel of former refs will sit in session on Monday mornings to assess the pushes, punches, pulls and reckless challenges. There will be no hoodwinking the authorities now ... but expect the debate to still rage on and on and on.

2. Goal-line technology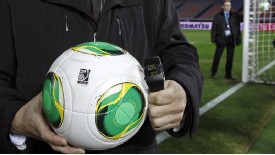 AssociatedGoal-line technology has made its way into the Premier League.
As one door shuts, another blows open. At long last, at long bloody last, calls for goal-line technology have been answered. A rather too easily available topic of discussion on podcasts, radio shows and rolling news channels is therefore closed off forever. Hawk-Eye will provide the Premier League's "solution," and FIFA chose Germany's GoalControl. UEFA will retain those two blokes who stand behind the goal and keep making mistakes.

Beware, beware, the English summer has been a debating society for problems of video technology in cricket. This thing had better work, and work well, too.

A trivia question awaits. Who will become the first player to have scored a goal decided by video technology?

3. Moyes, Moyes, Moyes, looking for a good time

In preseason, David Moyes looked rather uncomfortable in shorts and shiny white trainers as he perspired through Manchester United's rather underwhelming Pacific tour.

Just wait until he gets his sharp suit on and business can commence. Judging by the cancellation of a pre-Community Shield news conference, he has tired of talking about transfers. Perhaps Sir Alex has texted him with some advice: Don't give the buggers an inch.

There is little point in trying to skirt the issue that Moyes and his new team are going to be deluged in coverage in their opening weeks in competitive football. A daunting fixture list awaits, featuring Chelsea, Liverpool and Manchester City in the first five matches. The worst could be over by the end of that. Alternatively, an old adage comes into play: A title is never won at the start of the season, but it can still be lost there.

4. World Cup willies

This, we are told by the hype machine, is the most open Premier League season of all time. Although we were told that last year, too. Yet an even bigger hype awaits at the end of the rainbow.

Every player, save for those whose country can no longer qualify -- and that might soon include England -- is competing to be on the plane to Rio de Janeiro at the end of May. Every goal can lift World Cup hopes; every injury can wreck them. As the final 23-man squad selections near, expect fringe players to be trying to make names for themselves. And whisper it, expect those men pretty much assured of their place to be not quite so happy to risk themselves in 50-50 challenges.

And should Roy Hodgson manage to get England there, expect at least two of his expected squad to suffer the dreaded curse of the metatarsal.

5. Ian Holloway: funny ha-ha, or just a bit funny?

Like a budget Jose Mourinho, "Ollie" is being royally welcomed back to the Premier League. He gives good copy, and the game needs more characters, right? Those yokel tones, that almost psychedelic turn of phrase, the homespun imagery, it's going to be laugh-a-minute. Certain TV stations will always make sure they have a camera for Crystal Palace's pre- and post-match pressers. This is going to be brilliant ...

Except, except, those who cover him regularly might tell you that Holloway is prone to ever-changing moods, and the gems are sprung from a rather dense seam of spiel. In short: He does go on a bit.

6. Pride of the principality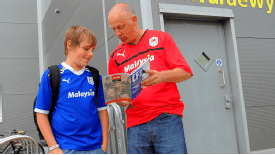 PA PhotosCardiff City fans can look forward to football in the top flight and a renewing of hostilities with Swansea.
Ten percent of the Premier League will not even be playing for an English club. A genuine first will see two Welsh clubs compete in England's top division for the first time in professional football's 125-year history.

Cardiff City are back with the big boys for the first time in 51 seasons, but their Swansea brethren have already laid a considerable marker. A League Cup to their name, and with the reputation of a team most would pay to see, the Swans have become many fans' second team.

Malky Mackay's recent interest in the Everton job suggests that he feared for his long-term security and that of Cardiff too. The Bluebirds who now play in Malaysian red have ambitious, and rather meddlesome, owners. There might be ructions.

7. Bale-ful Tottenham

Even if he has not gone by the time you read this, it is clear Gareth Bale will not be a Tottenham Hotspur player by the time Sept. 3 has come around.

Daniel Levy blamed Spurs' 2008-09 slump on Dimitar Berbatov, and Luka Modric got the same treatment in 2011-12. Perhaps some lessons might have been learned. After all, Spurs have been selling their best players since Glenn Hoddle took his "Diamond Lights" to Monaco in the summer of 1987.

A toothy-smiled AVB charm offensive was actually rather effective last season. Critical reassessment was possible after Spurs played some rather good football. That much of it was played by Bale presents something more of a problem.

8. Stoke to play actual football?

Recent football stats-as-answer tome "The Numbers Game: Why Everything You Know About Football Is Wrong" placed considerable sway on the teachings of Tony Pulis' Stoke City regime. A new edition might be required soon since the Potters have torn up the manual. The fans, bored by five years in the top division, after 22 years away before that, decided they wanted entertainment in the form of football, not tag-team rugby league.

Pulis is working in the media now, and he has been palling up to Harry Redknapp of late. Meanwhile, Mark Hughes is the new man in charge, and the promise is of less of the long ball and much less of the rucking and mauling, too. However, any Stoke supporters recalling Hughes' bulldozing early months in charge at Blackburn might steel themselves for a bumpy transition away from the Pulis plan.

9. There's a Joe Kinnear

This one is rather too obvious, but it is going to be whole lot of fun for everyone not of a Newcastle persuasion. The aftershocks from Joe's initial explosions are still being felt, even if he has now learned the names of the players and stopped taking calls from radio stations as closing time approaches.

Alan Pardew seems to spend every media appearance explaining that he is still completely in charge. In turn, Kinnear tells the media that he is running things in consultation with Pardew. This is not exactly Newcastle united.

The expected outcome is Pardew to eventually walk in exasperation and Kinnear to take over the managerial reins. Although, considering this is Newcastle, and Mike Ashley's madness is at hand, that seems a bit too predictable.

10. Count on Coutinho

Luis Suarez is dead in the eyes of Liverpool fans. They invested so much in him, took up indefensible positions to support him, and then he goes and does that.

Now, whom to idolise next? Little Philippe Coutinho looks to be the latest gilded lily, and a glance at his past suggests little in the way of the controversy Suarez was always likely to bring. He seems a very nice young man.

Coutinho looks like being Brendan Rodgers' best signing yet, and the best made in the Premier League's January transfer window. Can he push on from that to be the latest Red to wear the unbridled admiration of the Kop? Or -- after Suarez, after Fernando Torres, after Xabi Alonso -- have their hearts been broken once too often?