PL Top 10: A point to prove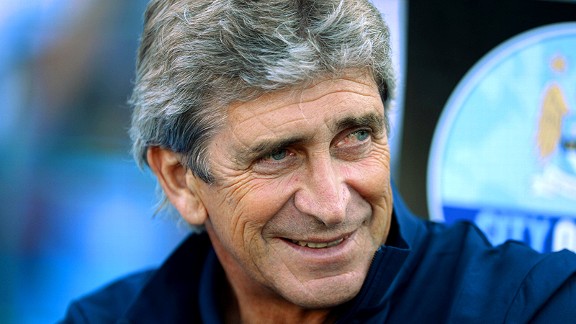 Lefty Shivambu/Gallo Images/Getty ImagesAnything less than a Premier League title in his first season at City will be seen as a failure for Manuel Pellegrini.
Many of the Premier League's top clubs head into the new season with fresh faces at the helm, while players right through the league will see the opening day as a path to redemption. ESPN looks at the 10 figures in England's top flight with a point to prove.

David Moyes

How do you succeed the manager who had everything? David Moyes is the first volunteer to attempt to answer that question, though he says kingmaker Sir Alex Ferguson offered him no option other than to take the Old Trafford reins. Perhaps he is the first victim instead.

His reputation as one of the best managers in the game is at risk in the biggest job in the English game. Ferguson resigning was the story of the decade. Moyes surpassing Ferguson would be the achievement of all time but for the moment, keeping United in contention for trophies is the task in hand. A previously unshakable confidence must stare down perhaps the heaviest scrutiny a new manager has ever faced.

Jose Mourinho

He is no longer special -- just happy, he says. He's not been quite the quiet one this summer but it does seem to be a more subdued Jose. How long can that last? The simple answer: as long as he repeats the relentlessness with which he stormed English football nine years ago.

The last season of his Real Madrid reign featured a paunchy, greying and wild-eyed Mourinho. The playfulness was gone. Life looked to be getting him down. The summer signs are of refreshment, rigorous planning and a man who's relaxed to be back at Chelsea. Can he overturn the footballing adage of "never go back?"

• Palmer: New kids on the block
• Tyler: PL Top 10: Players we'll miss
• Brewin: PL Top 10: Reasons to watch

Manuel Pellegrini

The holistic one is here and the contrast could not be greater to his successor. Where Roberto Mancini was demonstrative and happy to air Manchester City's dirty linen in public, Pellegrini is a quiet and diligent elder statesman who prefers his team to do the talking.

He is expected to be afforded similar patience to his predecessor by his Abu Dhabian paymasters, but a heavy spend has already been laid out on quality players. Anything less than a second Premier League title would be seen as failure at City.

Brendan Rodgers

His teeth are freshly gleaming, and he looks far more slimlime compared to last season. New Brendan, better Liverpool? That's exactly what is required.

This year, there will be no fly-on-the-wall documentary following him around but the glare of expectation will be burning brighter still. Last season saw him given a pass by Reds fans so he could learn lessons as a young manager. Others chortled at a rather gratuitous firing out of jargon-filled quotes that took liberties with the English language. He cannot afford to continue as a figure of fun from now on. Even without Luis Suarez, Liverpool must sustain a credible push for a top-four position.

Danny Welbeck

A striker who does not score goals is usually about as useful as a postman who does not deliver letters. However, Welbeck ended the 2012-13 season as a key Manchester United squad member and the man whose selection against Real Madrid set Wayne Rooney on his collision course with the club.

Welbeck's solitary goal last season gave him the lowest scoring ratio of minutes per goal of any striker in last season's Premier League. He veered dangerously into Emile Heskey territory, but an ability to follow his manager's instructions kept him in Fergie favouritism. More of the same, but with far, far more goals is needed this season.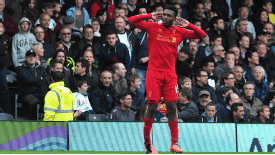 GettyImagesDaniel Sturridge must continue the form he experienced at Liverpool in the second half of last season.
Daniel Sturridge

This is a World Cup season and as such, England places (qualification depending) are up for grabs. And there is not exactly a rich vein of striking talent to mine, meaning that Sturridge and Welbeck have a more than decent chance of being in Roy Hodgson's squad.

Should he recover well from the ankle injury sustained on England duty against Ireland in May, then the first-choice striking role at Liverpool is his. The January move to Liverpool was a success, but Sturridge has had a habit of starting well at his previous clubs before losing his way. There is a large weight of responsibility on his shoulders now. Play well, and a flight to Rio beckons.

Mark Hughes

Hughes looked finished as a Premier League manager last season when failing to register a win in QPR's first 12 matches of the campaign. The Welshman constantly seemed at a loss to explain his team's failure to jell, and departed Loftus Road still very much a stranger to his players.

A Championship job looked the best Hughes could hope for until he rather surprisingly replaced old handshake partner Tony Pulis at Stoke. A change in the Potters' previously prehistoric playing style is promised, but a winning approach is needed too. Hughes faces the toughest assignment yet of his career. The Britannia's fans have become a difficult market to please.

Jack Rodwell

Rodwell was tarred with the same brush as Manchester City's mostly disastrous summer signings of 2012 but could at least list a series of debilitating hamstring injuries as reason for his non-participation. Scott Sinclair, sadly, could offer no such excuses.

In City's final matches of last season, Rodwell suddenly looked the player he seemed capable of being when a teenager at Everton. With Fernandinho added, competition for places in City's midfield is as tough as at any club in the Premier League, but Rodwell could still force his way into Pellegrini's starting XI. From there, England chances may beckon too. No more injuries, please.

Christian Benteke

We can be thankful to Christian Benteke for one thing. At least he slammed the door shut on a summer of speculation about his future when he signed a new contract at Aston Villa. Others have not been so accommodating. Now to prove that he was worth all the fuss and anguish he caused worried Villa fans.

Benteke and fellow fledglings eventually lived up to Paul Lambert's faith in them last season but it was a close-run thing. Villa could have cashed in on the Belgian to the tune of 20 million pounds but instead stretched their meagre finances by giving him a sizable pay increase. He needs to fight off the virulent footballing disease commonly known as "second-season-itis."

Roberto Martinez

There is a school of thought that replacing Moyes at Everton might be more difficult than being the man to succeed Ferguson at Manchester United. That theory will be rigorously put to the test in the coming season.

It seems odd that a man who won the FA Cup with Wigan has much to prove, but that is a cost of getting them relegated too. And there are those who believe Spanish Bob's sunny, media-friendly disposition has bought him far more time than he deserved. Losing streaks like those he regularly suffered at the Latics will no longer be acceptable at the "School of Science."