Stability, eh? Of the 20 men who will take charge of Premier League sides in the 2013-14 season, Alan Pardew is the second longest serving, after Arsene Wenger. And he's been at Newcastle less than three years. In fact, Wenger, Pardew and Fulham's Martin Jol are the only managers who have spent the past two full Premier League seasons in charge at their current club.

Ladies and gentlemen, this is what you call sailing into uncharted waters. Navigators need reference points, whether it's the stars reliably tracked via sextant or marine maps charting unsighted rocks and currents or simply binoculars pointing out lighthouses and sandbanks.

The 2013-14 season offers very few, top to bottom, but it's especially at the summit of the league that you're left without certainties and markers. Gone is Sir Alex Ferguson, the Great Wall of China of the English game, visible from outer space (just about). Gone is Roberto Mancini, whose three-and-a-half-year reign may have been dwarfed by Sir Alex's, but was nevertheless the only manager Manchester City have known since they started winning silverware.

At Chelsea, managers come and go, but what's gone is something else: Roman Abramovich's determination to build a West London-based replica of Barcelona. Instead, he has appointed a coach who represents a 180-degree turn from traditional tiki-taka.

Plenty have speculated about the task facing David Moyes in replacing Sir Alex. Folks have gone socio-cultural: both Glaswegians (Bearsden Road becomes Crow Road which runs into the Clyde Tunnel and -- presto! -- you're in Govan; it's 5.6 miles from Moyes' birthplace to Sir Alex's), both articulate and thoughtful, both unremarkable players who knew from a young age that they'd become managers.

Others have pointed to Moyes' record at Everton, how reasonable success with limited funds at Goodison is bound to translate into unlimited success with reasonable funds at Old Trafford. Others still underscore the fact that Moyes was "hand-picked" by Sir Alex who, in any case, is still hanging around the club, ready to "lend a hand."

It doesn't take much to deconstruct those arguments. There are plenty articulate, thoughtful Glaswegians who were not uber-gifted players and are not very good managers either. Moyes overachieved at Everton, given the resources available to him, but Manchester United is a wholly different animal presenting entirely different challenges. And Sir Alex's investiture only takes you so far: Kleberson, Massimo Taibi and Bebe were also presumably hand-picked too. Besides, he's never before had to name a successor; it's not as if there is any particular track record to go on.

In 11 full seasons at Goodison, Moyes' teams played an average of 46 games a season and never more than 54. 54 is the FEWEST number of games that United have played in a season in that same time span; on average, they've played a whopping 58 per year. That's 12 more and that's a huge amount. It affects training regimens, recovery times and how you manage your squad. And that will be another huge change.

Last season, only three players started 30 or more games for United. Contrast this with seven at Everton under Moyes. Sir Alex took rotation to an extreme. Moyes has historically done it less, though, given the size of the squad and the number of fixtures, he'll have to do it more. It's not a straightforward, simple thing to do, not if you want to both win and keep everyone happy.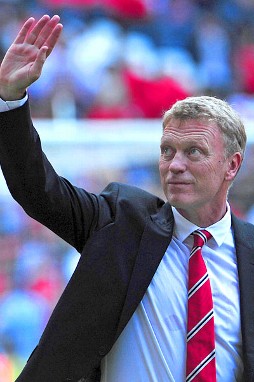 Carl Court/Getty ImagesDavid Moyes will be one of the most scrutinised figures in the Premier League this season.
Then there's the obvious factor that, after years of knowing only Sir Alex and his ways, the squad will have to respond to someone else. It's only human for players to second-guess, to wonder whether Sir Alex might have given the same instruction, to ask themselves whether Moyes knows what he's doing. Every day will be a challenge, every statement will be a way of proving himself.

Throw in the other well-known issues - Wayne Rooney's ennui, the gaping hole in midfield and the fact that legendary chief executive David Gill is now also gone -- and it becomes obvious nothing can be taken for granted at Old Trafford this season.

The one thing that appears certain is that, for Moyes, success shouldn't be defined by whether he effectively replaces Sir Alex (which would be superhuman) but simply by whether he negotiates the transition, develops the club and writes his own chapters of history, without necessarily providing a sequel to what came before.

Across town, Manuel Pellegrini is equally tough to decipher. Like Moyes, his European trophy haul is sparse (an Intertoto Cup for the Chilean, a third-tier title for the Scot). Unlike Moyes, he has managed a top European side before -- Real Madrid -- but that lasted only a single season and, despite the second-highest league points total in the club's history, it ended trophy-less.

His teams have played some sparkling football and he has taken underdogs such as Villarreal and Malaga to incredible heights. But this is a new league in a country where he has never worked. One stat is particularly ominous. He turns 60 in September and, in the past 20 years, in Europe's top four leagues, nobody that age or older has ever moved to a foreign country without any previous coaching or managing experience and lasted more than a season. Simply sticking around next year would mean making history for Pellegrini, though, of course, expectations are much higher.

He won't just have to deliver results. City had those, at least domestically, in the past three years, finishing third, first and second and reaching two FA Cup finals (winning one). He'll need to develop a style which many felt was lacking under his predecessor. The men who helped appoint him -- chief executive Ferran Soriano and director of football Txiki Begiristain -- are Barca alums: It's no secret their resumes helped them land their jobs and that they have pushed Pellegrini as the man to recreate a corner of the Camp Nou in the Northwest.

He has a talented squad, but, as ever, it's a huge ask. City have -- again -- spent big in the summer (some US$135 million in net terms), yet of the four newcomers only Fernandinho (who is 28 and spent the past eight years in Donetsk, prompting his own questions of adaptability to Western Europe) looks a certain starter. Competition for spots can, of course, be a good thing, but it also brings challenges in terms of man-management, a greater possibility of getting things wrong and -- there's that word again -- uncertainty.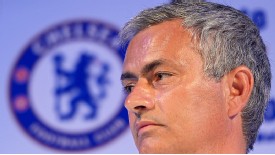 GettyImagesCan Jose Mourinho replicate the success he brought to Chelsea during his first stint at Stamford Bridge?
It seems weird to associate that term to Jose Mourinho -- a man who has delivered silverware (if you count the Spanish Supercup, which he likely does) every time he has had a full season in charge of a club. And yet, to borrow a phrase from Donald Rumsfeld, his second stint at Stamford Bridge is chock-full of "known unknowns" and probably some "unknown unknowns" too.

Forget the tripe about "never going back." It shouldn't be a hurdle per se. Enough managers have done it and been successful -- Jupp Heynckes and Udo Lattek at Bayern, Fabio Capello at Real Madrid -- that it's not an insurmountable obstacle (though, to be fair, there are more examples where the return is bitter).

Where it does matter will be in the expectations of the media, players and fans, many of whom regard him as some kind of infallible deity given his earlier success. Living up to the standard he himself set between 2004 and 2007 is a huge challenge unto itself and, when you think about it, a grossly unfair one.

- Video: Moyes ready to go
- Video: How Will They Line Up?
- Video: Premier League power shift
- Premier League Spotlight

Particularly because this is a different Roman Abramovich and a different Mourinho than the ones who formed such a successful partnership nine years ago. These days, Abramovich is a far more "hands-on" owner, with his hand-picked crew dotted throughout the club in powerful positions. After years of deferring to "experts," he has been in the game long enough to trust his own judgment and, because he's the guy signing the cheques, he's keen for his voice to be heard. Back then, on the other hand, Mourinho was near omnipotent.

He'll also have to bounce back from the acrimonious experience in Madrid. This is a man who had only ever tasted success and then was forced to come to terms with his own fallibility in his third season. Whether he can turn it into a positive, learn from it and come back stronger than before or whether it proves to be the kind of permanently scarring trauma that makes him indecisive and prone to second-guessing himself remains to be seen.

Then there's the fact that, quite obviously, this is a team built for someone else (Pep Guardiola) and built to play a different brand of football, one based on short passing, creativity and possession. Abramovich hasn't bought a new set of players to suit Mourinho's philosophy, you sense that he's had very little input in this transfer window: Both newcomers, Andre Schurrle and Marco van Ginkel, were scouted heavily and on their way before he arrived.

If Mourinho is to succeed he'll either have to adapt his philosophy to this squad or do the converse, get them to adapt to his view of the game. It's an enormous ask of any manager, of the kind that -- should he pull it off -- will truly cement his "Special One" moniker.

All this makes the 2013-14 Premier League season a voyage of discovery, a jaunt into a Bermuda Triangle of questions that may not yield answers for a while, if at all. We can't promise it will be good. We can promise that it will be different. And likely entertaining: hopefully in terms of football, almost definitely in terms of storylines.