Uruguay also benefit if Suarez stays at Liverpool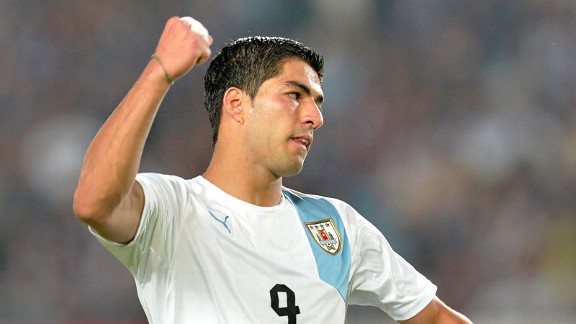 Kazuhiro Nogi/Getty ImagesUruguay need Luis Suarez to continue performing as he did against Japan -- and staying with Liverpool could help him do that.
"Football is won with goals," Uruguay coach Oscar Washington Tabarez said Wednesday, "and not with percentages." It is one of his favourite lines, and a 4-2 away win over Japan had given him the opportunity to roll it out once more.

His side had been on the back foot for much of the game. But they had won with some comfort. Tabarez likes to reel out a statistic from the previous World Cup -- where, after struggling to qualify, Uruguay reached the semifinals. In all seven of their games, apparently, the opposition had more time of possession (with the exception of the group game against South Africa, which was 50-50). But Uruguay usually had more shots.

But there are obvious risks in a situation where the opponent has the ball longer. You must defend efficiently for longer, and make full use of those chances you have to attack. Put simply, your margin for error is reduced.

-Suarez denies Liverpool U-turn

This helps explain the disastrous season Uruguay endured in 2012-13. After winning the Copa America in 2011, they made an excellent start to World Cup qualification. Last June, with a third of the marathon tournament played, they were second in the table with a game in hand. Then the wheels fell off. They were held to two home draws and accumulated four heavy away defeats before, in typical backs-to-the-wall fashion, winning 1-0 away to Venezuela -- their direct rivals for a place in Brazil -- in the last round of games two months ago.

The side had grown old together -- the same group of players have been together since the Copa America of 2007 -- and they were no longer defending and attacking with the same efficiency. Uruguay have conceded 21 goals in 12 matches, three times as many as second-place Colombia.

The solution has been to defend deep, with the covering midfielders close to the centre backs. That way, captain Diego Lugano is not drawn out into open space, where his lack of speed can be dangerously exposed.

This means that the strikers can be left isolated. It is just as well, then, that Uruguay can count on a forward who can tear defences apart on his own. Luis Suarez was the difference between the two sides in Wednesday's win over Japan. There was panic in the opposing ranks every time he was involved. Suarez has the speed to burst behind the defensive line, and the unpredictable skill to pick up possession in front of the opposing centre backs and charge his way through. He was involved in almost everything that Uruguay produced.

The first goal was scored by Diego Forlan, but set up by Suarez, who latched on to a pass in the deep left channel, made progress towards the bye-line and squared for Forlan to side-foot home. Forlan scored the second with a superbly struck free kick -- awarded for a foul on Suarez. The third came from Suarez himself with an emphatic right-footed-cross finish. And he was even involved in the interplay that helped set up the fourth goal by Alvaro Gonzalez. Take Suarez out of the equation and Japan probably would have won.


With an on-form Suarez, Uruguay always have a chance. They can defend deep and play up to him with a realistic expectation that he will come up with something. He is so important for Uruguay, and playing for Uruguay is so important for him -- which may well be what Liverpool are banking on.

There is, of course, an inherent risk in Liverpool's decision to hang on to Suarez. Generally speaking, few things are more useless than a footballer who does not want to play. Liverpool can sell him for a hefty transfer fee. If they keep him, they lose that money, and may not effectively have the player if his motivation suffers.

It is hard to think of that happening to Suarez, anyway. It would appear that giving his all is the only way he knows. But that is surely especially true in a World Cup year. Suarez will want to be as sharp as possible in order to reproduce the form he showed against Japan, in more important circumstances.

After that disastrous 2012-13, Uruguay face a battle merely to make it to Brazil. At the moment they lie fifth in the table, the playoff spot. But they only lead Venezuela on goal difference, and their next opponents are Peru, who can overtake them with a win in Lima Sept. 6. Then Uruguay close their campaign against the top three sides in the table -- home to Colombia, away to Ecuador, home to Argentina. They will have to scrap every inch of the way just to make the playoff.

They desperately need a match-fit Luis Suarez -- so if he must resign himself to spending another year at Liverpool, Uruguay will hope he does. Percentages may not win matches, but Uruguay's chances of victory are always a few points higher if Luis Suarez is raring to go.