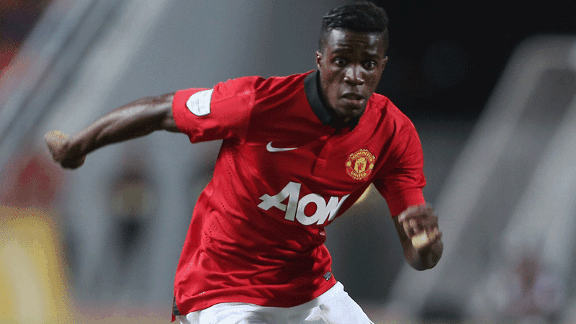 GettyImagesWilfried Zaha impressed David Moyes during Manchester United's preseason.
The agenda of this football summer has been dominated by the big-money transfers that have yet to happen, so the Premier League will be left to rely on a familiar cast list of heroes to maintain its position as the most talked-about domestic championship in the game.

Edinson Cavani, Radamel Falcao, Gonzalo Higuain, Cesc Fabregas and Cristiano Ronaldo are just some of the stellar names who have been tipped to secure big-money transfers to England's elite clubs in recent weeks, yet none have arrived, and so the search for unlikely fresh-faced heroes is underway.

With many of the Premier League's top managers vowing to give their homegrown stars a chance this season, here is ESPN's guide to the new kids on the block who will be hoping to become instant stars.

Wilfried Zaha (Manchester United)
Age: 20
Pedigree: The rising star of English football, set to make his Premier League bow.

As young guns go, Zaha is hardly a secret weapon, as United paid Crystal Palace a reported £15m to sign him last January. Now he gets his chance to confirm that the talents which so impressed departed United boss Sir Alex Ferguson can enhance the reigning Premier League champions.

Quick, tricky and oozing with enthusiasm, there was a suggestion that Zaha could be loaned out by United in a bid to give him some regular Premier League football, but he caught the eye on the club's preseason adventures and boss David Moyes has talked up his chances of playing a big part in his first team.

"We should not expect too much too soon from Zaha as he has just come out of the Championship, but the ability is there for all to see," stated Moyes. "Don't forget he is still a very young boy, but he will have a part to play for us this season."

Matej Vydra (West Bromwich Albion)
Age: 21
Pedigree: Shining star in the Championship for Watford last season.

The only mystery surrounding this lavishingly gifted Czech Republic international was why it took so long for a Premier League club to sign him up this summer.

West Bromwich Albion boss Steve Clarke took the plunge, and there is a good chance he will be handsomely rewarded, as Vydra looked to have it all as he led Watford's promotion charge last season.

Witnessing his stunning goal in last season's playoff semifinal against Leicester confirmed that this young man has the ability to play at any level of the game, and having seen Romelu Lukaku move back to Chelsea after his loan move at West Brom last season, the Baggies have snapped up a gem of a replacement in Vydra.

Tomas Kalas (Chelsea)
Age: 20
Pedigree: On the books at Chelsea since 2010, but only getting his first-team chance now.

Jose Mourinho has been hugely impressed with this full Czech Republic international defender since his return as Chelsea manager and has stated that Kalas will have a role to play in his first-team squad this season.

That endorsement must be music to the ears of a centre-back who has spent the last two seasons on loan at Dutch club Vitesse Arnhem, and he is eager to prove his worth among the star names at his parent club.

"The manager has told me that I have a chance to be in the Chelsea team this season and I have only ever wanted this," Kalas says. "Going on loan to Vitesse was always part of the process of learning and now I am getting a chance at Chelsea as a full international player. I am ready for this."

Nathan Redmond (Norwich)
Age: 19
Pedigree: Hailed as a wonderkid at Birmingham, his big Premier League chance has now arrived.

Norwich manager Chris Hughton knew all about the potential of this thrillingly promising, attacking starlet after working with him during his stint as Birmingham boss, and he believes he has signed a major star in the making after bringing him to Carrow Road this summer.

"He has the ability to play anywhere across the front line and while we have to be cautious about setting his targets too high in his first season here, I know what we have got in Nathan," said Hughton. "There is clearly room for improvement and development, but the raw potential is very exciting."

While fellow England hopeful Zaha might struggle to force his way into the Manchester United side on a regular basis, there is every reason to believe Redmond will get his chance to play under Hughton's guidance.

Curbing his eagerness to use the full range of his abilities may be the most challenging aspect of his maturing process at Norwich.

Yaya Sanogo (Arsenal)
Age: 20
Pedigree: A summer signing from Auxerre being heavily promoted by boss Arsene Wenger.

In a summer when Arsenal have threatened to shatter their tight wage structure and spend big on the likes of Higuain and Luis Suarez, manager Arsene Wenger looks set to head into the new season with Sanogo as his only major summer capture.

His arrival has hardly created the kind of euphoria that would greet the arrival of a genuine star at Arsenal, but Wenger is convinced he has a starlet who will take the Premier League by storm. "I keep hearing we have signed no one so far this summer, but you forget Sanogo," stresses Wenger. "He will give you a big surprise. Wait to see."

This France Under-21 star has done well to recover from a nasty leg break in September 2010, with his encouraging form at Auxerre last season encouraging Arsenal to snap him up. The next Nicolas Anelka or another Marouane Chamakh? Wenger's latest punt on Gallic attacking talent is about to get underway.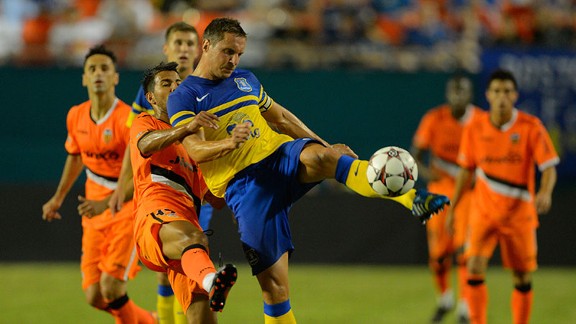 APGerard Deulofeu is expected to be an ideal fit for Roberto Martinez's plans at Everton.
Gerard Deulofeu (Everton)
Age: 19
Pedigree: The latest masterful starlet to fall off the production line at Barcelona.

Deulofeu's name has been hyped with increasing volume in Spain over the last year and we will soon discover whether this highly promising teenager is ready to mix it in a physical Premier League.

A Spain Under-21 international who was knocking on the door of the Barca first team last season, he will struggle to force his way past the attacking legends that hold sway for as long as they want at the Nou Camp.

With that in mind, a move to an ambitious English club to work with a Spanish manager who promotes a free-flowing style of play seems like the perfect fit. All that is now required is for this thrilling attacking talent to live up to his billing at Goodison Park.

Jordan Ibe (Liverpool)
Age: 17
Pedigree: His Premier League debut on the final day of last season could be the start of something big.

Liverpool manager Brendan Rodgers was heavily promoting the virtues of young Raheem Sterling this time last year, and while that young winger showed flashes of inspiration in the first team, he ran out of gas in the second half of the campaign and has much to prove as he starts all over again.

While Sterling still has the potential to be a star when he matures, Ibe is the new name coming to the fore at Anfield. And while his tender years appear to rule him out of contention for regular first-team starts this season, he could have an impact from the bench.

With Ibe given his chance to shine on Liverpool's preseason tour, boss Rodgers has been keen to promote his talents in his recent press briefings. A raw talent maybe, but Ibe is a winger who could be a wild card for Liverpool.

Adnan Januzaj (Manchester United)
Age: 18
Pedigree: Comes with a glowing endorsement from departed United boss Sir Alex Ferguson.

Belgium is producing footballers of high quality at a stunningly impressive rate right now, but it looks as though this Brussels-born star in the making might be one that slips through their net.

His eagerness to play for Albania suggests this graduate of the Anderlecht finishing school might never appear on a World Cup finals stage, but many are predicting he will make up for that void on his CV with a glittering career at United.

The now-departed Sir Alex Ferguson was a huge fan of Januzaj's fledgling talents, and after impressing on the recent tour of the Far East and Australia, he may well become the first emerging starlet of the David Moyes era at Old Trafford.