Lessons from week one of Ligue 1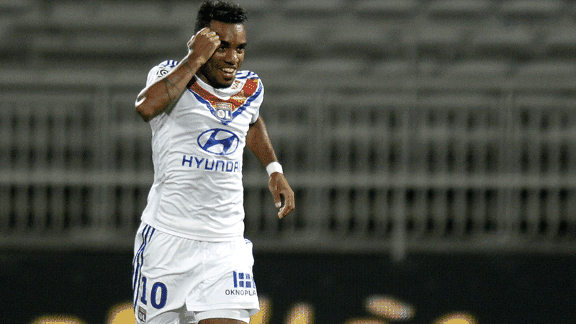 GettyImagesLyon were easily the most impressive side of Ligue 1.
The opening round of the Ligue 1 season saw the return of Monaco to France's top flight and Lyon take their place at the top after a convincing win. Here are five things learned from the first week of matches.

Keep tabs on reserve team

Nine years after being relegated to the second division, Nantes, one of France's most iconic and historical clubs, is finally back in the top flight. Considered in the past as having the best academy in the country and one of the best in Europe, similar to Barcelona's La Masia, the youngsters were taught the jeu a la nantaise, a nice, one-touch flowing style of football. But clearly, it seems that Alejandro Bedoya's new club (although he didn't feature last weekend), while fighting hard to get promotion last season, didn't really keep tabs of what was happening with their reserve team.

Indeed, while the first team were fighting for promotion, young Abdoulaye Toure was getting booked regularly with the reserves, and again in the last game of the season, which meant that he received a one match ban for all those bookings. However, he came on after 67 minutes on Saturday in Nantes' 2-0 win over Bastia. An incredible mistake that will surely see the victory reversed with a 3-0 win awarded to Bastia after they appealed!

Yoann Gourcuff is still alive

You remember him? The good looking, ambidextrous guy, once dubbed the next Zidane? Yes, it's him. He went AWOL three years ago, in the summer of 2010 when he signed for Lyon from Bordeaux. He has scored eight goals in 55 games for Lyon since then, with hardly any stand out performances having been plagued by injuries. But on Saturday, he reminded everybody of what he was capable of, with two assists, a wonderful free kick and an impressive display overall. He was the star of his team's win over Nice (4-0). When his club wanted to get rid of him and his substantial wages (around €400,000 a month), he answered in the best way possible.

That the referees have not changed yet

Last season was marred by numerous refereeing mistakes in Ligue 1. It looks unlikely that things will change this campaign. It started very badly indeed for our men in black. For his first ever game in the top flight, M. Jochem was given what looked like an inoffensive debut match - Valenciennes v Toulouse.

But despite the hosts' comfortable win (3-0), he became the real star of the game with an astonishing blunder. He sent off Spajic after 34 minutes for a foul in the box on Pujol when it was actually Yago who committed the shove. Even if Yago should have 'fessed up he was the one at fault, it is still hard to believe how those kind of things still happen in a big European league. To his credit, he apologised straight after the game for his mistake.

'Ibra' still loves walking

He had no reason to change but as it is a new season, and another top striker (Cavani) has arrived, plus a new manager (Blanc) has taken the reins at PSG, one could have thought that, maybe, Zlatan Ibrahimovic would have a more positive and committed attitude on the pitch this campaign.

The game in Montpellier on Friday evening (1-1) showed that, alas, nothing has changed! He still spends 70% of the game walking on the pitch, 20% playing and 10% moaning. He was like that last year, scored 30 league goals and carried PSG to the league title. He will be the same this year. He assisted Maxwell with his goal to make it 1-1 for PSG. So Ibra still loves walking but he is still decisive as well. So every cloud...

A game still lasts 90 minutes (even in Bordeaux)

90 minutes, not 81, 82 or even 87. In two official games so far this season, Bordeaux have already shown the same weakness as last season: the team cannot stay focused, organised and in the game for the whole duration. In the first match, in Gabon, for the French Community Shield, PSG levelled the score in the 81st minute before scoring the winner in added time (93rd). Last Saturday in the league, at home, where they looked like taking a point against Falcao's Monaco, they conceded two goals at the 82nd minute followed by another 87 minutes in. Whether it's a physical or a mental problem, manager Francis Gillot will have to fix it quickly because playing only 80 minutes will be harmful to their season.