Germany charges with tank half full in draw with Paraguay
"Sensationally good positioning at the back -- without playing catenaccio -- and scoring three, four goals at the other end," was German national manager Joachim Low's plan for the World Cup season.

Well, Germany got it half-right against Paraguay in Kaiserslautern on Wednesday night. After a series of mishaps and calamities in defence, the home side rallied to earn a 3-3 draw that will do little to quell residual doubts about this side's resilience. Since the beginning of 2012, Germany have conceded 33 goals in 20 games. If the team continues in that vein, winning the tournament in Brazil will surely remain a pipe dream.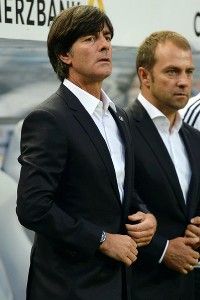 PATRIK STOLLARZ/AFP/Getty ImagesJoachim Low's Germany produced its expected output but raised doubts on defense against Paraguay.
"There was a lack of concentration, many individual and many tactical mistakes," Low said, clearly miffed after the match. "We were very jittery and not well organised. There were crass errors."

Before the match, he had emphatically defended his gung-ho philosophy. "Personally, I love nothing more than playing attacking football," the 53-year-old had said. To be fair to him, his side is easily the most entertaining Germany in recent memory. Going forward, Mesut Ozil, Thomas Muller, Marco Reus and Miroslav Klose, desperate to equal Gerd Muller's all-time scoring record of 68 international goals, played with typical style and verve, especially before the break. The front four could have easily scored half a dozen goals if it hadn't been for some slack finishing from Reus and Klose. Ilkay Gundogan's rather tame effort from the 18-yard line crept in under Justo Villar's right hand (1-2, 18') and a controlled finish from Muller from a long Mats Hummels pass (2-2, 31') were scant reward for the creativity and dominance of the home side.

But in their own half, the men in white and black showed neither sensational nor good positioning. In fact, there was no discernible positioning at all at times. Paraguay's first (Jose Ariel Nunez, 9') and third goals (Miguel Samudio, 45') stemmed from a total lack of coordination of the back four, who were caught out by two simple balls over the top. Hummels, in particular, looked at fault for those two strikes, but it was a collective failure. "It's difficult when there's no pressure in midfield on the opposition," said the Dortmund player. Low agreed but warned that the defence had to do better in anticipation of long balls, too.

Sami Khedira's scuffed clearance in the run-up to the 0-2 (Wilson Pittoni, 13') was equally unforgivable. The crowd in the Fritz Walter Stadium jeered at halftime. "We know that we made a lot of mistakes, the manager mentioned it at halftime," Muller said.

In the second half, Bayern defender Jerome Boateng came on for Per Mertesacker. The lack of competitive action for the Arsenal centre back had shown. Klose's quest for Muller's crown soon ended, as well. Low substituted him for Mario Gomez (Fiorentina), who was booed by some sections of the crowd (54'). Whether they expressed a dislike for the former Bayern striker or simply their disapproval of the end of Klose's involvement was hard to tell. The 35-year-old veteran used to play for Lautern and is still very much a local hero in the city.

Germany exerted more control; Paraguay had only one shot on goal before the final whistle. There was a combination of reasons. Lars Bender, on for playmaker Gundogan after 27 minutes, came more and more into his own as a defensive anchor in midfield. His equaliser (75') capped a composed performance. Boateng's athleticism and match sharpness made a difference, too. And Paraguay undoubtedly were content to sit back and defend their lead. In the first half, the visitors had pressed a lot higher.

In the end, Muller didn't quite know what to make of the performance. "It was a strange game," he said. Keeper Manuel Neuer seemed almost happy, by contrast. "It was a good warning shot for us, we can't play like that [in the next World Cup qualifier] against Austria, we have to learn from this game," said the Bayern No. 1. And captain Philipp Lahm pleaded patience: "We only had two training sessions, it's not enough. I'm not worried at all. Next time, we'll have more time to prepare. You need to practice defending when you have players from different clubs coming in, with slightly different philosophies."

"Defence? No, thanks," was Suddeutsche Zeitung's take on the proceedings. The explanations seem to be shifting all the time -- TV expert Oliver Kahn came close to blaming the lack of coherence on a Bayern-Dortmund rivalry -- but the problem is in danger of becoming chronic. After seven years of honing Germany's attacking game to the verge of perfection, it's high time Low started sorting out the other, less glamorous bits.