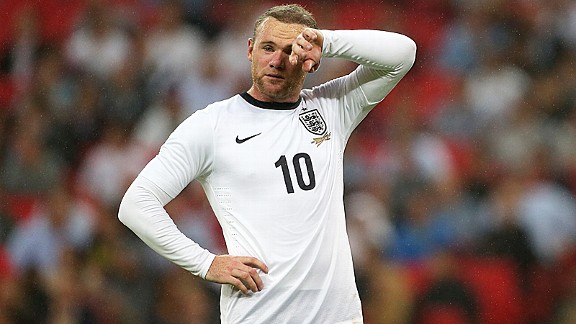 GettyImagesWayne Rooney finds it tough going against Scotland.
"It's all for nothing if you don't have freedom," bellowed Mel Gibson's William Wallace in "Braveheart."

Wayne Rooney, in multimillionaire footballer fashion, probably agrees. Wembley and the England team granted him a freedom to play football at last. Freedom of movement to a club of choice is yet to be granted to him.

Scotland's Tartan Army, which invaded Trafalgar Square and then advanced to Wembley clad in kilts and accompanied by bagpipes, would not agree, but in the English media, Rooney had managed to overshadow the oldest fixture in international football. This summer, the triumvirate of Rooney, Luis Suarez and Gareth Bale has dominated everything. Thank whichever deity you choose that it will soon all be over.

The mystery shoulder injury that ruled Rooney out of the Community Shield has eased. The hamstring that sent him home from Thailand after a few minutes of training had obviously loosened.

It may frustrate those who do not believe what they read without quotes, but what is known from this summer is that he wants to leave Manchester United. On repeated occasions, his "people" have briefed trusted journalists. Unlike the ever-charming Suarez, Rooney has not gone on the record himself.

It takes little reading between the lines to know of his intentions. Setting himself up as an inverse Elvis Costello, Wayne wants to go to Chelsea.

"Not for sale," is the repeated Manchester United mantra, until it suits them to say different. How his completion of 67 minutes fits in with their current policy of nonselection remains to be seen. A player whose commitment to fitness at his club has long been questioned, and whom his club manager said was in no way match fit, turned up 35 minutes early for Monday's open England training session.

Aside from 45 minutes behind closed doors against Real Betis, Rooney last played in public in June, at Rio de Janeiro's Maracana, and scored the type of goal to remind why such a fuss is made of him. His last public appearance on home soil had been a decent performance against Ireland in this very stadium.

"Everybody likes to see Wayne Rooney performing well," said David Moyes, in fulfilling his duties as a pundit on ITV. "I see tonight as a plus that he's going to get a game."

You didn't catch Sir Alex Ferguson putting himself in a position to have to say such things, though Moyes has been nothing but publicly complimentary to Rooney all summer.

"David Moyes and Manchester United have been fantastic," said Roy Hodgson. "They have welcomed the fact that he wanted to play and that we played him."

As if to prove his readiness, Rooney broke into a lung-bursting sprint from the prematch huddle, outpacing all of his teammates. His fist was soon pumping at teammates in encouragement too. Rarely a ray of sunshine, he looked almost happy to be back.

He was playing in the position that Jose Mourinho has earmarked for him at Chelsea, the line leader who is able to drop back into midfield, and he began snappily. A late run into the box onto a fine Leighton Baines pass was met with a loose touch that spindled wide. It was perhaps borne of rustiness, but an early chance to write headlines without having to get his agent to put in a call had been squandered.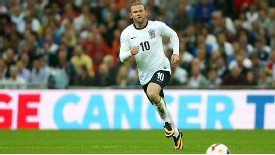 GettyImagesRooney looked lively early but a lack of match fitness took its toll as time passed.
Throughout his career, Rooney has rarely played well when coming back from a break. Perhaps that is United's plan. If they are to sell him to Chelsea, after they have completed their own business, then he will have to play himself in there, and not on their watch.

When Rooney lacks sharpness, he barely looks a footballer. The touch is anvil-heavy, the passes fly off at the wrong trajectory and pace. Scots fans enjoying themselves after Joe Hart's poor goalkeeping had allowed James Morrison to score the opening goal were jeering and booing his every touch. The cheeks were rouged with effort, the hairpiece glistened with sweat.

Rooney's most effective first-half contribution came as a decoy; Theo Walcott chose not to pass when surging in to equalise with his left foot. A minute later, Rooney fizzed a shot wide of Allan McGregor's goal, and soon after found Walcott with an elegant flick. Confidence and comfort looked partially restored, though the zesty runs to press opponents were noticeably slower as the first half drew on.

Beyond the break, he looked leggier still, his joints perhaps having seized up in the dressing room. Nevertheless, this did not look a player incapable of making a contribution at Manchester United. Or Chelsea. He has looked worse in early season than this.

"He got 60 fantastic minutes," said Hodgson. "He of course wanted to stay on and we took the chance to give him an extra 15 minutes. It seems to have gone well, and he's fit and raring to go now when he joins his club."

Wherever his future lies, Rooney's readiness for the Premier League will have been aided by playing in as competitive a friendly as England could have faced. It was a match to remind of why the old rivalry used to be so much fun.

Scotland's tackling and commitment levels were never amicable, and their goals were celebrated like winners in a World Cup knockout match. Rooney even had to play peacemaker when Walcott and Robert Snodgrass broke into a quarrel. When 31-year-old debutant Rickie Lambert, once of Macclesfield Town, Rochdale, Stockport County and Bristol Rovers, and on for Rooney, scored the winner, it was a moment to savour in a match to remember.

"He's been a breath of fresh air since he's been with us," said Hodgson of Lambert. "What a wonderful story."

Lambert's contribution, and the excellence of Danny Welbeck, should mean far more than a Wayne Rooney training exercise, but back to the briefings and speculation we go until Sept. 3. Only then will we know if Wayne has managed to break free.