Silver the only endgame for Moyes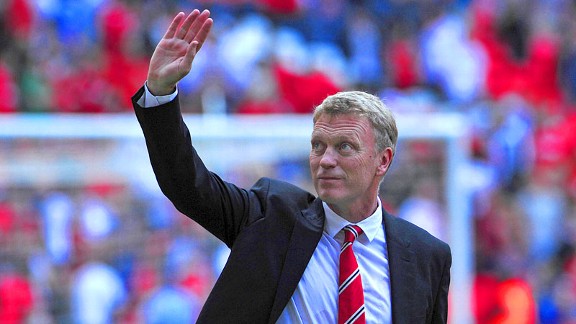 Carl Court/Getty ImagesA poor 2013-14 season for Manchester United could see David Moyes waving goodbye earlier than expected.
"Here we go gathering cups in May" is a now-forgotten anthem at Anfield. Liverpool's slip from lofty perch to mediocrity was initially gradual, but then become irrevocable. David Moyes' greatest challenge this season, and beyond, will be to avoid being seen as the architect of a similar decline.

Gathering a cup in May would greatly help. At a club where the gleam of silver in summer is habitual, Moyes needs a trophy to set out a stall that can last the six-year contract that Manchester United have handed him.

- Bennett, Marcotti: Predicting the Prem: 2013-14
- Payne: Van Persie wins Moyes' first trophy
- Brewin: Moyes takes first step out of SAF's shadow

A Premier League title would be a definite and rather unexpected success. Manchester City and Chelsea are most observers' idea of this season's favourites for the Premier League title. A Ferguson-less United have been relegated to bookmakers' third favourites, but merely making the top four is a still-unsatisfactory minimum level. That used to be for clubs like Arsenal, Tottenham and Liverpool to fight over.

An FA Cup would not have the cachet of days gone by but could send supporters off for the summer with glory in their hearts. A League Cup, were it matched with promising signs in the league, might provide a bridge. The Champions League looks insurmountable. It became so for Sir Alex Ferguson by the end.

The stakes have certainly changed since Ferguson took charge of United. By November 1986, the club were on course for 20 years without a league title. United never lasted the pace, and predecessor Ron Atkinson's team had finished fourth three years in a row.

United were a club of cup runs. Consistency was a constant stranger. The football was attacking, and sometimes great fun too, but too risky for sustained glory. Matches against Liverpool, still the dominant force in the English game, provided some succour; Atkinson's team had a fine record against the dominant team in red but there was still a faded grandeur about United.

Ferguson's first full season -- 1987-88 -- saw his United team finish second in the old First Division without ever actually sustaining a title challenge. The nine-point gap between United and Liverpool may as well have been 90. United were not yet expected to challenge but Ferguson has spoken of the brain-melting pressures he felt at United back then. Even though it is of his own creation, the elder Scot must have sympathy for the man he will be a mentor for.

The task then was putting an ailing giant back on its feet. Now, Moyes must keep it striding forward, and at the same pace as rivals who see this season as their big chance. They had all been waiting for a time when Ferguson was no longer a factor.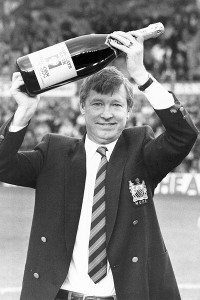 SSPL/Getty ImagesUnlike Sir Alex Ferguson, Moyes will likely not be afforded the patience to wait until a third full season before winnning a trophy.
If trophies are not supplied, then the provision of hope for a bright future is next best. Back in 1988, Ferguson still had a considerable rebuilding job to carry out. Players of advancing years and a troublesome nature needed to be jettisoned. Moyes faces a similar challenge. Wayne Rooney is set to cast a shadow whether he stays at the club or not, while the creak of age is visible in defence, and in midfield too. It must be noted that Moyes has not been bequeathed one of Europe's best teams.

The departed manager was hardly known for his sentimentality, but he had his favourites, and the fans do as well. Overhauling Ferguson's squad will need to be carried out with careful and gentle diplomacy; the decisions on replacements must be first-rate. The stasis of the summer's transfer market stresses the difficulty of that task, and for now, Moyes must negotiate the season with what he was left.

Through the years of success, United have still drawn pride from the promotion of youth. Starlets like Adnan Januzaj can set a scene for that brighter future, while Phil Jones, a player Ferguson singled out for the most fulsome of praise, may find that his development is hastened.

In the summer of 1987, it was relatively easy for Ferguson to sign a quality striker in Brian McClair and proven defender in Viv Anderson. Moyes has been exasperated, as shown by his curt weekend responses to journalists' repeated questions about summer business. Ferguson suffered his own problems with transfers down the years, but could eventually point with unerring justification to a faith in his players.

At a club where success is an expectation, entitlement and dissatisfaction are never far away if there is not full trust in those in charge. Moyes does not possess a previous body of work to convince everybody. If United's style of football does not excite, there will be complaints of a type that Ferguson seldom faced after trophies flooded in, even when his team often failed to thrill.

There are still those, including people within the club itself, who wish that Jose Mourinho was in charge instead. Facing down Mourinho's Chelsea in United's first home game of the season will be an early litmus test, but the comparisons are bound to be made throughout the campaign. Finishing ahead of Mourinho would be a plump feather in Moyes' cap, and must surely be among his personal objectives.

To achieve that, Moyes' team needs to be able blow away the lesser lights in a fashion that Ferguson, once he had hit his groove from 1993 onwards, usually found to be easy. For much of that time, teams would almost be beaten in the Old Trafford tunnel before a match had even begun. The retention of that aura can keep United as a premier contender.

Winning matches against the Premier League's major clubs in a fashion that Moyes never achieved often enough at Everton can advance that development. Chelsea, Liverpool and City all await amid the first five matches. However, if momentum is lost there, then a title challenge may have been squandered before it has even begun.

Until last season, Moyes' Everton were notorious slow starters. Last season, they started well and hit a spell of winter inconsistency that cost them their challenge of reaching the Champions League. That would simply not be acceptable at Manchester United; a failure to qualify for that particular cash cow would surely mean the end of Moyes' employment.

The Champions League itself opens up an area of both opportunity and vulnerability. It was the trophy that Ferguson's gimlet eyes were focused on for so long; it provided both his finest and lowest moments. Even Ferguson's nerve sometimes went in the Champions League; his tactics did not work in any of his four finals, only character and fortune carried his teams to winning two of them.

And though Moyes is a novice who has not even managed a team beyond the qualifying round, his predecessor's final two seasons in the competition were disappointing. Were United to get to the quarterfinals, then Moyes would have gained a mark over Ferguson. A group-stage exit, meanwhile, would register as disaster.

For Moyes, the margins are tighter and the stakes are higher than they ever were for Ferguson, both at the start of his tenure and once he had established himself. To measure the next Manchester United season as a success, silver must be snaffled, and a life of promise beyond Ferguson must be made visible.