For 26 years he consumed every aspect of his club as manager. He moulded it in his own image and forged a reputation for excellence in discovering, nurturing and blooding young talent that extended far beyond just the northwest of England.

Crewe Alexandra's Dario Gradi might never receive the same acclaim as a certain Scottish knight of the realm, but he is etched into lore as the king of Gresty Road.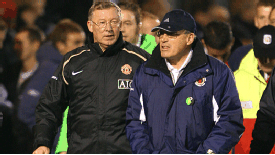 GettyImagesSir Alex Ferguson and Dario Gradi managed Man Utd and Crewe respectively for 26 years.
Five days after Sir Alex Ferguson won his 13th Premier League title with Manchester United in April, Crewe fielded a starting lineup containing XI players who had graduated from their academy in their final League One game of the season. Few outside South Cheshire celebrated the event -- most people in the area favour the more famous team in red 35 miles north -- but it was a landmark moment that punctuated a lifetime's work for Crewe's director of football.

Gradi's coaching career started while he was still at school, the enjoyment of leading his peers at cricket and football lighting a fire in him that would last 50 years. A spell as a PE teacher preceded a move into full-time coaching for the Football Association and then at youth level with a number of London clubs, before the managerial world beckoned. Roles at Wimbledon and Crystal Palace yielded mixed results, but then came a move that, at the age of 40, would be his last in football.

"Crewe appealed to me because they always seemed to be at the bottom of the bottom league," Gradi recalls to ESPN. "I thought I had to go somewhere that I could make an impact. When I got there and wondered what I'd got myself into, though. They had nothing -- the place was a dump. I'd promised at my interview to concentrate on getting young free transfer players in and that's what I did.

"I was determined to get a youth scheme going as I was adamant that producing our own players was the best way to keep the club moving forward. We looked at players who hadn't made it at bigger clubs, particularly the likes of Liverpool, Everton, Manchester United and Man City. At junior level, the managers of clubs would always push their players towards those bigger clubs, but we wanted to make ourselves an attractive proposition to those boys.

"One of the directors used his farm, we built two pitches and made a dressing room out of one of the buildings and brought the kids, from under-12s to under-16s, to play small-sided games amongst themselves. This just wasn't something that happened then as everyone always wanted them to play as much 11-a-side football as possible. But the kids enjoyed it more, they got more touches of the ball. The foundations of the academy were there."

That academy has evolved and become a beacon of player development in English football, with the likes of David Platt, Danny Murphy, Seth Johnson and Dean Ashton all learning their trade at Crewe before going on to play senior international football. Gradi and Crewe's approach remains somewhat of an anomaly in a country that, despite many an FA edict to the contrary, still places more emphasis on winning than technical progression.


"That 'traditional' style of football is engrained in England," Gradi said. "I remember Steve Schumacher, who we had signed from Everton, once did a lovely little turn in a training match -- he said 'if I'd done that at Everton I'd have got bollocked.' It's usually not quite so bad with those from the Premier League now because the number of foreign players means the style has improved no end, more skillful football is played. That's how they've been brought up. When Cristiano Ronaldo was a kid, he'd come home from school at four o'clock, get the football and away he'd go. He wasn't always playing matches, he enjoyed running with the ball, practicing skills. He had that mentality. In England it's all about scoring goals and winning games.

"At Crewe we're innovative in the way we coach and the way we develop the players. There is a huge difference between the way our lads play compared to other clubs in our division. I've just been watching a youth tournament and none of our lads ever whack it, they're always passing and moving -- doing skills and tricks. To me it's obvious and always has been, but it doesn't seem like it is to other clubs. They'll get stuck in, pass and tackle, while we're asking our players to do lots of work on the ball and show some skill.

"We're proud of our academy and really it's an outstanding setup for a club of our size. Crewe is a target now because of our youth system, when managers buy players from us they know they are guaranteed to get players who are good technically and we know they understand the game."

The most notable young player Crewe have offloaded in recent times is Nick Powell. Days after his wonder-strike for the Railwaymen in their 2012 League Two playoff final victory, the 18-year-old midfielder signed for Manchester United. Producing and selling players is what keeps Crewe -- a club with a stadium that holds just 10,000 -- alive, and although parting with their latest wunderkind was hard to take, Gradi accepts that rejecting United's advances was never an option.

"We'd had a £1 million offer from Fulham for Nick but I just told them to forget it. Then Sir Alex rang me up and said 'Is he playing tomorrow?' He came and watched him and then the day after the game asked if we'd do a deal. So we did. United were brilliant throughout the whole process. Arsenal came in late but they didn't really handle it properly. Arsene Wenger never got involved. Their chief executive sent an email to our chairman, it wasn't quite the same as a phone call from Sir Alex. The way he treats people is just class. He flew Nick and his dad out by private jet to the south of France to discuss the details.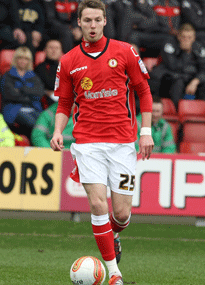 GettyImagesNick Powell swapped the red of Crewe for the red of Manchester United in 2012.
"It was hard to let him go but these moves are necessary for the club to survive. I get great enjoyment out of it, until I sit there the first game after he's gone and think, 'Bloody hell, we're going to miss Nick Powell today.' Overwhelmingly, though, it's a feeling of pride in seeing him and others develop.

"Nick hasn't proved he can cut it at United yet. Sir Alex used to speak to me regularly about him and we'll see if David Moyes thinks as highly of him. I fear for him a bit because with Nick and any of those flair players you have to put up with certain deficiencies. Sir Alex is the sort of manager who can accommodate the likes of Cantona, Ronaldo and bring the best out of them. Nick has some habits that can be infuriating but he is such a natural, you just need to allow him to express himself. When he was a kid he was a nightmare, he was temperamental. If someone tackled him and he thought it was a foul, he'd bang the ground with his fists. But he's turned into a good lad and I hope he makes it at United."

Gradi officially stepped out of the managerial spotlight at Crewe in 2011, two years before Ferguson -- the only man to match his longevity in the modern era -- followed suit. While Ferguson has become an ambassador for United, a role that allows him to satisfy his long-held desire to travel the world and take in some of sport's most iconic events, Gradi remains fully engrossed in all things Crewe as director of football. For the 72-year-old, who also continues to coach the club's under-14s, walking away from football altogether is inconceivable.

"Sir Alex texted me to let me know about the retirement and I said he'd be alright once he accepts the new manager's not always going to do what he'd have done. I found his decision strange, I was talking to him a week beforehand, watching our under-18s play United's -- there was no hint at all. He'll find it hard, although he likes other sports whereas I don't have any other interests. Football is my life, and I dread the day I can't go and coach anymore because I'm not physically or mentally up to it. I think 'What the bloody hell would I do with myself?'"

Despite one being arguably football's greatest manager and the other never making it higher than the second tier, Ferguson and Gradi do share a number of attributes, with their ability to engage players and people clearly playing a vital role in their continuity in what is a notoriously cutthroat industry. Gradi, though, believes the key difference is that while Sir Alex is a manager, he will always be a coach first and foremost.

"I feel that I have a natural ability to teach and have been ever since my school days. I'm not good at putting things together, or mathematics, but I am good at coaching. When it comes to spotting a talented player, I feel that's something I have learned over the years, but coaching just comes naturally. I'm still learning and improving as a coach, still looking to get better. You can't slow down, you must examine the work you're doing. We are always striving to be the best.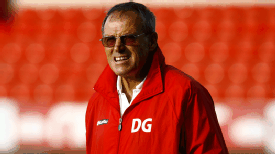 PA PhotosDario Gradi is still involved with Crewe as director of football and coach of the club's Under-14s team.
"Crewe's reputation hasn't really hit me until recently. People have always said, 'Yeah, they play nice football' but I've noticed more since the game when we fielded all the academy players. I'm not proud so much as satisfied, it's a real feeling of satisfaction to watch those kids develop, to know you've had an influence on them and their careers. What I am proud of is the way Crewe continues to offer opportunities to young players. Even those who don't make it as professional footballers, we keep many of them as coaches. Those lads are then able to convey how lucky the young players are when they are coaching them -- we look to help them stay in football.

"I've always said that managers like Jose Mourinho might earn a lot more money than me, but I doubt they get nearly as much fun out of it as I do."

Football has changed immeasurably since Gradi began his career. Clubs now pick up players as young as 5, when it was once 12, and the large financial disparity between the Premier League and the rest makes the poaching of teenagers more commonplace. Crewe are not immune to this cruel new world where money rules, but their continued focus on youth development -- the enduring legacy of Gradi -- means this Cheshire club is one to cherish.