Predicting the Prem in 2013-14: Season of the manager
With the 2013-14 English Premier League season just days away, we enlisted ESPN FC columnists Gabriele Marcotti and Roger Bennett to put the upcoming campaign into perspective.

Gab Marcotti: Last year it ended up being a three-way race for player of the year between Robin Van Persie, Gareth Bale and Luis Suarez. As we write this, two of these three guys might not even be in the Premier League next season, but never mind. What I want to know is whether you reckon we'll have a standout or whether it will be close-run like last season?

Roger Bennett: "Juan Mata? Christian Benteke? Brek Shea? Tony Hibbert? I am not sure it matters. Yes, Gareth Bale might soon decamp for Real, making this Times Square billboard the world's most expensive -- and inadvertent -- commercial for La Liga, but this season, the Premier League's most important names won't stand on the pitch; they'll be in the technical area. Jose Mourinho at Chelsea. David Moyes at United. Manuel Pellegrini at City. Who will be crowned king, and who will flounder like a donor organ rejected by a new host body?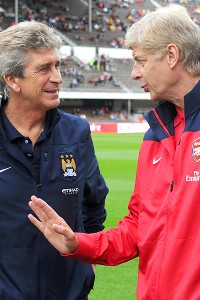 Stuart MacFarlane/Getty ImagesMan City manager Manuel Pellegrini, left, has the easiest path in the Premier League this season. Meanwhile, Arsene Wenger's Arsenal remain stuck in neutral.
Gab: That's the thing, Rog, I look at this and I see so much uncertainty. Not just the managers, which I'll get to in a moment, but the playing squads too. As I write this (in early August) the bigger clubs all either seem unsettled by potential sales or have a new manager, or both. But I agree with you -- this summer the star signings are managers, not players. I rather think Pellegrini might have the easiest time of the three in the sense that they've bought players who suit what he wants to do and, crucially, they have had a director of football in place for a year who has (presumably) worked towards those signings. Moyes obviously has a zillion question marks and a Govan-sized shadow hanging over him. And Mourinho has a team that was built for someone else. We're in uncharted waters, Rog ... anything can happen!

Rog: I agree with you about Pellegrini being best placed to thrive, Gab, though very few managers have won the Premier League in their first season at a club -- Mourinho being one of the two (Carlo Ancelotti in 2009-10 was the other.) Although you are right that Mourinho's Chelsea squad was built for another manager, his ego is too large to admit that. The Portuguese takes credit for every trophy Abramovich's squad have lifted since his exit and seems intent on playing so many mind games he is in danger of getting trapped permanently inside his own "doors of perception."

Meanwhile Moyes is stumbling around like a janitor who has won the lottery, wandering through Old Trafford in a confused mist and assuring all and sundry it will never change him. This season is set up to be a slapstick slog and would appear wide open, were it not that the two teams who consider themselves to be the chasing pack -- Tottenham and Liverpool -- have elected to self-harm, allowing their star players to dally like rotting teeth. Holding on to them until the brink of the transfer window might pay dividends financially, but at what cost to the team's ability to mount a serious campaign? Who is under more pressure to deliver? AVB after his "reverse spiral of doom" end to last season, or Brendan Rodgers, whose honeymoon should be well and truly over?

Gab: Hey, Ancelotti didn't just win the title, he won the Double and set a record for goals that might stand for some time... But, yeah, it's tough the first time out. Especially for a guy who really had only one season at a big club (Real Madrid), a season that didn't turn out too well. And who is moving to a new country, one where he has never worked before, as a player or coach. Very few managers his age -- he turns 60 this season -- have successfully delivered in those circumstances. I like the Jose as Jim Morrison meme by the way, though I don't know whether he's the one trapped in it or whether it's a big chunk of fans and the media.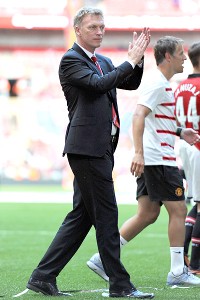 Steve Bardens/Getty ImagesDavid Moyes will have a learning curve at Manchester United,
Is Moyes really stumbling around? Or is it just a hugely difficult job and, perhaps, one which saw him put some faith in the wrong people? I'd suggest the latter. There's a learning curve for him too.

Take your point about Suarez and Bale, but I'm not quite so negative here. I'm pretty confident they'll deliver and behave if they stay. They're professional types, not guys who throw strops. Remember, Suarez got a huge raise last summer and followed up with a tremendous season.

Can the meek inherit a top-four spot?

Rog: Let me ask you this: In this unprecedented campaign of clean slates, new regimes, change within change, is this a season in which a team previously condemned to the battle of the doomed that is the Europa League race can sneak in, take advantage of the chaos and crack the top four as interlopers? Everton: reinvigorated under Roberto Martinez with Marouane Fellaini and Leighton Baines somehow still there, a deeper squad (albeit half of it nicked from Wigan) and a bona fide Barcelona starlet, Gerard Deulofeu, jamming up Instagram with giddy images of Goodison Park? The neutral's favorite, Swansea City: propelled by Michu and record transfer newboy, Wilfried "Daddy Cool" Bony? Or Paolo Di Canio's Sunderland: fitter, more disciplined and reinvigorated by the arrival of Emanuele Giaccherini and America's new favorite football sweetheart, Jozy Altidore?

Gab: Everton? Love the optimism there, Rog. Honestly, I'd imagine there are six sides ahead of your Toffees on paper (yep, including those guys in Red across town). And if we're going to point out all the uncertainty with new managers elsewhere, that has to apply to Martinez too. Much as I love the guy, you can't really escape the fact that Norwich, Stoke City and Southampton are still in the Premier League, whereas his Wigan team will be traveling to Doncaster and Barnsley next year. (But I am excited for Deulofeu, though the leap from Segunda A to the Premier League is of Marianas Trench proportions).

Swansea are intriguing, though things got a bit hairy there between the manager and the players at the end of last season. Sunderland will work their butts off, and Altidore will wipe away the memory of the identically named guy who played for Hull a few years back. But, come on, top four? The gap is too big. In terms of squad, I'd suggest Newcastle might have a (very long) shot if everything goes their way like it did two seasons back. And if they come close, of course, it will all be down to the brilliant appointment of Joe Kinnear.

Rog: Newcastle? My Everton flyer made you laugh, but you say Newcastle with a straight face? A club seemingly intent on taking the distilled pure passion of it diehard fanbase and throwing it back in its face? And while we are talking about middling, the old footballing adage "There is always hope but it's the hope that kills you ..." does that even apply anymore to the clutter of mid-table teams -- West Ham, Fulham, Stoke, West Brom, Villa, Norwich -- when "middle of the table" has become a nom de plume for "late-season relegation battle free-for-all?"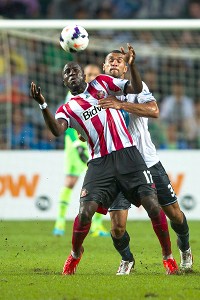 Victor Fraile/Getty ImagesJozy Altidore will establish himself in his second Premier League stint, but is it enough to lift Sunderland to a top-four spot?
Can you "glass-half-full" us and give us reasons for optimism other than the Canaries' pick-up of Dutch hardnut, Leroy Fer, dashing yet cumbersome Diego Lugano's arrival at The Hawthorns, or the entertainment value of Andy Carroll's windsprints between the West Ham first team and the fitness table.

Gab: How do you know my face was straight?

I like seeing the glass half-full. I think Norwich will be OK, Chris Hughton showed what he can do last season. West Brom too will be fine and, yes, dashing is the word to describe Lugano, except in the literal sense (he doesn't really dash, he tends to trundle). The challenge at Stoke will be that Mark Hughes apparently wants to play a certain way (but do we believe him? They all say that in the summer, don't they?) though the squad is built for a more direct approach. I'd be a bit concerned.

Villa have a year of experience under their belts; some of the youngsters are genuinely good; and if Benteke continues along his upward curve they could be mid-table. Fulham will be fun to watch, how can you not be at least a little bit excited by the prospect of Dimitar Berbatov and Adel Taarabt on the pitch at the same time? In fact, I think we need to give credit to Martin Jol ... all his guys can play.

Rog: Last season, 43 points separated the champions from the 10th-place team. Just seven separated Norwich in 11th from Wigan who were relegated.

An essential part of the Premier League's wonder is that it is three races in one: A game of musical chairs at the top as five or six clubs try to stuff themselves into the four places that count. A desperate pursuit by a gaggle of ill-equipped pretenders and dreamers who will ultimately have to settle for the purgatory of mid-table. And the rest -- the bottom half of the table, any of whom could find themselves in the late-season relegation mire -- a bludgeoning battle fought with blunt maces. A loss of form, locker room strife or a key player falling drunkenly off a casino bar stool at 5 a.m. after plowing through a round of "Jagerbombs" is all it can take to be sucked in.

All of the teams you mention will kick off the season with that worst-case scenario in mind, along with Hull City and Crystal Palace, who will try to conjure cut-price danger while Cardiff City attempt to outrun all comers. Odds are one of the newcomers will survive.

Gab: Yeah, it's true, history suggests one of the newcomers will survive in the sense that it's rare, in the Premier League era, for all three promoted teams to go straight back down. Anything can happen, I suppose, but there is one key difference. In the past, the promoted sides that came up either spent (relatively) big, whether after or before promotion, or they had an outstanding manager or there was some incumbent Premier League team that went into meltdown (QPR last year, Wolves the season before).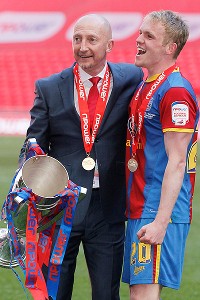 Ian Kington/AFP/Getty ImagesIan Holloway and Crystal Palace caught some breaks on their way to the top flight, but staying in the Premier League will be a struggle.
Anything is possible, I suppose, but I'm not sure I see any incumbents in such bad shape (yes, as I wrote earlier, I have some reservations about Stoke, but there are still plenty of good players and the Coates family will spend if they have to).

But Cardiff played a brand of football last season that in my opinion doesn't automatically translate to the top-flight. Same goes for Hull with the added wrinkle that I'm not sure their squad is as good as Cardiff's -- plus they sort of "back-doored" it at the end of the season. And although Ian Holloway is one of the best people in the world -- and did very well the last time he was in the Premier League -- Crystal Palace lost their best player and also got a lot of breaks on their way to the top-flight.

Predictable Arsenal, and other predictions

Oh, Arsenal. Those guys. Have we really not mentioned them? The lack of signings -- again -- is extraordinary because, when you think of it, they are the epitome of stability. Same manager, same owner for the past few seasons, same chief executive... It's not as if Arsene Wenger hasn't had ages to figure out what he was going to do this summer. And we keep hearing about this fantastic war chest they apparently have ... I don't know, it's a mystery to me how all they have to show for it thus far is Yaya Sanogo. And make no mistake about it, when you sign players late, you pay a price for it (Arsenal certainly did when they picked up those guys on deadline day a while back). I'm nonplussed by the Gooners myself, which is why I'll happily give you the last word on them.

Rog: I honestly feel for Arsenal fans. Every year their squad consists of inferior components like a Xerox of a Xerox of a Xerox. The truth will yet come out, and it can't be Arsene Wenger's "stubbornness" alone. No one wants their legacy to be "He once won." With Gervinho gone, they are even deprived of the healing power of laughter. Barring a miracle signing, their only pleasure might be sadistic: witnessing Piers Morgan founder on Twitter like a man drowning in a muddy bog. As things stand, even their signature late charge to the glory of fourth seems beyond them.

Spoiler alert: Here are my predictions for the season. Champions: Manchester City with a narrow win over Chelsea. Manchester United and Everton (if Fellaini and Baines stay the season) grab the other Champions League Places. Hull City, Crystal Palace and Stoke will be relegated.

Gab: OK, I guess I owe you some predictions too, eh? Right now, I'm also leaning towards Man City, but I reserve the right to change that between now and transfer deadline day. I'll say Chelsea, Man United and (ahem) Spurs for the Champions League. Relegation? I'll go three up, three down: Cardiff, Hull and Palace, though I'm not-so-secretly hoping Holloway gets it done and keeps them up.