Moyes takes first step out of Ferguson's shadow
LONDON -- The outsized wristwatch is back in the drawer. The chewing gum remains in the packet. The granddad dance of celebration is confined to the race meetings and golf courses of Britain and Ireland.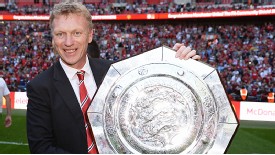 GettyImagesDavid Moyes with the Community Shield
Sir Alex Ferguson no longer looms on the Manchester United sidelines. He has spent the summer enjoying his new life in retirement. A family cruise around the Scottish highlands has been taken, a peerage has been declined, the hip surgery pronounced a success. Ferguson no longer has an office at Old Trafford or Carrington and has not been involved in any club business since May, but there is still no getting away from him. Nor will there be for a long time yet.

- Delaney: Three talking points

United's bench has been given a complete makeover, and it all still feels a bit strange. Mike Phelan could be seen in the Wembley press box, beginning a media career on BBC local radio. Rene Meulensteen is already looking for another new job after just 16 days in charge at Anzhi Makhachkala. Eric Steele is setting himself up as a freelance goalkeeping coach. The unfamiliar faces of Jimmy Lumsden, Steve Round and Chris Woods are in their place, with Phil Neville a bridge between the new regime and what came before.

David Moyes' first step towards matching the trophy-laden career of his predecessor began in baking Wembley heat. For Ferguson, the Community Shield was a frippery. For Moyes it was must-win, or rather, must not lose. Relief rather than ecstasy resulted when the mission was accomplished.

"I class that as another piece of silverware for Sir Alex, really," Moyes said. "The ones going forward will be down to me, so I thank Sir Alex for that."

Questions about what must be termed the "Wayne Rooney situation" were played with a straight bat. A long experience in the English game already makes Moyes a sharp media operator. In the next couple of weeks, when the transfer window becomes even more white-hot with speculation, he is going to have to become even sharper. At least this occasion provided something akin to real football rather than the fantasyland in which he has found himself involved since July 1.

Moyes' post-match verdict on potential transfer business was spiky, and just as confrontational as his compatriot Ferguson could be. "Some of us won't like this, but I didn't fall out with Wayne," he said.

"Correct," he said when asked to confirm that Rooney was not for sale. "He is not for sale -- that has not changed."

"Manchester United go for the best players in the world, and I think that Cesc is very close to that," he said of what must be called the "Cesc Fabregas situation."

As Moyes prepared to make his way down the tunnel at the start of the match, there was a steely glare of determination, which gave way to a broad grin as he waved to fans. Then, as the teams met dignitaries, came a warm embrace with Denis Law, the type of legend to remind of the standards set by Manchester United's history.

The new manager's relief was hidden when Robin van Persie scored Manchester United's opener. As his players celebrated, the expression was stoic, almost disinterested. Moyes is not one to go in for the showy antics of a Paolo Di Canio.

Nevertheless, he looked calm enough, and any perspiration could be explained away by having to wear a suit in August temperatures. Phil Neville looked noticeably cooler in his T-shirt and shorts. Only after Rafael had limped off with what looked like a hamstring injury did Moyes make a foray into the technical area.

Ferguson loyalist Ryan Giggs, now on the coaching staff, has become the new manager's eyes, ears and voice on the pitch. The summer has seen Moyes talk often of how much he can learn from Giggs and use him as a guide to achieving the repeated and relentless success of his predecessor.

Giggs, the most senior United professional of all, was to be found offering advice to Wilfried Zaha when some loose play set up a Wigan attack. And when Shaun Maloney buzzed dangerously through midfield, it was Giggs whose 39-year-old legs enabled him to win the ball with a perfectly delivered tackle.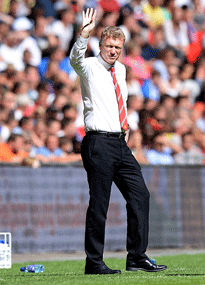 PA PhotosMan Utd David Moyes patrols the touchline during the Community Shield.
When United hit a flat spot from the half hour on, Moyes did not race to the line in the manner of his hyperactive Wigan counterpart Owen Coyle, who could be found making shuttle runs from his seat throughout the match. Coyle got himself in such a lather that he changed into his customary short trousers at the break.

As half-time loomed, the Moyes notepad was being scribbled on in preparation for his half-time team-talk. Ferguson always kept his thoughts in his head rather than on paper. Notes were for lesser mortals.

For Moyes, there was plenty to say. His team were hardly capitalising on that early lead. Only a Danny Welbeck snapshot was of any consequence before the break. Crossed balls seemed to cause something of a problem, and midfield, that area of glaringly obvious weakness, was still a source of concern. Wigan's Championship players were having little trouble getting deep into United territory. The midfield quandary, and its attendant problems this summer, remain something of an unhappy inheritance from Ferguson.

When that pattern continued into the second half, Moyes became a more regular presence in his box. There was some nervous pacing, and arms crossed in exasperation. United were struggling, and Wigan's paltry support had their hopes up. Those in red had traveled to Wembley in their greatest official numbers since the 1968 European Cup final, but the noise level was no louder than a League Cup trip to Oakwell.

A new chant that celebrates Moyes, to the tune of Slade's "Cum On Feel The Noize," only began to catch on once victory became inevitable. Van Persie was hailed at far fuller volume after his deflected shot secured the first silver of Moyes' Old Trafford. As the final whistle sounded, a series of stiff handshakes with players and staff signaled the new manager's satisfaction. It was as far as the celebrations went. Players were high-fiving and hugging, but Moyes kept his own quiet counsel at the back of the group.

There was still room for a smile from the new manager. As Ferguson would advise, any victory is to be savoured, but then the work on winning the next match must begin straight away.

It had hardly been done with style, but Moyes' first hurdle in replacing the irreplaceable was negotiated. Only nine Community Shields are required to catch up with Ferguson's haul. That and 25 far-more-major trophies.