Rapid React: United downs Wigan
LONDON -- Three thoughts from Manchester United's 2-0 Community Shield win over Wigan ...

No transfers yet, but some pleasing mobility on the pitch
So far, at least, no major changes as United start the David Moyes era much as they ended the Alex Ferguson one -- winning a trophy. Perhaps more pertinent -- given that the Community Shield was never going to ask the most testing of questions -- is that there was no real notable change in approach in this win.

Beyond all the obvious questions, one of the undercurrents of Moyes' appointment is whether he is capable of offering the type of football that United have always associated themselves with. The most notable thing here was that in the first half at least, the most attacking trio of Robin van Persie, Danny Welbeck and Wilfried Zaha rotated in the manner that was perhaps more conspicuous at Everton over the past few years. Van Persie got his opening goal from the centre before then moving out to the left and claimed his deflected second with a cut inside from the right. Zaha switched wings while Welbeck roamed all over, often playing off Ryan Giggs.

If the general laboriousness of preseason ensured it was never going be dazzling -- and that we will have to wait for a solid answer -- it at least guaranteed that United were quite fluid and mobile. Some of the slight staleness is also possibly inevitable given the club has not yet signed the midfield additions that they so badly want and need.

Somewhat surprisingly, it was the other end of the field that offered the most obvious deviation from expectations. United often looked a little suspicious aerially at the back, which is not something that was too often seen at Goodison Park, or indeed with Nemanja Vidic in the starting lineup. How quickly Moyes can develop that cohesion -- in all areas -- will be key.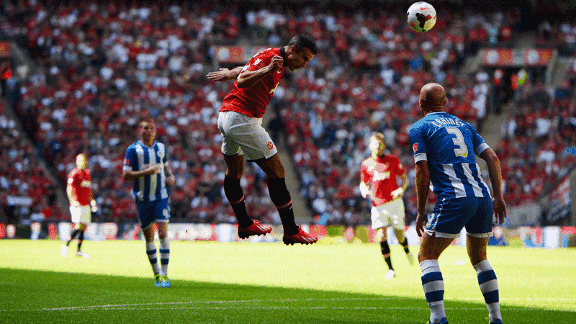 GettyImagesRobin van Persie heads home Manchester United's opening goal against Wigan in the Community Shield.
No disputing the main man, regardless of who comes in
New era, new season but same story. Van Persie's goals were again influential in a Manchester United victory, following on from the 26 points he was directly responsible for during the title-winning 2012-13 campaign. Regardless of the Wayne Rooney situation and whomever United actually end up buying, there can be little doubt who the main man is. Van Persie does not just finish off so many attacks, he gets the team moving in the first place with a variety of classy touches. Although he does not possess the outrageous skill of Luis Suarez or the sheer force of Gareth Bale, there is an elite efficiency about everything the Dutch forward does. There are no wasted touches. Everything has a purpose which enhances the movement of the team, which was never clearer than with the opening goal. Van Persie sought out Patrice Evra on the wing before guiding in a perfect header. As long as he is fit and on form, United will be a force this season.

The key question, however, is what he could do with that extra element of stardust alongside him. Over the last few weeks and months, the narrative that has developed says that Rooney is disenchanted that his status in the squad has been diminished alongside van Persie. Those at United say this is not quite the case. Ferguson did not initially sign the Dutch player to oust Rooney. He wanted them to play alongside each other and expected the English forward to rise to such standards. Yet a consequence of a variety of other issues, not least a general jadedness from Rooney being at the same club for so long, has meant that the pair have only created flashes of brilliance rather than any kind of consistent spells, with the bombastic second goal in April's 3-0 win over Aston Villa one notable example.

United fear that this is the quality Jose Mourinho would help bring about more regularly at Chelsea, but hope anew that a more conciliatory approach may change his mind. If nothing more, it illustrates how even van Persie can be enhanced with such a player alongside. His former teammate Cesc Fabregas would have been ideal in immediately solving a series of issues in the United team, but there may also be a new opportunity for Shinji Kagawa. The playmaker finally got on in the 82nd minute after a delayed preseason. As Juergen Klopp complained at the end of last season, he was aghast at how United used Kagawa. If deployed correctly, the Japanese star may help bring out even better form in van Persie.

Either way, the feeling remains that Moyes just needs at least one more special presence behind the Dutch forward to properly complement him. It could make an awful lot of difference.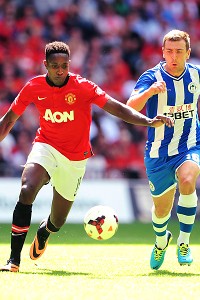 Michael Regan/The FA/Getty ImagesDanny Welbeck didn't score, though his work with Zaha and van Persie around the attacking third made a difference.
Zaha not prepared to be on the fringes from the flank
In the past few years, there's been something of a curiosity about a club who have always had such a fine tradition of wingers. If you put all of Manchester United's current wide men together, you would probably have the perfect player, but individually, they all seem to lack something. It becomes a game of human rock-paper-scissors. Nani has the trickery, Ashley Young the accuracy from crossing and Antonio Valencia the industry and physicality. This, however, is where Zaha comes in.

The 20-year-old is very far from the complete article himself, but there are a few unique qualities to his game that bamboozle defences in a way that Nani, Valencia or Young seldom can. He combines directness with an exciting range of trickery. Of course, an eagerness to overly display that technique can lead to wastefulness, as happened with one needless backheel in the 19th minute that lost possession. It was that telling that one of United's greatest wingers ever, the now-converted Ryan Giggs, immediately had a quiet word in his ear. The 39-year-old himself had his game gradually shaped and shorn of edges by Ferguson, and Zaha's development in that regard under Moyes is going to be telling. Already, he looks a fine extra option, albeit one that will be occasionally frustrating.