During transfer windows, managers matter most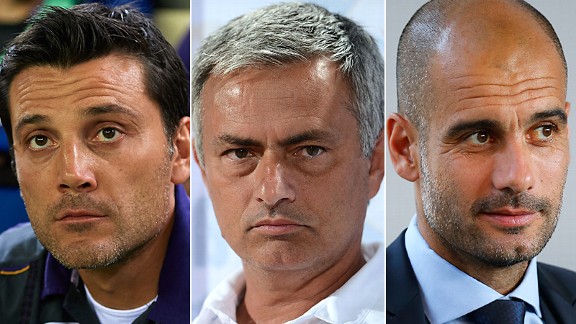 Getty ImagesMoney isn't the only thing motivating players to change clubs. The charisma, vision or philosophy of the manager counts too.
On learning that rivals Bayern Munich had activated Mario Goetze's buyout clause and would be signing him ahead of this season -- the news broke just one day after the first leg of Borussia Dortmund's Champions League quarterfinal first leg versus Malaga back in April -- coach Juergen Klopp compared how he felt to suffering "a heart attack."

He'd been celebrating his team's 3-2 win at La Rosaleda when general manager Michael Zorc walked into the training ground like "someone had died." Due to attend the premiere of a film that night in which his friend, actor Wotan Wilke Mohring, was starring, Klopp told his wife that he couldn't go. "I cannot speak," he said.

Although floored by the news that was made public just prior to the second leg, Klopp's measured and understanding reaction to it was widely praised. He even raised a laugh from the journalists assembled at the prematch news conference.

"Goetze has gone," he said, "because he is [Pep] Guardiola's personal chosen signing and he wants to play with Guardiola, in his style. I can't make myself 15 cm shorter or start speaking Spanish. I cannot preach a football based on quick transitions and then [suddenly] start playing tiki-taka."

If anything, the Goetze affair reminded us of how strong a pull certain managers have on players. Take Guardiola, for example. In his four years as coach of Barcelona, the perception developed of him as a "philosopher" (copyright: Zlatan Ibrahimovic), or better, a sort of martial arts "grand master" under whom already elite footballers feel they have to learn in order to complete their education.

"I'm not a super coach. Only a normal person who is 42 years old and has been working [in this profession] for five of them," Guardiola said before Bayern's Bundesliga opener against Borussia Moenchengladbach on Friday. That may be so, but players see him differently. Though not proclaiming himself as such -- like Jose Mourinho once did -- Guardiola is special. Their respective appeal to players, though, is markedly different.

Guardiola's, for instance, is testament to the power of ideas. After all, nothing is more powerful. "What is the most resilient parasite? Bacteria? A virus? An intestinal worm?" asked Leonardo Di Caprio's character in "Inception." "An idea," he answered. "Resilient ... highly contagious. Once an idea has taken hold of the brain it's almost impossible to eradicate." The one Pep planted over the course of his time on the bench at Barcelona remains potent.

This is a small but significant thread of the summer transfer window because playing in such a way as to capture the imagination can give your club an edge over competitors who have a higher profile and are able to pay higher wages. That, of course, isn't an issue for Bayern, nor was it for Guardiola while he was at Barcelona. But consider Fiorentina. Many were surprised, for example, that they were able to sign Mario Gomez. Decisive, however, was the reputation they'd established under coach Vincenzo Montella over the last year as the best team to watch in Serie A and how they aspired to play. Other interested clubs couldn't necessarily offer that. "I'm going to Florence because I love the football, the attacking football," Gomez said. "I could have gone to Spain, but I chose Italy, I chose Florence."

Not all players are dreamers, however. Winning in and of itself by any means possible, for instance, is the promise Mourinho makes, and considering that he's close to a guarantee these days, it's an appealing one. Forget lofty ideals -- Mourinho doesn't ask players to believe in anything other than themselves. They're charmed by him -- usually via a barrage of text messages -- and less so by the style of his football, even though it's not nearly as negative as people like to make out.

This magnetism is only made stronger by the bond he tends to strike up with players, Iker Casillas and Sergio Ramos excepted. Mourinho has created quite the personality cult and like the leader of one, players are prepared to do anything for him. "I could go out and kill for Mourinho," Ibrahimovic once said. Wesley Sneijder was also "prepared to kill and die for him" too. That must hold a certain fascination to players on the outside looking in. Mourinho gets them curious.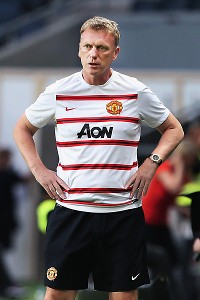 Matthew Peters/Man Utd/Getty ImagesDavid Moyes might be learning that much of Man United's allure was derived from stars' desire to play for Sir Alex Ferguson.

So although Wayne Rooney's apparent wish to leave Manchester United is motivated by the deterioration of his relationship with Sir Alex Ferguson, any desire to let bygones be bygones and turn over a new leaf with former manager David Moyes must be all the harder when he knows that someone like Mourinho has "identified" him as "the one player we would like to have with us" at Chelsea. How flattering.

All of which brings us nicely onto United. Make no mistake about it: A club with its history and tradition is always going to have great appeal to prospective players. Ferguson, however, used to form a huge part of it, and it would be remiss to think otherwise. By appointing Moyes as his successor, you wonder if he might even have underestimated it.

Can Moyes -- not to mention chief executive Ed Woodward -- attract world-class players? United's transfer strategy this summer certainly seems to have been conceived with the aim of proving that they can. So far, however, it hasn't gone as hoped. Their very public pursuit of Cesc Fabregas ended this week with the player claiming that his "dream has always been to play at Barca and nothing has changed." As such, United appear to have been led up the garden path on that one.

Since then, Moyes has reportedly gone back to Everton for Leighton Baines and Marouane Fellaini. There's nothing wrong with that; after all, every coach tends to have his trusted lieutenants. Mourinho, remember, took Ricardo Carvalho with him to Chelsea from Porto, then tried to take him to Inter before finally reuniting with him at Real Madrid. Guardiola also insisted on Bayern signing Thiago Alcantara from Barcelona, a United target. Their own appeal, however, stretches much wider than their former clubs. Can the same be said for Moyes?

Time will tell, and it's only fair that Moyes is given the benefit of the doubt. But there's a sense that at least for now, outside of Moyes' former players, those in whom United hold an interest are more likely to put pen to paper because of the club's standing rather than the manager, per se. Developing an aura of his own in the years ahead is one of the challenges Moyes faces and no doubt relishes the most.