Adjustment the key for Brits abroad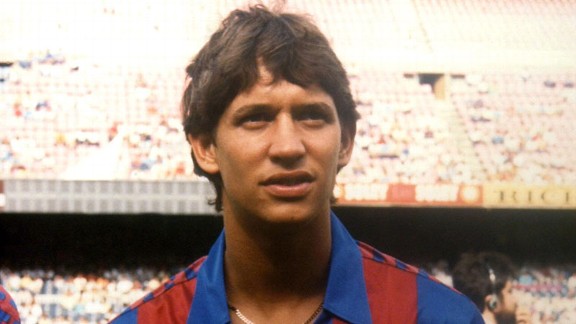 PA PhotosGary Lineker headed to Barcelona in 1986.
It is an arresting image. In fact, it's difficult to erase from the mind's eye once you've seen it. The scene is the Mediterranean, summer of 1984, off the coast of Genoa. Sampdoria team-mates Trevor Francis and Graeme Souness are lounging on a yacht, letting it all hang out; their Speedos are virtually nonexistent. Little is being left to the imagination.

Fast-forward a couple of years. Newly signed Barcelona hit man Gary Lineker and then-wife Michelle are on a Catalan verandah, tucking into some tapas and practising their Spanish.

The three players mentioned are elite names in British football, and all were tempted by the continental coin. They were the Gareth Bales of their day, players good enough for the giants of European football to covet.

It was a time when English clubs could not compete with the riches in Spain, Italy and Germany. And it wasn't just footballers either; European building sites were full of migrant British brickies seeking refuge from a ruined home economy.

Thus, players from Britain and Ireland were a rich seam to be mined. A spate of British players including John Charles, Jimmy Greaves and Denis Law had gone to Italy in the '50s and '60s but a ban on imports had been put in place in 1966.

Serie A lifted the ban in 1980, and Liam Brady, Arsenal's star man of the late '70s, was enticed to Juventus. Brady was a success, winning two titles straight off and scoring the penalty that secured the second Scudetto, though he found himself expendable when Juve bought Michel Platini the next month. Italian clubs were allowed only two foreigners at a time, which meant that such players had to be of the highest calibre available.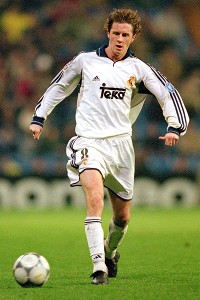 Phil Cole/AllsportSteve McManaman made it a point to immerse himself in Spanish culture when he arrived at Real Madrid.
Souness, Francis, Ray Wilkins, Mark Hateley, Joe Jordan and Brady all shared similar qualities. In the hurly-burly of the English football of the era, all had played with a footballing intelligence they matched with being articulate and mature individuals. Indeed, all of the aforementioned have since enjoyed long media careers. Their decision on arrival had been to immerse themselves in the culture. In fact, they actually had no other choice. Mobile phones were barely available, there was no such thing as the Internet and trans-Europe flights were prohibitively expensive.

A few years before, German football had provided a haven where the English player could make far more money than in the English First Division. Kevin Keegan trail-blazed to Hamburg in 1977 and became the last Englishman to win the Ballon d'Or. Nottingham Forest striker Tony Woodcock joined FC Cologne in 1979 and liked it so much that he stayed and now speaks English with a German accent. He probably pronounces his surname with a "v."

Lineker was taken to Barcelona by Terry Venables -- the coach who won La Liga at his first attempt in 1985, Barca's first in 11 years, after choosing to replace Diego Maradona with Scotland striker Steve Archibald. Lineker, top scorer at Mexico '86, was bought to score the goals that Barca had failed to score in the previous season's European Cup final.

He kept up his goal-scoring and won a Spanish Cup and Cup Winners' Cup, until he eventually became disillusioned with new coach Johan Cruyff's insistence on playing him as a winger. Lineker reunited with Venables at Spurs after spending three happy and profitable years in Spain.

Yet there were failures. Lineker's Barcelona strike partner was supposed to be Mark Hughes. It did not work out. Hughes was just 22, unmarried and soon homesick. His aggressive style of play was not particularly popular with referees, either.

Hughes spent too many evenings alone in his villa. At first, the pair tried to be friends, but Lineker had his own life and Hughes had never been the best of mixers. Even when at Manchester United, he would rather drive back to his old mates in North Wales than hit the town with his colleagues. A return to United, via Bayern Munich, saw Hughes restored as one of the game's top forwards.

Ian Rush, Hughes' Welsh compatriot, was arguably an even better striker than Lineker or Hughes but suffered a year of painful isolation after joining Juventus in 1987. He now disputes ever saying the infamous "it was like living in a foreign country" quote, but Rush, like Hughes, was a shy character used to a close-knit coterie of family and friends. Living alone by a Piedmontese lake was not for him. When his two brothers came to stay in Turin, Rush, who had spent his childhood and teenage years sharing a bedroom with them, slept on the floor of their hotel room. It coincided with his best form at Juve.

It takes a certain type of person to succeed as a stranger in a strange land. No one could have called David Platt a better footballer than Paul Gascoigne, but Platt, a studious type who followed his coach's instructions to the letter, played with distinction for three different Serie A clubs for a combined fee of £17.2 million. Gascoigne had his moments at Lazio but is better remembered for capers like belching down a microphone or diving fully clothed into a posh restaurant's lobster tank. Platt's quick learning of Italian and making of friends would eventually lead to a role as Roberto Mancini's assistant at Manchester City that he has only recently relinquished.

The Premier League age that began in 1992 saw the balance of trade swing dramatically the other way. Foreigners flooded in and British players now embody their country's sense of isolationism from the rest of Europe. Real Madrid kept up the old trade route over the years and are set to do so again when the interminable Gareth Bale saga is finally completed.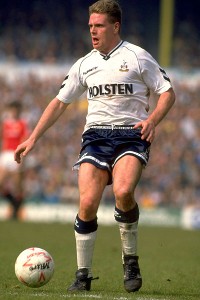 Mike Hewitt /Allsport Paul Gascoigne had his moments with Lazio, but his activities off the pitch drew more attention.
Steve McManaman won two Champions League titles with Real Madrid and fully immersed himself into Los Merengues culture. He learned the language quickly on his arrival in the summer of 1999 and curbed his attacking instincts to become an executive water carrier for stars like Luis Figo and Zinedine Zidane. "El Macca" was more successful than David Beckham, who was popular but played in a barren spell at the Bernabeu until winning the Liga in the final season before his move to America. McManaman meanwhile was far more a fish out of water than he had ever been in Spain when he moved to play in Manchester for City.

About the only public evidence of Beckham learning the lingua was his use of an off-colour insult. He was sent off for calling a linesman "hijo de p---" (son of a whore) in May 2004, and later repeated the same insult to a paparazzi photographer outside his Madrid mansion.

Michael Owen's purchase by Real always had the look of a speculation deal. He cost them barely £8 million in 2004 as his Liverpool contract ran down, and they sold him for double that a year later to Newcastle. Perhaps the transience led to Owen singularly failing to follow the lead of McManaman. He spent much of his time ghetto-ised in a city centre hotel. One story had him driving daily to the airport to buy the previous day's English newspapers when across the square lay a vendedor de periodicos which would have met all his needs.

Jonathan Woodgate signed the same summer as Owen and suffered a horrible run of injuries that meant his Real career never truly got started. Yet he clearly enjoyed himself far more than Owen, growing his hair to look like Spanish colleagues and soon becoming fluent in their language too. Teammates would joke that "Woody" spoke with the accent of a native of Malaga.

Bale will be next, his move to the continent an outlier from the contemporary trend of British footballers almost always staying at home. Beckham's, Owen's and Woodgate's Hispanic adventures were nearly a decade ago. At the price Bale will cost, he can hardly be allowed to fail, and it is expected that the Bale family will be shipped en masse to a well-appointed Madrid suburb.

To succeed, he has to be happy with life in a new country. Bale might heed the lessons of his forefathers, learn the language fast and try to make as many friends as he can. Hasta la vista, Gareth.