Arsenal's puzzling policies laid bare in Suarez chase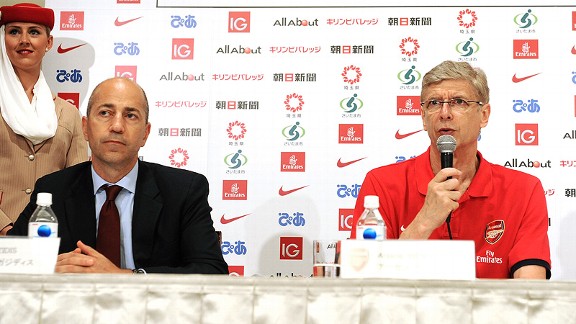 Stuart MacFarlane/Arsenal FC/Getty Images Once again, Gazidis and Wenger have discussed big signings yet have failed to deliver.
Toward the end of last season, Arsenal chief executive Ivan Gazidis spoke of "an escalation" in the club's "financial firepower". They were locked and loaded, and manager Arsene Wenger wasn't "scared" to use it.

"I think it's about time," captain Mikel Arteta said.

Big-name players like Gonzalo Higuain were in their sights. "Take the shot. Take the shot," many Arsenal fans cried. Much to their frustration, however, Wenger allowed Higuain to get away. He had a bigger target in mind -- one that would be harder to get, sure, but were he to land it, nobody would be left with any doubts about his ambition. The target was and remains Luis Suarez.

And, in this pursuit, we saw Arsenal's puzzling strategy laid bare. Had Wenger gone mad? "What are they smoking over at the Emirates?" tweeted Liverpool owner John W. Henry.

The chances of pulling this off did seem remote, particularly because the now-infamous get-out clause apparently isn't as ambiguous as Suarez's camp had first indicated. Not that he was going to let fine print like that get in the way of his desire to leave.

On Tuesday, Suarez gave his side of the story to Sid Lowe of the Guardian and Pete Jenson of the Telegraph, claiming that Liverpool had promised him last summer that, if they didn't qualify for the Champions League, they'd allow him to leave. "They gave me their word a year ago, and now I want them to honour that. And it's not just something verbal with the coach but something that is written in the contract," Suarez said, also indicating he was prepared to submit a transfer request.

It's not often in football that a clause in the contract of a player as high-profile as Suarez is so ambiguous. There are a few examples. One that springs to mind is Inter's capture of Ronaldo in 1997. They believed that he could be bought out of his contract for a then-world record fee of 19 million pounds. Barcelona disputed this, however, and went to FIFA on the grounds that the clause was only valid in Spain. They lost, and Ronaldo's move to San Siro was ratified.

Of course, it remains to be seen whether Arsenal's pursuit of Suarez is successful. Wenger could have had Higuain. A deal for him would have been simpler, but to get it done, Arsenal would have had to pay considerably more than their valuation of him.

Their thinking appears to be that 40 million plus one pounds for Suarez is closer to his value than 32 million was for Higuain. But what if Liverpool's interpretation of the clause is the correct one, and they stand firm? What if Real Madrid use the Higuain money (not to mention the rest of the money they have received from Napoli) to formulate their own bid for Suarez in the event that they don't get Gareth Bale?

These are the considerable risks that Arsenal run. The stakes are high: Fail to deliver Suarez -- or a name in line with their posturing at the end of last season -- and the club will look foolish.

Up the Seven Sisters Road, rivals Tottenham look more likely to make fourth place stick for the entire season, even without Gareth Bale, and won't let it slip from their grasp as they did at the end of the last campaign. They've strengthened considerably already and would likely improve further upon receipt of the potentially world record fee they could get for Bale. However, if Arsenal does the deal for the Uruguayan, the sheer audacity of the move would go a long way to recovering some of the face the Gunners have lost in recent years -- even if it means breaking some of their principles.

To sign Suarez from Liverpool would do to them what Manchester United did to Arsenal last year with Robin van Persie: taking the strongest player away from a team that aspires to improve. It's the kind of nerve that many Arsenal fans want to see from the club, and were it to come off, it would resonate far more loudly than signing Higuain.


John Powell/Liverpool FC/Getty ImagesLuis Suarez has been singled out as Arsenal's top target, but if he doesn't arrive, then what?

After allowing themselves to be cuckolded by Man City, Barcelona and Man United over Samir Nasri, Cesc Fabregas and Robin van Persie, they'd be sending a message that reads: Enough. That's just not Arsenal's style, though. They want to be seen doing things the right way. But this move for Suarez would indicate that they're rediscovering an edge that they have lacked for some time, an edge that they see him providing on the pitch, too.

With ten days left before their opening game of the new Premier League season and less than a month before the transfer window closes, the fact remains that Arsenal have only signed one player: French under-21 international Yaya Sanogo on a free transfer. By this time last year, they had already wrapped up deals for Lukas Podolski, Olivier Giroud and Santi Cazorla.

The anxiety among fans at the Emirates Cup over the weekend was understandable, but their decision to take their frustration out on the blameless Higuain as he warmed up for Napoli? Much less so. It wasn't his fault that Arsenal couldn't agree on a fee with Real Madrid. If they can't settle with Liverpool for Suarez, then what's next?