Lessons learned from selling star players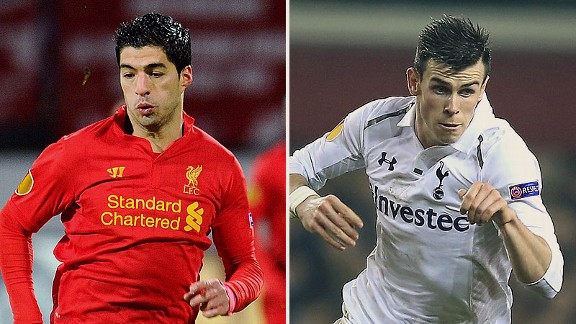 Getty ImagesSelling Luis Suarez and Gareth Bale won't necessarily mean doom and gloom for Liverpool and Tottenham.
Bobby Robson was always afraid of getting the call. Because, almost every week of the 1996-97 season, the 20-year-old Ronaldo bounded into the manager's Barcelona office with the latest brief from his agent.

"Mister, mister," Ronaldo would excitably greet him. "Manchester want me."

"Mister, mister! Milan want me."

At that point, in truth, everyone wanted him. Ronaldo was in the process of scoring 47 goals in 49 games, with the utterly devastating nature of his performances producing one of the most impressive individual seasons the modern game has seen. Other than Leo Messi and Cristiano Ronaldo, it's difficult to think of a single recent player who has had such an all-consuming effect at such a level. In short, he seemed utterly irreplaceable.

Barcelona had no choice but to build their team around such a wondrous once-a-generation talent, and were preparing to construct a dynasty. So every time Robson was approached by Ronaldo with such an opportunity, the coach had his response ready. "Better here."

Ultimately, Robson was proved right. The problem for Ronaldo was that he arguably made the wrong move. After just a year at Camp Nou, the forward went to Inter in 1997. His wait for a major European domestic title or Champions League would go on. Despite all of his goals and yet another utterly sensational individual season in Serie A, Inter would finish in the exact same position that Barcelona did with Ronaldo: second. The Catalans, by contrast, went on to immediately win a double in 1997-98 before repeating the feat a year later.

A large part of their success was because Barca didn't try to directly replace Ronaldo. That would have been impossible. Instead, with Louis van Gaal coming in as coach, they used the funds to reshape and reshuffle.

As the Gareth Bale and Luis Suarez sagas ramp up, it is a thought worth reflecting on for the likes of Liverpool, Tottenham Hotspur and so many other clubs dreading the eventual loss of their standout star.

There are actually numerous examples of teams excelling after such sales, with some of them involving the highest-profile names and the highest fees. In 1987, PSV Eindhoven lost Ruud Gullit to AC Milan for a world-record transfer but immediately won the 1987-88 European Cup. In 1991, the Italian side made a similar move for Marseille's Jean-Pierre Papin, only to then lose to the French striker's old team in the 1993 Champions League final.

As such, depending on how clubs and managers react, the departure of a star isn't necessarily the disaster it seems. Similarly, it is perhaps notable that Bayern Munich won the Champions League last season without the presence of one primary player. Instead, they had attacks coming from all angles.

The issue essentially cuts to the core of the type of team sport that football is, with the very evolution of outstanding individual talents often revelatory. There is almost a distinct pattern to the careers of such focal-point players at certain clubs.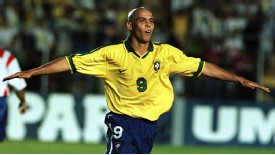 GettyImagesRonaldo was hot property in the European market in the late '90s.
Initially, and almost without the coaching staff and fans becoming fully conscious of it, a young talent begins to become more than useful. He begins to play to the level where the management have no choice but to shape the side around him. It happened with Steven Gerrard at Liverpool, Paul Scholes at Manchester United, Andres Iniesta at Barcelona and, of course, Bale at Tottenham.

From that comes the arguable peak of a player's time at a club, when he is perfectly integrated into how the team functions, with the ideal balance bringing out the very best in both individual and collective. Think Johan Cruyff at Ajax from 1970-73, Kenny Dalglish at Liverpool for virtually a decade, Thierry Henry at Arsenal, Ronaldo at Manchester United in 2007-08 and, most recently, Messi at Barcelona from 2009 to 2011.

The Argentine's perfect synchronisation with Guardiola's philosophy was possibly the ultimate example of this. It is difficult to think of another pairing of individual and collective so utterly in tune.

To a degree, though, it is the playmaker's maturation that represents the slightly more delicate next step of the process. While Messi is obviously an absolute positive for Barcelona and potentially the greatest player of all time, there can be no denying that the team as a whole has become too dependent on him. For a number of reasons, the Catalans have lost the variety in attack that they displayed in the first three years of Pep Guardiola's time and that Bayern so successfully replicated last season. It goes a long way to explaining the purchase of Neymar.

In that previous situation, and with a player of that astounding talent, it was inevitable they would always look to Messi. The key point, however, is the effect that starts to have on the rest of the team. It is something of a balancing act.

When such a player is on form and on his game, there is little doubt about his exceptional effectiveness and the manner they lift everyone. Such a star can often make a team unplayable. The offset is the debilitating effect on the side when the individual is off form, absent or in conditions that don't best suit him. What's more, the manner in which the star player absolutely demands -- either intentionally or subconsciously -- that a team play to his strengths can create an ultimately negative psychological dependency.

The team loses confidence when he's out, and lose their way when denied his reference point. Opposition sides also learn to primarily prevent the ball getting through to one single player, while professionals have admitted that their first look is frequently to the star, with that individual often demanding the ball.

Barcelona's 2012-13 Champions League quarterfinal and semifinal provided interesting case studies. Messi instantly transformed the very outlook of the team when coming on against Paris Saint-German, but then could only watch from the bench as Bayern tore an unusually flat Barca apart.

It is the inevitable problem when any side develops a distinctive single focal point, no matter how previously well integrated they were. Dynamic cohesion will gradually give way to dependency, and reputations become inflated. Only very canny management can properly navigate this, which is something that Barcelona are at least attempting.

It is also something that the likes of Tottenham could consider as they ponder the unthinkable. As damaging as it would appear to let Bale go, it may allow them to strengthen across the board and recalibrate the team as a whole. Rather than deploying just one player who is occasionally unstoppable, they could field an attack that is a little more difficult to figure out.

That Zinedine Zidane is central to that saga as a Real Madrid official is also conspicuous. It was his world-record move to the Bernabeu in the summer of 2001 that allowed Juventus to bring in Gigi Buffon, Lilian Thuram and Pavel Nedved. They immediately lifted the Italian league title that had evaded them since 1998.

It is proof that pressure to sell a star may not always be the problem it appears. Sure, some players may not be replaceable; but there is not a single team in the game that cannot be refocused or reshaped.