Time to let Suarez walk alone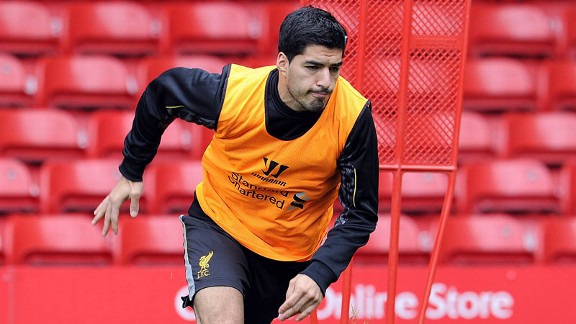 GettyImagesSuarez's latest comments threaten to harm Liverpool's chances of keeping the Uruguayan.
Despite being surrounded by thousands of vocal Liverpool fans as he took to the pitch for Steven Gerrard's testimonial match on Saturday, Luis Suarez cut a lonely figure. It was the epitome of what has slowly developed into a love-hate relationship. The Reds faithful, just like their club, continued their support of the Uruguayan, dismissing two years of discrepancies to stay true to a man who brought back an element of surprise to Anfield.

- Brewin: Sell Suarez
- Suarez demands Liverpool exit

But for all of Brendan Rodgers' assurances that Suarez is here to stay, for all the camaraderie from his teammates, for all the relentless defences following incidents that would have seen a player exiled from some clubs, it seems that Suarez can no longer feel comforted by the four famous words emblazoned on his Liverpool jersey.

After insightful interviews with The Guardian and The Telegraph in Wednesday's papers, Reds fans may finally be happy to let Suarez walk alone.

He has been called a divisive figure amongst the football world, but despite the biting, despite the cards and despite the torrent of media speculation, there was previously no cause for division as far as Liverpool fans were concerned.

Sure, Suarez's comments on Tuesday evening -- that he needs to play Champions League football and is making the right move for his career -- merely reaffirmed what we already knew and what has likely been said behind closed doors for some time now. The story will come as no shock to Rodgers, nor Liverpool fans, but suddenly, hearing the words from the man's mouth makes everything seem real.

Until now, there has been a sense of false hope for fans on Merseyside. Perhaps the rumours are just that. I'd like to call it blind adherence -- when your loyalty has you believing in your idols and your club even when you know things are not right.

Denial is no longer an option. Suarez told the Guardian: "Liverpool gave me their word a year ago and now I want them to honour that. I'm not going to another club to hurt Liverpool."

Things could begin to get farcical quite quickly, particularly with Suarez now considering legal action to spur a move to Arsenal. Putting the money aside, losing the club's top goalscorer to the Gunners this summer would be damaging for two key reasons.

The first -- if Liverpool were to receive an offer in excess of the £50 million it is believed would lure Suarez away, we are probably far too deep into the transfer window to attract a world class striker and the failure to offer European football is of no aid to that issue. The likes of Edinson Cavani and Radamel Falcao have already moved on and you would be hard-pressed to find someone to fill Suarez's boots.

The second -- Liverpool are adamant they will be able to challenge for a top four position in the coming years. Selling Suarez to Arsenal would all but gift the Gunners fourth place next season and remove Liverpool's only hope of ousting Arsene Wenger's side or Tottenham to a Champions League berth.

It is strange enough in itself that Suarez spoke to the very kind of journalists who he had earlier chastised and blamed for his desire to leave. He can no longer hide under the façade of wanting to move away from the British press; he will continue to be scrutinised at the Emirates if his career to this point is anything to go by. Perhaps it is time to accept that Suarez, simply, thinks Liverpool isn't good enough for him anymore.