Liverpool can step from Suarez's shadow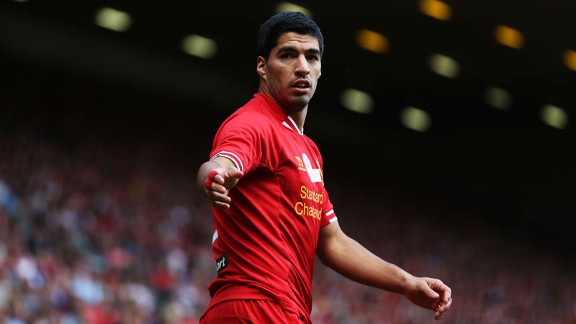 PA PhotosLuis Suarez: The headlines have been more about him and less about Liverpool during his time at Anfield.
Monday's open training session at Anfield saw Luis Suarez clapped and cheered by Liverpool fans as he made shuttle runs in front of the Kop. Perhaps those who applauded felt showing their continued loyalty might engender a fresh sense of it in him.

• Rodgers: Arsenal lacks class

• Gerrard wants Suarez stay

Amateur body language studies suggested otherwise. The striker did not acknowledge any exhortations to stay. For those hoping for a change of heart after early summer's expressions of dissatisfaction, Suarez may not have spoken on the record since, but neither has he said he wants to stay. He wants to go, you know.

A fan-led charm offensive worked with Steven Gerrard back in 2005, the summer he was headed for a £35 million transfer to Chelsea. "Steven Gerrard walked alone last night," said the Daily Telegraph on July 6, 2005. "Gerrard walked alone away from Liverpool ..."

"I stared at the TV through flowing tears," said Gerrard in his autobiography of inner turmoil. "I was suffocated by stress. My head was banging, and I was eating paracetamol like Smarties."

Gerrard stayed; the headaches stopped. He is now recognised by many as the greatest Liverpool player of all time.

Saturday lunchtime was a celebration of that. A testimonial game against Olympiakos marked fifteen years of outstanding service in which Gerrard has provided the key to glory. It was his brilliance at Istanbul in 2005, at Cardiff in 2006 and in tandem with Fernando Torres during the 2008-09 season that kept his club relevant.

Yet weekend broadcast bulletins from the testimonial -- and newspaper match reports -- all centered on the brief cameo that Suarez made as substitute. The prematch and postmatch conferences were dominated by Suarez talk, with Gerrard showing some exasperation at being asked repeatedly about his team-mate. Suarez stayed silent, his mood a little better than the sulky appearances he made on the club's tour, but hardly showing happiness with his lot.

Perhaps he had a headache. That might have been his excuse for being the only first-team player not to attend the event's gala dinner.

In his two-and-a-half years at Anfield, the Uruguayan has dominated Liverpool. A returning hero in Kenny Dalglish, a promising manager in Brendan Rodgers and a relatively new ownership in Fenway Sports Group, even the club's finest homegrown player in Gerrard: all overshadowed by the Suarez storm.

He has constantly provided a narrative, be it via undeniable footballing brilliance or maddening recklessness. Any cult of Suarez is no media construct. His actions truly speak louder than the words written about him.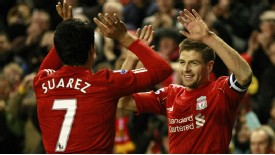 GettyImagesSuarez and Gerrard: The sulking striker and the club legend.
Indeed, writing about Suarez is a risky business. There is no more divisive a footballer in the English game. He inspires outrage in many, but devotion in others. And it is hardly difficult to antagonise the devotees. In this age of interaction, those who express dissent receive it back in spades. But Liverpool Football Club and its fans should be about more than Suarez. And they will be, once his ticket to ride arrives.

The obvious fear is that without him, Liverpool have little chance of reaching the Champions League they have been exiled from since a group-stage loss to Fiorentina in December 2009. Selling to Arsenal and strengthening a rival would make it yet more difficult, which makes the reluctance of dealing to Arsene Wenger wholly understandable.

But should a continental purchaser be found, then a deal makes sense if Liverpool want to regenerate. Even with Suarez, the top four still looks a lengthy shot. Rodgers has made heavy public play of his admiration for "Louie," as he refers to Suarez, but the manager must eventually step from the shadows of his leading man.

In Rodgers' opening months in charge, Suarez papered over cracks, scoring goals in a prolific style that was thought beyond him. At times, he was the best player in the Premier League, but then came the downside, that insane nip on Branislav Ivanovic's bicep.

Liverpool subsequently played some of their best football of the season in the four games that Suarez was suspended. Rodgers was able to put in place what he had perhaps had in mind all along, and one that the individualistic Suarez, for all his qualities, does not actually fit into.

Philippe Coutinho, granted a playmaker's role in the absence of Suarez, glittered as Liverpool destroyed Newcastle 6-0, and was a rare bright spot in a dull Merseyside derby too. Preseason has franked the Brazilian's growing importance, and Iago Aspas, of all the new arrivals, looks best suited to being a first-choice selection in a position not dissimilar to Suarez's.

Get Daniel Sturridge fit soon, and Liverpool -- as they must anyway in the first six matches when Suarez is suspended -- can field a forward line of quality and variety. Another striker, with Atletico's Diego Costa bid for last week, may yet arrive too.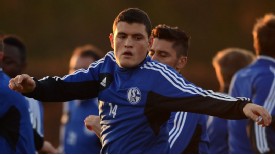 GettyImagesMoney from the sale of Suarez could fund the purchase of Kyriakos Papadopoulos.
Whatever money is received for Suarez could fund the rest of the required reinforcements. Central defence is a definite area of weakness. Rodgers needed Jamie Carragher's final flourish to steady a unit obliterated by Oldham Athletic in the FA Cup. The asking price for Schalke's Kyriakos Papadopoulos might finally be met.

The removal of Suarez can also offer a way back to the "Liverpool Way," when the team and its style of play was the star. In the great days, Liverpool was not a club to sign a big name, to hang itself on the hook of a leading man. Perhaps only Dalglish in 1977 arrived as a finished article, and he joined a team that were European champions. Continued greatness was formed from the sum of parts and certainly not via star systems. That approach was for other, less successful clubs who trailed in Liverpool's wake and spent good money after bad in trying to keep up.

Losing Suarez gives Rodgers further time to get things right. Furthermore, it can allow a proper measurement of Rodgers as a manager. Suarez has skewed matters for too long. Eventually, the old in Gerrard, and the new in players like Coutinho might surpass a troubled past when fortunes were based too heavily on Suarez's ever-changing moods.

Just as he does defenders, Suarez has tied Liverpool in knots. At the right price, it is time to cut the rope and unravel. Take the money; let him go. It will be for the best. He has cast a shadow for too long.