Quintero leads the competition as Porto regroup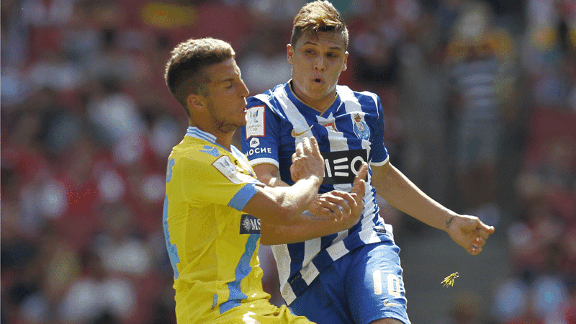 GettyImagesJuan Fernando Quintero starred for Colombia at the Under-20 World Cup and Porto hope he will do the same for them this season.
There were, they said, just two places to play for in Coach Paulo Fonseca's XI ahead of Saturday night's Supertaca (Super Cup) encounter with Vitoria de Guimaraes. Yet what we expected to be 45 fairly sedate second-half minutes in a preseason Sunday were anything but, and it changed things. Certainly for now, and perhaps for FC Porto's season as a whole.

When Napoli had given an authoritative display on Saturday in the Emirates Cup -- certainly for the first hour -- they had suggested that the considerable excitement surrounding their upcoming season post-Edinson Cavani was justified, as players old and new in Marek Hamsik, Goran Pandev and Jose Callejon shone. A day later, and it looked as if Porto had the deeper squad against possible future Champions League adversaries, despite Rafael Benitez's enthusiastic restocking of the San Paolo dressing room, with new names pinning their metaphorical manifestos to Fonseca's door.

The level of entertainment provided in an often-pedestrian competition wasn't the only surprise. In a strong preseason, Fonseca had seemed to have merely tweaked the Portuguese champions' 2012-13 recipe for success, and had only done that to cover the exits of James Rodriguez and midfield mastermind Joao Moutinho. Steven Defour had kept Fernando company in a midfield double pivot, while veteran captain Lucho Gonzalez had -- perhaps surprisingly -- been used as a number 10. Kelvin Mateus de Oliveira, the scorer of that memorable winning goal in the title crunch with Benfica in last season's penultimate game, and Juan Manuel Iturbe had been coveting James' spot.

It had looked like a plan. Lucho set up Jackson Martinez's winner in the Dragao presentation game against Celta Vigo with a sublime through ball from just that spot. Iturbe had shone too, smashing in one absolute ripsnorter against Marseille. The only significant dent made by Kelvin may have been in Nolito's leg against Celta, but his explosive style made (and continues to make) him an interesting option.

For the first half of Saturday's game against a strong Galatasaray side, normal service appeared to be maintained. Lucho quickly carved an opening for Jackson, only for Fernando Muslera to race from his line and smother. Porto pinged the ball around with purpose and verve, created a number of chances and were often denied by the excellent Muslera. The goalkeeper's stop to deny Jackson from the penalty spot -- an unhappy reminder of three crucial and potentially ruinous penalty misses by the Colombian in last season's latter stages -- was one of the most routine ones.

Yet when the pace and movement of Silvestre Varela and full-back Alex Sandro left the field at halftime, so did Porto's lungs and best ideas, it seemed. Fatih Terim's side fought back strongly, and deserved the win authored by Felipe Melo's successful spot kick. There was still time for Lucho himself to fritter away the chance to equalise with a third penalty of the afternoon, which didn't even require Muslera to save.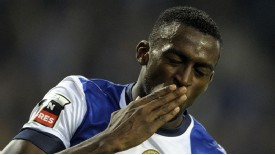 GettyImagesJackson Martinez has shown life goes on after the departures of Moutinho and Rodriguez.
On Sunday, new possibilities emerged. Jackson's fill-in, the bustling Nabil Ghilas, caused Napoli plenty of problems and scored the goal that brought Porto level just into the second half. Mexican midfielder Hector Herrera was full of industry. Winger Ricardo -- signed from Saturday's opponents, Guimaraes, and the scorer of the goal that beat Benfica in May's Taca de Portugal final to win the club its first major silverware -- put in an eye-catching turn at right-back. "It's something we've worked on in training," Fonseca said with some modesty.

The star of the show was, however, clear. The man wearing the No. 10 shirt -- rather than necessarily performing the role -- was Juan Fernando Quintero. The young Colombian had barely been training with his new club for a week, having had time off following his star participation at the Under-20 World Cup, but he didn't look like he needed too much practice.

Quintero looked as irresistible at senior level as he had with the juniors, running with the ball with considerable authority and helping to create both Porto's first two goals; a magnificent through ball for Ghilas for the first, before releasing Varela for the cross, which Federico Fernadez put in his own net for the second.

Sunday's O Jogo suggested that this Sunday will provide Josue and Iturbe with their "last try" at staking a claim for the team's "two places that are open" for the Super Cup match. Josue, such a key player for Fonseca at Pacos de Ferreira last season as the minnows improbably reached the Champions League playoffs, has already received a vote of confidence of a sort -- it is the 22-year-old who has inherited Moutinho's No. 8 shirt.

Fonseca admitted that Josue has one definite advantage ("he knows my ideas very well," said the coach), even if Defour is expected to get the nod in the Super Cup. Iturbe's case is a little more complex. He has returned from a good loan spell in his native Argentina at River Plate, and they would like to take him back -- but his promising preseason has left his future more up in the air than ever.

In the end, Iturbe was only given 18 supplementary minutes to press his case on Sunday, replacing Quintero -- who by that point had made all arguments of whether Kelvin or Iturbe should be picked simply academic for the moment. Short of rest or not, there is every sign that the young Colombian could be even more influential at the Dragao than James, either in his predecessor's position or as a central playmaker.

There's no question of Lucho not starting against Guimaraes -- either as a 10 or further back -- but this weekend showed that Porto are positively swimming in options, even post-James and Moutinho. Fonseca's only problem for now is deciding which tools he will use to dismantle Guimaraes -- and who will stay this season, with some to be loaned.

"There aren't any firm decisions at this moment," Fonseca said after the Napoli game. "But those [decisions] will appear, because we have too many players. Nobody will be leaving because they lack the quality to play for FC Porto, but only because it's a question of quantity in certain areas."

Even after two such big sales, Porto are as strong as ever.