Ligue 1 'also-rans' labouring to keep up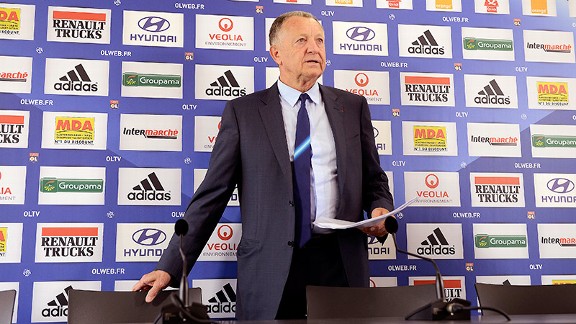 Philippe Desmazes/AFP/Getty ImagesWhile Monaco and PSG engage in a high-profile arms race, Lyon owner Jean-Michel Aulas is cutting his budget and hoping to hang on.
Zut alors! Croissants! Greve! These are just some of the obvious things that come to mind when you think about France. But when you think about French football, do you think about cliched exclamations, pastries or the manifestation of the collective bargaining power of organised labour? No, of course you don't.

However, you might first turn to the two clubs that have dominated almost all of the storylines in France this summer. There's PSG, the club with loads of money that hasn't been earned from its on-pitch success or marketing nous -- they've just been given it by new owners. And then there's Monaco, the club with loads of money that hasn't been earned from its on-pitch success or marketing nous -- they've just been given it by a new owner. Of course, with Edinson Cavani and Radamel Falcao among the exciting and really expensive new toys to play with, they'll take most of our attention, but that doesn't mean that the rest of the league has simply stopped existing.

Yet the sad fact is that while PSG and Monaco have as much money as they need (and others could use), the other clubs aren't chugging along at their same pace. In fact, most of them are on a lower budget than they have been in recent memory.

Nowhere is this more obvious than at Lyon. This summer, owner Jean-Michael Aulas took to forcing Bafetimbi Gomis out of the club in order to balance the books. Quite reasonably, Gomis decided he was going to leave only on his own terms, and those didn't include Hull. The transfer now appears to be between Newcastle United, whose hopes or interest is waning, and Marseille, who are looking to spend yet more. Because the transfer is still unresolved, Lyon were also forced to sell Anthony Martial to Monaco for 5 million euros while Lisandro Lopez has left for Qatari club Al-Gharafa.

Michel Bastos has also been sold, to Al Ain, and Fabian Monzon has left to Catania. Now that Gomis is set to leave for around 9 million euros, they might add to their squad, but as it stands the only money Lyon have spent is 800,000 euros on Gael Danic from Valenciennes and 2 million on Henri Bedimo from Montpellier, to replace Dejan Lovren (now at Southampton). Miguel Lopes has arrived from Sporting Lisbon, but only on loan. For a club that won seven leagues on the bounce not too long ago, Lyon are now selling all their best players and are attempting to get into the Champions League through a series of qualifying rounds. It's not totally desperate, though. Yoann Gourcuff, Maxime Gonalons, Lisandro, Steed Malbranque and Clement Grenier all possess a mixture of potential and ability, but the fall from previous standards is evident on the pitch, on the balance sheet and in the league table.

Lyon aren't the only club wrestling to stay within budget. Lille have been able to raise a significant amount of money from sales, letting Lucas Digne join PSG, Aurelien Chedjou go to Galatasaray, and Dimitri Payet go to domestic rivals Marseille. Having received 30 million euros, they've spent just 2.5 million. Most of that was on a once-promising Simon Kjaer from Wolfsburg, and the rest (half a million) on Julian Jeanvier from Nancy. As you can probably tell, Lille are not aiming higher than they were last season. Marvin Martin remains, but so what?

Marseille, Payet's new club, are the exception among the rabble, spending far more money than they recouped in sales and looking like they could again challenge for the title if they could just improve their consistency. They may have tried to retain Joey Barton, but luckily for them they couldn't afford him. However much he might have impressed the fans, the midfielder is just one tweet or skim-read of a book away from disaster.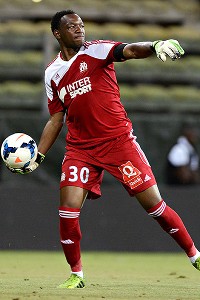 Claudio Villa/Getty ImagesMarseille did well to keep Steve Mandanda despite Monaco's interest -- but will it even matter?

As well as Payet, who cost a hefty 9 million euros, the club has added Giannelli Imbula from Guingamp and Le Havre's Benjamin Mendy. Marseille also retained Steve Mandanda in the face of interest from Monaco and have kept the defender Nicolas N'Koulou, who performed impressively last season. Marseille are also looking to shift Andre-Pierre Gignac, a roly-poly striker whose ability is somewhat hampered by his size.

There's no reason to think that with Monaco learning to be a team rather than just a collection of players who have the same yacht cleaner, Marseille couldn't again provide the stiffest opposition to PSG in Ligue Un. That's especially true given last season's upheaval with the replacement of Didier Deschamps by the popular Elie Baup, who has remained in charge for another season.

A team unlikely to challenge PSG this year, however, is their beaten opponent in the Trophee des Champions, Bordeaux. Having played one another in Gabon in the traditional season curtain raiser, it was evident just how limited the side are now. While they have added Lucas Orban from Tigres for a few million, there is no signing to give anyone great hope. Last season's French Cup win was a high point, but they finished seventh in the league and draw no favourable comparison with the double-winning side of 2009. Resources are clearly stretched, as that can be the only reason for the 33-year-old defender Jeremie Brechet to have been given a contract by the club despite being relegated at Troyes last year. That Bordeaux had to sell Anthony Modeste to Hoffenheim and Benoit Tremoulinas to Dynamo Kiev for a total of 11 million euros means they're yet another Ligue Un side receiving more than they're spending.

And with the exception of Marseille, that's the theme of the league outside of Monaco and PSG. While those clubs can only look at the financial doping and hope that they get the occasional lick of the needle, Bordeaux, Lille and Lyon are all clearly struggling to get together anything more than loose change.

In a sense, it's pragmatic. Is there any point spending millions of euros more if the best that can be achieved is third or fourth in the Ligue Un? Third, as it stands, qualifies a club only for the qualifying round of the Champions League, which comes with no guarantee of a sizable income.

Truthfully, French football is now in danger of just becoming a backdrop for the two big clubs to slug it out, with no prospect that the duopoly can be seriously challenged in the foreseeable future. The TV revenue is not like it is in the Premier League, so clubs' income does not allow for any major investment. From the small sums spent on the transfers, the ambitions of most clubs might seem to be just to make sure they simply have enough bodies. If that's how it turns out, then it might not even be much fun for the posh kids sitting in the seats at Parc des Princes and Monaco's Stade Louis II, let alone the fans of every other club.