Suarez looms for Arsenal, but Drogba continues to cast shadow
LONDON -- Arsene Wenger perhaps put it best. "It was classic Drogba," he said with a smile. The Frenchman was talking about the "very, very, very, very soft" penalty decision that triggered Galatasaray's comeback as they beat Arsenal 2-1 to clinch the Emirates Cup on Sunday, but he may as well have been describing the entire afternoon. Some things just don't change: Didier Drogba scored twice to ultimately deny Arsenal silverware and leave Wenger's side inside a top four but outside the top two.

• Limbert: What we learned

• Arsenal 1-2 Galatasaray

(US only)

• Napoli 1-3 Porto

(US only)

Most conspicuously on the day, it meant Galatasaray, and not the hosts, lifted the Emirates Cup. Had Arsenal done so, of course, it would have led to all manner of easy lines about finally winning a trophy. The truth, however, is that the tournament has been running for seven of the eight years that Wenger has gone without silverware, so any such victory can hardly have been seen as a sign of things to come.

Because, as mistaken as it can be to read too much into any preseason friendly, this match did seem to suggest that Arsenal haven't changed in terms of play -- let alone personnel.

The template was still the same, with the identical old positives and negatives. Arsenal remain a pleasing team to watch and are undeniably still a Champions League-level side but, as it stands, they are a little short of the kind of conviction that can have them properly competing again. Even their goal against Galatasaray seemed to reflect this, as a Theo Walcott cross was unintentionally curled into the net.

This is not to say there was nothing new for the team. Many of the young players distinguished themselves, not least Gedion Zelalem. The elegant U.S.-raised midfielder was born the year after Wenger's 1996 appointment at Arsenal and has been hailed as a successor to Cesc Fabregas. Certainly, he offered a few telling touches and passes and evaded a physical presence such as Felipe Melo creditably.

Laurent Koscielny also illustrated that his impressive evolution into a defender of genuine international standing looks set to continue, while Kieran Gibbs offered one of the best performances of the weekend. Sole new signing Yaya Sanogo also showed that he will be a proper presence in this squad, in many ways. It is the discussion of signings, of course -- and one in particular -- that coloured every perception.

Overall, Wenger put the team's eventual loss of energy down to inevitable fatigue.

"We had a fantastic performance," he said. "We were in control but we were not capable of maintaining physically that pace and in the second half we dropped. It's a long time since I've seen such two different halves and then I believe we will be more capable of keeping it going in the second half."

Drogba, naturally, kept up his remarkable run of scoring against Arsenal. He also perhaps displayed another side of the kind of physicality Wenger was discussing. Having gone down rather easily for the penalty which brought his equaliser, the forward then opened the way for his winning goal with a remarkable run from near the halfway line that effortlessly took him past three Arsenal players and right up to goal. It was only a Per Mertesacker challenge that prevented a shot but, from the resulting corner, Drogba was eventually left to power in his second.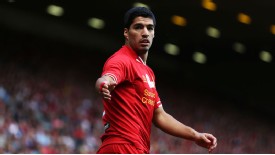 PA PhotosLuis Suarez could give Arsenal an edge they currently lack.
At that point, at least, it was exactly the kind of vigour and vitality that Arsenal lacked. It also illustrated, more than anything, why this team needs something like Luis Suarez.

In so many ways, he could be the player who properly unlocks this side. While much has been made of the Uruguayan's personality and occasionally selfish style of play, Arsenal arguably need both quite badly.

One of the problems with Wenger's current Arsenal is that, while their overall shape remains fine, it lacks the fizz of the 1998 to 2004 period. Suarez's positioning would allow the manager to retain this template but add a hugely different angle of attack. Similarly, in a team that has typically been accused of over-elaborate passing, his supreme dribbling ability would suddenly give opposition sides a different problem to worry about as well as offering Arsenal a dimension they simply lack. Many at London Colney have also complained that the team has lacked a "spikiness" or winning edge since Cesc Fabregas departed. We all know about the Uruguayan's capacity in this regard.

More than anything, Suarez is simply a player at a level that only Jack Wilshere and Santi Cazorla in the Arsenal squad come close to matching.

From the way Wenger was speaking after the game, however, it seems the saga is likely to go on past their Champions League qualifier -- the first leg will take place on Aug. 20 or 21 -- and possibly right up to the end of the window.

"It's very difficult to predict if it will be sorted out before the qualifier," he said. "What we want to do, I think we have enough quality to achieve it with the players here."

The ultimate issue with Arsenal is that they want to get back to doing so much more. It was something that Wenger acknowledged as he talked about the complication of still having to qualify for the Champions League.

"It's a stressful situation to be in and now it's time to take advantage of the fact we finished fourth. We fought very hard to do it. It's always a very tricky period. Now we have an opportunity."

Arsenal, at the least, are trying to change things. It's time for Wenger to put it right.

Impressions of the Emirates Cup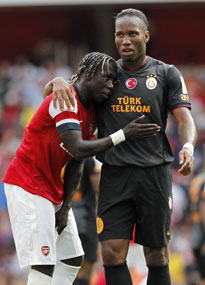 GettyImagesDidier Drogba once more had the beating of Arsenal.
• Didier Drogba is clearly well aware of his perception among Arsenal fans. As the forward warmed up to come on, a number of supporters nearby sang "go back to China," in reference to the move the Ivorian made after leaving Chelsea last year. He smiled back. Soon, he was beaming. Immediately after the equalising penalty, Drogba ran to the crowd, cupped his ears at the extremely loud abuse and pointed to the name on the back of his shirt. When he finally got the winner, moments later, mischief had given way to utter glee as he celebrated the strike with absolute relish.

• Despite the reputation of the crowd at the Emirates and the fact the booing for Drogba was the moment of the game when the stadium was at its loudest, there was an impressively raucous and celebratory atmosphere at Arsenal. There was certainly none of the booing seen during the previous day's 2-2 draw with Napoli, nor the silences of last season. This was a crowd determined to make impressive noise. That may help change the tone.

• Of course, that cacophony was boosted by the sizable Turkish presence, who were only cheering louder when Galatasaray ultimately lifted the trophy. It was followed, however, by a bizarre juxtaposition in the press room afterward as a severe-looking Fatih Terim was flanked by six air hostesses, all with what you might call "corporate smiles" fixed on their faces

• While Rafa Benitez still has work to do at Napoli, it seems that Paulo Fonseca has had a much more immediate impact at Porto. His side played some scintillating football in their 3-1 comeback win against the Italians, not least with some of their lightning interchanges and breaks. Quintero and Herrera were particularly impressive. They are, not for the first time, a team to watch out for in this season's Champions League. And, for all the obvious comparisons with Jose Mourinho, Fonseca seems a coach well capable of forging his own reputation. He cut an impressive figure.

• Benitez was in happy form after the game, but insisted that Napoli's transfer business is not done yet. He remains intent on signing another striker to ensure the side can properly compete on all three fronts.