Ligue 1 gears up for its most explosive season to date
With Monaco's millions arriving to challenge Paris Saint-Germain's petro-dollars, the 2013-14 Ligue 1 season promises to be the most explosive and globally followed French top flight campaign of all time. Having seen their rivals' Falcao and raised them a Cavani, the Ligue 1 champions still appear to be best placed to remain out in front, but there are plenty of question marks looming for both clubs as well as for those who will attempt to prove large cheques do not necessarily bring Jan Koller-sized success.

1) Can Blanc get PSG playing?

With a runner-up place, a first league title since 1994 and a Champions League quarterfinal added to his CV, Carlo Ancelotti left a significant legacy at the Parc des Princes, but — fortunately for Laurent Blanc — nowhere near as daunting as that faced by Pep Guardiola at Bayern Munich.

Having now spent more than €300 million on the squad since arriving in the French capital in the summer of 2011, Qatar Sports Investments rightly expects Blanc to cross its palms with silverware, not only in Ligue 1 but also in the domestic cup competitions where Ancelotti got no further than the last eight last season. All that has been made clear by president Nasser Al-Khelaifi, QSI's boss man at the Parc des Princes, at the announcements of the recent marquee signings made by the club. Winning will not be enough for Blanc, though, with his employers demanding style and success after seeing Ancelotti achieve the latter, but not the former, last season.

Questioned on the matter, Blanc — the most elegant of gentleman center backs as a player — has reminded everyone how prettily his Ligue 1-winning Bordeaux side played, largely centered around the then-almost irresistible talents of Yoann Gourcuff as a classic No. 10 in a 4-2-3-1. Though Javier Pastore could be used in the role, a more orthodox 4-4-2, with Zlatan Ibrahimovic dropping off Edinson Cavani, looks the most likely formation for Blanc to employ with the full backs pushing on as much as possible to get beyond the wide players in an attempt to steamroller opposing sides, particularly in Ligue 1 though probably not in the Champions League.

The whiteboard theory does not always translate to the pitch, bien sûr, and Saturday's laboured win over Bordeaux in the Trophee des Champions, the Ligue 1 season curtain-raiser, suggests Blanc has significant strides to make, even if it would be foolhardy to draw definitive conclusions from a preseason run-out in Gabon. His ability to convince what is a formidable-looking squad to put their prodigious talents at the service of the common good will be what would set him apart from Ancelotti. If he can do that, then getting everyone to speak French in the dressing room, as Blanc has stated he would like to do, should be a breeze.

2) Will it be Zlatan & Edinson or Ibra vs. Cavani?

When Cavani arrived at PSG, he talked about the three-way tussle between himself, Ibrahimovic and Monaco's Radamel Falcao to be Ligue 1's leading scorer next season. "It's going to be tough, because we're goal scorers. We always try to bring to the team our goals," Cavani, €64 million-worth of Uruguayan, said. "It's our mission and ambition to score."

While their pedigrees are not in question, just how will the superstar Swede and last season's Serie A top scorer co-habit in the dressing room and on the pitch with their respective "missions" exactly the same? At first sight, their collaboration looks promising. Ibrahimovic's imposing physical stature and his tar-pit-sticky touch make him the ideal "go-to" guy for PSG's defenders and midfielders, while his eye for a pass will keep Cavani in the sort of "waited on hand-and-foot" lifestyle he has become accustomed to thanks to the service-minded Marek Hamsik.

At least that's the theory. The reality may be different should the situation take a fratricidal turn. How will Ibrahimovic's ego take not being seen as the team's main source of goals, particularly when he is the one having to tee Cavani up? While his professionalism is generally lauded, notably by Ancelotti, is the Swede pragmatic enough to remain in line when his qualities are earning plaudits for someone else? The fact the pair can converse in Italian will help, though may also ensure the sharp-tongued Ibrahimovic's frequent barbs toward his teammates will not be lost in translation.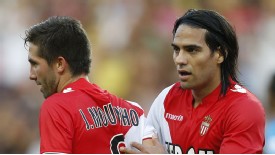 GettyImagesBig-name signings like Joao Moutinho and Radamel Falcao may take time to jell at Monaco.
3) How quickly will Monaco jell?

Any binge brings a hangover, and following their summer 2012 splurge, PSG's head took some time to clear, kicking off last season with some of the dreariest draws and most surgically sterile football. Though PSG have tinkered expensively this time, Monaco will have virtually a brand-new starting XI come the start of the season, having shown little consideration for those whose sweat earned promotion.

For all the fanfare of Falcao, Joao Moutinho and James Rodriguez, perhaps the most important additions will be Eric Abidal and Jeremy Toulalan, whose Liga experience and stature within the game will enable them to help the new Latin arrivals settle in an unfamiliar league. No doubt Claudio Ranieri will rely heavily on the France international pair to act as the glue in the dressing room, and just how effectively they can act in that role will be key to Monaco's season.

The first six games of the campaign, with Bordeaux, Montpellier, Marseille and PSG among them, afford little time for teething problems to be treated, but with no European distractions this season, the principality club will surely be serious pretenders to the title.

4) Who finishes third?

There is fighting talk from Marseille and Lyon that they want to push Monaco and PSG next season. Recent history — Montpellier's surprise title triumph in 2012, notably — suggests the campaign may not be the two-horse canter everyone is predicting, but for both heavyweights to stumble would take quite something, and the likelihood is neither will for long.

So third place — France's final Champions League place, and that only worth a berth in the third qualifying round — is the new first for the rest of the best Ligue 1 has to offer.

Having spread their means carefully last summer, the €25 million windfall that is the Champions League group stage means Marseille do look handily tooled up after following a domestic-based pillage. Taking advantage of Lille's absence from the European scene, they have brought the excellent Dimitri Payet south, while Giannelli Imbula and Benjamin Mendy, though unproven in L1, both have the sort of glowing reputations to suggest Elie Baup's squad has been given a beneficial face lift. With sought-after goalkeeper Steve Mandanda and center back Nicolas Nkoulou retained, the demanding Stade Velodrome faithful have the right to expect a successful season and also more inspiring football than the 2012-13 campaign. Third looks most likely, but if they can keep their best starting XI fit, even second place may not be out of reach.

Lyon find themselves in a similar dark place financially now as OM did 12 months ago, as shown by their unwillingness to potentially pay a modest €5.5 million for Sochaux's Sebastien Corchia. Instead, they have Portuguese right back Miguel Lopes on loan, the superb Henri Bedimo at left back and the €900,000 bargain basement addition of the excellent Gael Danic to show for their efforts. Most significantly, however, they held on to Maxime Gonalons and Clement Grenier, though they will need some of the promising forwards they are putting so much stock in to step up, with Bafetimbi Gomis, last season's leading scorer, persona non grata.

Expect the final podium spot to be contested by that pair, with Saint-Etienne, shorn of Pierre-Emerick Aubameyang, and Lille under Rene Girard, a man used to working on a shoestring, also potential challengers. Surely with the demands of the Europa League forcing their small squad apart at the seams, Nice will struggle to match last season's remarkable fourth-place finish.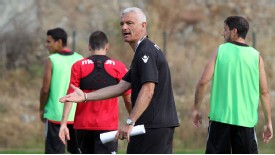 GettyImagesFabrizio Ravanelli appears to have a tough task ahead at Ajaccio.
5) Will Fabrizio Ravanelli's first spell in management end in tears?

Cavani's arrival from Napoli was not the only significant one from Italy this summer with "The White Feather" taking his first dip into management after working within the Juventus youth system. "When you're a coach, you have certain players with whom you talk and who allow you to improve as a coach. Ravanelli is among those players with whom I had so much fun when we talked together," Rolland Courbis, the ex-Juve star's coach during his spell at Marseille between 1998 and 2000, said upon his former charge's appointment. "I talked a lot with him, whether it be ideas or points of view, and you didn't have to be Sherlock Holmes to know that that boy there would then become a coach."

Though it appears elementary for Courbis, it is certainly a brave appointment, though it is the former Italy and Middlesbrough forward who is showing the most courage. Having succeeded Olivier Pantaloni at the Stade Francois Coty a year ago, Alex Dupont was in charge only nominally during a six-month spell with talk of players forcing him out; his successor, Albert Emon, kept the club up and then walked, amid dark mutterings from president Alain Orsoni about "a clear rupture with the squad" and the sort of team unity habitually associated with the Dutch national side.

As he trumps everyone at the club in the "show us your medals" competition, perhaps Ravanelli will be able to tame the more explosive elements in the dressing room and also inspire Adrian Mutu, who has been only fitfully effective since his surprise move to Corsica a year ago. There is no doubt that, if he can, then Ravanelli has a squad — backstopped by the solid hands of Mexico's Guillermo Ochoa — that can comfortably remain in the top flight. If not, his famous goal celebration may be seen in the dugout, though born of frustration rather than elation.