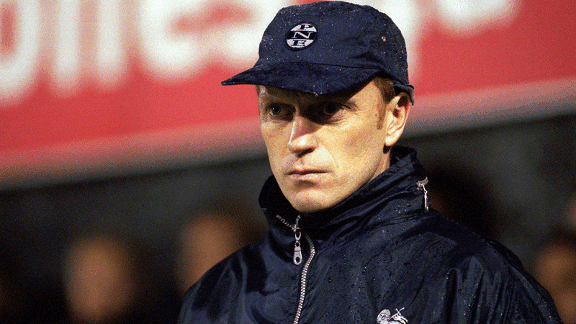 GettyImagesDavid Moyes initially cut his coaching and managerial teeth at Preston in League One.
On a park in Preston back in 1995, a flame-haired defender by the name of David Moyes took his first steps toward becoming the manager of Manchester United.

Tasked with helping the Scot plan his maiden session as a player-coach that day was Preston's newly appointed physio, Mick Rathbone. It was to be the beginning of a friendship that remains intact almost two decades later, with Rathbone by his side first in Lancashire -- as Moyes progressed from coach to manager -- and then at Everton.

In 2010, Rathbone, by then head of sports medicine for the Toffees, left Goodison Park to take up a role with the England under-17s and pen an autobiography about life as a player and Premier League physio. Then earlier this summer, just a few months after beginning a new role as an academy performance coach with Manchester United, he was reunited with a familiar face.

"I was driving one of the United lads to Oldham when news of Sir Alex's retirement was announced on the radio and I must admit my first thought was: 'I hope Dave gets it,'" Rathbone told ESPN FC. "He texted me the day before it was announced -- he was shopping with his wife when he found out -- and I replied saying I'd save him a car-parking space. It was so surreal when I went in the next day and Sir Alex introduced me, saying: 'Mick, have you met this guy?' -- I gave a knowing nod!

"For me, he was the most deserving candidate by a mile. Obviously there were other huge names linked with the job, but he's the perfect age and has a track record of long-term development. What he did at Everton was simply unbelievable. In terms of the scouting system, the coaching, the training ground ... he had a clear goal and did a root-and-branch job, creating a club in his image.

"He's a hugely impressive man and manager. They say he's got big shoes to follow here, but I don't envy Roberto Martinez at Everton. Dave loved Everton and was always grateful and respectful of the opportunity he was given. There was always the humility that it was a privilege. 'Even the worst days are brilliant,' is what he always said. Now he's at a club with an even bigger fan base and even bigger expectations. But this is a man who has an unshakable belief in his ability."

Despite an obvious likeness to his predecessor, Moyes' appointment was not met with universal approval from United fans and the wider football fraternity. There are some critics who have suggested the former Everton manager was chosen to be easily moulded by Sir Alex Ferguson, who could continue in the background as a pensioner puppeteer behind the Moyes marionette.

Then came the outspoken comments of Dutch fitness specialist Raymond Verheijen, who branded Moyes a "dinosaur" and his coaching methods "Jurassic" for his handling of Robin van Persie after the striker picked up a minor injury during preseason. That notion is completely rejected by Rathbone, who feels Moyes is far from old fashioned in his methods and capable of forging his own path at Old Trafford.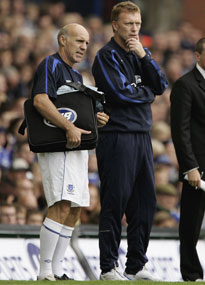 GettyImagesEverton boss David Moyes once described Mick Rathbone as his 'best ever signing, without a doubt'.
"The similarities are there with Sir Alex, but Dave's not a clone because he has his own ideas," he said. "You can see already that he's doing it his way. He's got the confidence in the success he's had at Everton. The idea that he's a 'dinosaur' is just not true -- the guy who had a pop got his name in the paper, but at the club, it was just laughed off. Dave's methods are proven and the idea that he is old-fashioned is so wide of the mark. He's always asking about new technology and new developments -- he's inquisitive and on top of the changing face of football. That claim was absolute nonsense.

"I've seen the way the players have responded to David: It's been nothing but positive. The players have been incredibly receptive. They knew that their time with Sir Alex would come to an end eventually and they are all such top-notch professionals that there was never a chance they would dwell on it. The players I've spoken to say that they are enjoying his methods, his training and they are really excited and right behind Dave. It certainly helps having Ryan [Giggs] and Phil [Neville] there. They were masterstroke appointments. Carrington is buzzing right now and everyone is excited about the challenge ahead this season."

As part of Moyes' inner circle at Preston and Everton, Rathbone was privy to the daily workings of the boss who now sits in one of world football's most searing hot seats. The affable Brummie watched a League One centre back develop into a top-flight boss first hand, with Rathbone believing Moyes' grounding at Preston played a major role.

"I will never forget the first time I met Dave at Preston," he said. "The manager, Gary Peters, said they had just promoted a senior player and that I was to plan a conditioning session with him. Afterward, I said to Dave: 'Wow! You're keen, aren't you?' He looked me straight in the eye and said: 'By the time I'm 45 I fully believe I will have been manager of the season in the Premier League.' And he was, three times.

"There was plenty at Preston to suggest he could go far. As a player he never got injured, he never missed a training session -- he was an utterly dedicated professional. I remember he once had a really bad gash on his shin but just padded it up and went off to train and play. He had real mental and physical fortitude; he was a great leader on the pitch as well.

"Gary Peters gave him a tough time in terms of workload as David was playing two times a week as well as doing lots of coaching, but I think Dave would admit that Gary's tough love helped make him that hardworking, dedicated, cover-all-bases manager that you see today. Gary was a great mentor, a real grafter just like Dave."


"

He's got so much energy and is involved in every facet of the club like Sir Alex was. He's not a head coach, he is a football club manager. Things go far beyond the realm of the first-team squad for him. " -- Mick Rathbone on David Moyes.
So what makes Moyes tick? The phrase "cut from the same cloth" has been well-worn in comparisons with Ferguson, but Rathbone feels that recognising the shared attributes between the two Scots is crucial to understanding Moyes and why he was chosen to be the successor to the most decorated boss in British football.

"At the bottom of David Moyes the successful football manager is a very decent human being," Rathbone explains. "He has a great set of principles that he never strays from: honesty, decency, hard work and mutual respect are the key tenets, and I guess in that respect there's a lot of similarities with Sir Alex. I've always said that it's nice to be important, but it's more important to be nice -- that does not ring truer than with David Moyes. He will treat the guy on the security barrier at Carrington the same he will treat Robin van Persie. That approach breeds respect from top to bottom.

"He had plenty of tough times at Preston and Everton, but even when things were going badly and he was losing his temper, which he can do of course, he always maintains that inner core of decency. Dave would have rows with staff and players like any other manager. He'd always have the last word, of course, but then you'd be having a cup of tea with him minutes later. I was very surprised by how incredibly genial Sir Alex was. From the outside he's obviously got this fearsome reputation and I saw him once or twice walking up the corridor with a red face having bollocked someone. But I also saw a guy who knew everybody's name at the club."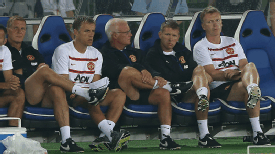 GettyImagesA humble and loyal coaching team has followed Moyes to Manchester United from Everton.
Rathbone has recently been joined at United's Carrington training ground by a raft of former Everton colleagues after Steve Round, Jimmy Lumsden and Chris Woods all followed Moyes to Manchester. Working with them again as part of the first-team staff does not appear beyond the realm of possibility, although he is currently happily working with United's under-21s, led by Warren Joyce. With the progression of youngsters such a major part of the history of United, Rathbone anticipates plenty of chats with Moyes about which players could become the fulcrum of a youth-centric legacy akin to those of the Red Devils' two Scottish knights, Ferguson and Busby.

"Dave showed at Everton that he's not afraid to give young players a chance and he fully understands the history of Manchester United. I was just in the cafeteria and he was asking me how the younger lads were getting on. He's already shown on the preseason tour that he's happy to give inexperienced players a go and the likes of Jesse Lingard and Adnan Januzaj rewarded him for his faith. At Everton he always found the time and inclination to step out to youth and reserve team games. He is not just a head coach, he is a club the manager -- that's what happens when football is in your blood."

After 11 years of having blue coursing through his veins, that blood now runs red for Manchester United, but only time will tell whether Moyes can be the man to keep pulses racing at Old Trafford.

Follow me on Twitter: @marklomasESPN