Neymar dips his toe in at Barcelona
BARCELONA — It is not that Neymar didn't try to crown his home debut with a goal. In the 45 minutes he spent on the pitch in Barcelona's 8-0 drubbing of FC Santos in Friday night's friendly, the Catalan club's new signing had three shots on goal and almost began celebrating before realizing he had actually hit the bar. His true mission, though, was somehow accomplished. With a classic tee-up for a wondrous Cesc Fabregas strike, Neymar provided an assist and showed with his feet what he had already said in his pre-match news conference: He's happy to take one for the team.

Although his signing by Barcelona was saluted as a massive coup on and off the pitch, his arrival has also been marked by doubts surrounding the feasibility of a partnership with Lionel Messi. Those doubts have been fuelled not only by the fact Neymar is the biggest brand in Brazilian football but also because of what has been described in his country as the "Messi curse" — since 2008, none of the players signed to partner the little Argentine genius managed to see out their contracts with the club.

"Messi is my idol, and I am here to help him remain the best player in the world," Neymar promised on Thursday, two days after playing his first 15 minutes for Barcelona in Poland, in a friendly with local team Lechia Gdansk in which he still seemed a little too eager to dribble his way into the box. Whether getting whacked five times by his opponents that day also helped is something heaven only knows, but, against his former club at the Camp Nou on Friday, the striker seemed obsessed with passing the ball as well as taking on the dirty work in the 17 minutes he and Messi shared on the pitch.

According to Brazilian stats service Datafolha, Neymar reclaimed possession more times in 45 minutes than Messi did in 62 (four to the Argentine's three). He also put in six crosses and passed 27 of the 31 balls he received during his participation, and he resorted to dribbling only three times. After hearing influential team-mates welcoming him to Catalonia with the warning that individuals are secondary in the greater scheme of things at Barca, Neymar seems to have got the message.

Make no mistake, this is far from intimidation. Neymar's rise in Brazil has been impressive, even if the last massacre Santos suffered at the hands of Barcelona — the 4-0 drubbing in the 2011 FIFA Club World Cup final — exposed differences in the level of club football played across the Atlantic. When playing for Brazil or Santos, his team-mates would jump in front of a train to make him happy.

He is now in a different environment. At Barca, he's the new guy, the one who arrived for a fortune, generating a frenzy that some already accomplished team-mates have yet to experience. Neymar is also a kid gate-crashing the La Masia party, breaking the youth academy bias that had been dominating Barca's operations since the arrival of Pep Guardiola. Last but not least, it's the Lionel show more than ever, to the point that the blaugrana's new boss, Tata Martino, is from Messi's hometown, Rosario, and his last job was to coach Messi's beloved Newell's Old Boys.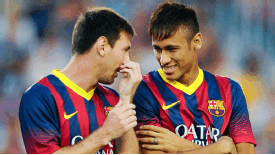 GettyImagesBarcelona put in an imperious attacking performance against Santos, led by Lionel Messi and Neymar.
At the same time, Neymar is pretty aware of what he represents for Barca. He was brought in by president Sandro Rosell not just for his ability as a player but for the commercial and political boost he can bring to a club that quite recently decided to "sell out" by accepting corporate sponsorship on their shirts to boost revenues in relation to nemesis Real Madrid. Neymar has probably noticed he is a statement of strength from a club unceremoniously dumped out of last season's Champions League by Bayern Munich's tactical bullying.

As he properly reminded a Brazilian journalist on Thursday, his displays for Brazil in the Confederations Cup, especially in the 3-0 victory over Spain in the final, have shown the whole adaptation-to-European-football issue should not be overplayed. True, Barcelona's ethos and dressing-room politics have stolen many a man's pride and faith, but, deep down, even Leo Messi knows Neymar can help share the burden of expectation and offer a solution to the lack of bite Barcelona showed outside La Liga last season.

It is to be hoped that there is true respect and admiration beyond the hugs and smiles, but both Messi and Neymar need this marriage to work, whether for love or just convenience. In this sense, Neymar's "sacrifice" for the good of the team — which saw him applauding his new team-mates while watching the first half of Friday's game from the bench — has certainly been a wise step in his blaugrana love affair.