Dutch courage as youth given chance in Eredivisie
GettyImagesAn Ajax team packed full of youngsters was the last Dutch side to win the Champions League, back in 1995.
It was one of the defining moments of European football in the 1990s.

As substitute Patrick Kluivert poked the ball past Sebastiano Rossi, a precocious group of Ajax players unfurled themselves on the European stage; AC Milan played the part of the vanquished giant in the Champions League final battle between David and Goliath.

"Milan's annual turnover is three times ours," Ajax coach Louis van Gaal said on the eve of the game. "Just like all of my players, I have this ambition inside -- to prove the impossible can be done in football."

- Cocu v de Boer, PSV v Ajax, friend v friend

Following Ajax's momentous victory, Real Madrid coach Jorge Valdano dubbed the side "Beauty and the Beast," explaining: "Ajax are not just the team of the 90s, they are approaching football utopia. Their concept of the game is exquisite yet they have a physical superiority as well."

It's a peak that Ajax and Dutch football have attempted to recapture for many years, while also continuing to cultivate young talent. That evening in Vienna, Ajax's side had an average age of 23, and while the prevalence of Dutch players in today's sides has unfortunately diluted, their focus on youth has not.

Both of the Amsterdammers' two signings this summer are under 23. They poached Mike van der Hoorn from FC Utrecht, while their acquisition of Bojan Krkic represents a significant coup for the club. Despite the former Barcelona forward's career stagnating in recent years, Bojan has been tipped to make a big impression by Ajax sporting director Marc Overmars, who remarked: "It's time that [Bojan] shakes off the label 'talent'."

While Bojan was also courted by PSV Eindhoven and Feyenoord, a phone call from Johan Cruyff -- a man woven heavily into the tapestry of both Barcelona and Ajax -- persuaded him that his future lay in Amsterdam. Needing to fill a void on the right wing that proved troublesome last season, the opportunity to secure a player still with a chance of achieving a significant degree of his potential was too much to turn down.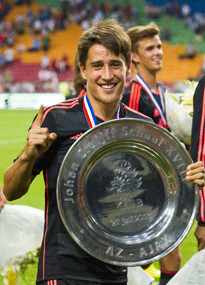 GettyImagesBojan Krkic still has youth on his side and is hoping for a new lease of life at Ajax.
It's a similar story with their rivals. Following a near-six-year period of significant spending and managerial upheaval, PSV have looked to learn from rivals Ajax and Feyenoord, the latter of whom have also continued to frequently produce talent from their academy. PSV have sold a number of key players, including Kevin Strootman and Dries Mertens to Roma and Napoli, respectively, but at the time of writing six players have arrived at the Philips Stadion, only one of whom (29-year-old Stijn Schaars) is over the age of 22.

Under the guidance of former playing hero Phillip Cocu, never was the shift in approach more obvious than during their Champions League qualifier against Belgian side Zulte Waregem on Tuesday. Naming seven debutants, the starting XI held an average age of just 21 -- their youngest to date.

Promising academy graduates such as Jeroen Zoet and Memphis Depay were mixed with new signings who were returning to the Netherlands, such as Karim Rekik (on loan from Manchester City) and Jeffrey Bruma.

As is the case with Bojan at Ajax, Bruma's move to PSV represents a chance to reinvigorate a stalling career. Costing just €3million, Bruma represents a rare find, being both a quality defensive option who is also excellent value for money for PSV, who desperately needed defensive reinforcements. His former club Chelsea have included a buy-back clause, which serves as an indication that there is still some faith remaining in his talent.

Although Bruma and Bojan arrive with a considerable pedigree from some of Europe's top leagues, it is perhaps one of PSV's other new arrivals, Adam Maher, who holds the strongest likelihood of being the standout player in the Eredivisie this season.

An €8million signing from AZ Alkmaar, Maher was rejected by Ajax three times in his youth before joining AZ, ironically amid new interest from the Amsterdam club. Only recently emerging from adolescence, an 18-year-old Maher was lumbered with a hefty appraisal from AZ assistant Martin Haar, who said "In terms of creativity he reminds me of Cesc Fabregas."

Some contest the comparison, instead seeing more similarities with Andres Iniesta; the Spain international is clearly someone Maher admires. Executing a delightful piece of skill in a shock KNVB Beker victory over Ajax in 2011, Maher was subsequently questioned on his piece of brilliance. "He [Iniesta] performed the same action last night against Real Madrid," Maher said, grinning.

Not content with just leaving an impression on those in the Netherlands, after playing Anzhi Makhachkala in the Europa League last year (a game AZ lost 5-0) Maher was approached by Samuel Eto'o. Keen to compliment the youngster on his performance, Eto'o then asked to exchange shirts.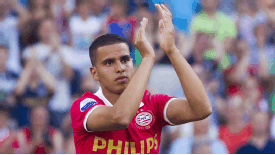 GettyImagesPSV boast two of the most exciting Dutch talents in their ranks this season after snapping up Adam Maher (above) and Jeffrey Bruma.
At the time Maher had only recently collected the Dutch Young Player of the Year award, which counts Arjen Robben and Wesley Sneijder among its previous winners. With his name in Arabic translating to "skilful," the biggest debate of late has been about what his best position is.

Excelling as an attacking midfielder, the departure of Rasmus Elm to CSKA Moscow last summer saw the youngster pulled deeper into midfield and display considerable discipline in a role similar to that of another of his idols, Xavi. "I watch how he [Xavi] stands on the pitch, the way he plays, and the way he passes," Maher has said.

Maher was a star of the Netherlands' European under-21 championship campaign in Israel, and next summer's World Cup in Brazil has already been suggested as a perfect stage for him to continue his growth. Now possessing a handful of senior caps, in his early performances for Louis van Gaal's senior side he has shown promise, particularly during February's friendly game against Italy.

Now set for his next big challenge, the expectation is that he will rise to the occasion with the same grace and poise he displayed at Alkmaar and, in doing so, lead an exciting group of youngsters currently gathering in the Eredivisie.