Lewandowski feud threatens to end Dortmund dream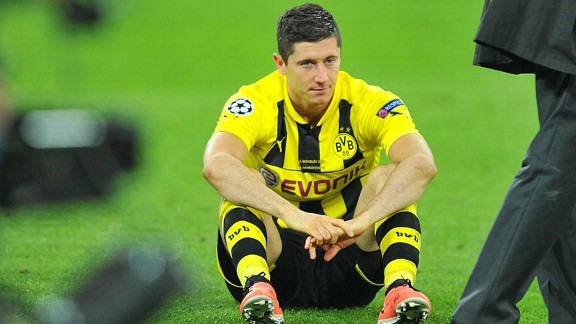 PA PhotosRobert Lewandowski: Wants to jump ship after making his name at BVB.
- Robert Lewandowski, 24. Football player. Nicknames: The Machine; Lewangoalski. One of the most talented strikers in the game. Destroyed Real Madrid in the Champions League semi-final almost single handedly. Borussia Dortmund top scorer in back-to-back seasons. Poland international. Has all the makings of a superstar. Happily married. No children.

- Robert Lewandowski, 24. Football player. One of the most talented strikers in the game. Destroyed his reputation at Dortmund almost single handedly (well, his agent helped). Future Bayern Munich star. Poland international. Has all the makings of falling from grace. Happily married. No children.

The Lewandowski saga has turned from one of the more exciting dramas of this summer into a nasty tug-of-war between Borussia Dortmund, the player and his agents.

- Understanding the Lewandowski saga

If you have followed the story over the last couple of months, you will either have formed an opinion, tuned in for the pure entertainment factor or looked on with amazement at how the Bundesliga is trying to make up for all those years in the long shadow of headline-grabbing transfers of the three other European top leagues - England, Spain and Italy. Or all of the above.

The facts are quite simple. Lewandowski joined Borussia Dortmund from Lech Poznan in the summer of 2010. He signed a four-year deal, earning somewhere between €1.5 million and €1.8 million. A decent amount of money from what was one of Europe's less attractive leagues.

That's how Borussia Dortmund did - and still, on a much higher level, do - business. Scout players from the not so obvious leagues, show them around at the Westfalenstadion, and let them dream of playing in front of the Yellow Wall. Show them their place in Jurgen Klopp's side and - if all parties agree - sign the player for little money.

And thus it was with Lewandowski. He had wanted out of Poznan the summer before 2010, but the Polish club insisted that he was to stay one more season. And so he did. Lech Poznan won the championship and Lewandowski became top scorer.

He joined a Dortmund side on the upswing. In his first year at the club, BVB raced to the title. Lewandowski, however, had a hard time getting past first-choice striker Lucas Barrios and mainly featured in central midfield during the second half of the season.

During the next campaign Barrios got injured, Lewandowski grabbed his chance, Barrios left, and Lewandowski became what he is now: one of the most complete attacking players in the Bundesliga.

The same term, Dortmund not only repeated their Bundesliga triumph, but also put five past Bayern Munich goalkeeper Manuel Neuer in the German Cup final; Lewandowksi scored a hat-trick.

That season, however, Dortmund did not make it past the Champions League group stages and German football, frankly, consisted of Bayern Munich against the rest of world. And Bayern were a step ahead of the rest. In January 2012, Bayern president Uli Hoeness said: "We will sign a bomb for our attack." That bomb was Lewandowski, who responded to a proposed move by saying: "Why should I do that? I'm playing for the champions."

However, contract talks regarding a renewal at Dortmund failed. Lewandowski was stuck with his old contract (€1.5 million to €1.8 million). Dortmund had offered him a deal until 2016 or 2017, but agents Cezary Kucharski and Maik Barthel entered proceedings in March 2012 claiming: "We are disappointed with the offer."

When Bayern planned their capture of a bomb, the fall out proved to be explosive.

In 2012-13, Bayern ran away with the Bundesliga title, putting 25 points between themselves and Dortmund, who finished second. During the early stages of the season, Die Roten general manager Uli Hoeness remarked Dortmund were a regional phenomena and added that nobody cared about Dortmund outside of Germany. Lewandowski and the other Dortmund players changed that during the season.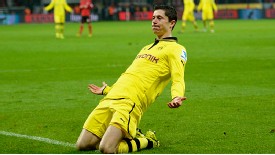 GettyImagesRobert Lewandowski: Borussia Dortmund's top scorer in successive seasons.
An excellent Champions League season turned the club into Europe's hipster club, their "real love" and "fairytale" marketing campaigns surpassed Bayern's efforts by a mile. Yet while becoming a mainstream club they also managed to retain their indie status.

When Dortmund put up a brave fight against Bayern Munich in the Champions League final and lost, they had long won the hearts of Europe.

But Borussia not only lost the Champions League final to Bayern, but also rising star Mario Goetze. €37 million and thank you. Upstarts Dortmund are immediately weaker.

You have to know all of the above to understand what the Lewandowski saga. Bayern are not interested in sharing glory. And are doing all they can to keep their rivals down; to stay at the top, to defend their status for all those years to come. They hire the best coach there is, Pep Guardiola, and beat the likes of Manchester United and Chelsea to it.

But all the time the domestic rivals Dortmund do not give up and that worries them.

It is a fight. A good fight. A highly entertaining fight. Rivalry, for the first time in many years. Between the two Champions League finalists, both from a league that had been written off not so many years ago.

It's one of the reasons we all love football. Not only for the 90 minutes on the pitch, but also for those tales of clubs returning from the brink, those invaluable hours and hours we keep chatting away about the club's new striker, the bizarre move made by our biggest rivals, the new system that just doesn't work out and how we could do better.

A football fan, who has lost his heart to a club will give his all week in, week out. Very rarely, however, he expects great things to happen to team he supports. The club is usually stuck in mid-table, lost their best player to another club, bought an overweight player in the final chapter of his career, suffer last minute defeats at the hands of the local rivals...

Borussia, however, have turned their fortunes around and are living the dream. Jurgen Klopp's arrival five years ago, the outstanding transfer policy and a great economic ideology have helped Dortmund return from the brink to the top of Europe in both sporting and financial terms.

The Lewandowski story could end the dream.

It's nasty transfer saga for Dortmund fans; a player wanting away from the second best club in Europe, from the second best club in Germany, to go to rivals that have already plundered Dortmund for talent this summer.

"We have a contract. See it out and go wherever you want to," Dortmund told Lewandowski. "It's unfair ... I've been cheated," cried Lewandowski. "We need to talk," roared the agents. "I might lose my motivation," threatened Lewandowski.

And Bayern sat laughing at the bomb they planted, knowingly or not.

"We are a footballing club not a debating club," Klopp added and put the focus back on the game. Adding: "For me what he does [on the pitch] is a thousand times more important than what he says because what he does needs no interpretation."

Although Dortmund officials might be fuming inside, so far they have not shown any signs of giving in to a transfer to Bayern this summer. But for Dortmund fans the transfer saga - and the Goetze story - has been a return to normality after three years of dreaming.

Still, if Dortmund's relative return to normality in 2013 means coping with those stories and taking on the big guys in Germany, that is still so much more than could have been expected when Lewandowski, football player, nicknames: The Machine; Lewangoalski, put pen to paper on that four-year deal in 2010.