Traditional centre-back a dying breed
Thiago Silva has gained a reputation of being the best central defender in world football. Paris Saint-Germain made him the second-most expensive defender of all time when paying 42 million euros to AC Milan. Rio Ferdinand, who joined Manchester United 11 years ago last week for £33 million (46 million euros these days), still retains that label.

Silva is also the highest-paid defender. With Barcelona circling Silva, PSG gave him a new contract this week, increasing what was already a yearly haul of 12 million euros a season.

The message is clear. Good central defenders will now come at a high premium. The supply has decreased; a higher price has resulted. An evolution in the role of the central defender is at the root of the fluctuation. Witness Liverpool's problems in signing Schalke's Kyriakos Papadopoulos.

Cast back a decade, and the talent base of centre-backs looked far deeper. Fabio Cannavaro, Alessandro Nesta, Marcel Desailly, Lilian Thuram, Jaap Stam, Roberto Ayala, Sol Campbell, a younger Ferdinand and Lucio would all command steeple prices these days. All could lay claim to being comparable talents to Silva. Were he to be playing back then, he might not have stood out so much. Though perhaps they might not stand out so much now. The game has changed somewhat.

United will feel they got what they paid Leeds for in 2002. Ferdinand is a maligned character at times. Warrior-like partner Nemanja Vidic is more popular, but United will miss him when he's gone. Ferdinand, rarely bettered in the air, seldom plays with the choke out. He has not often had to, and in the face of debilitating injuries has intelligently redrawn his game to make sure physical limits are not overly pushed.

The English "Golden Generation" that Ferdinand hailed from was perhaps richest in central defensive positions. As well as him and Campbell, England could also call on Ledley King, Jamie Carragher, John Terry and Jonathan Woodgate. After both Terry and Ferdinand took their leave of national service, England's cupboard has run bare. Gary Cahill, Phil Jagielka and Joleon Lescott are decent professionals but cannot hold a candle to their predecessors of a decade ago.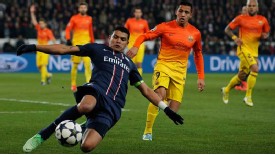 GettyImagesThiago Silva arguably best completes the modern central defender's checklist.
United's hunt for a new Ferdinand must begin soon. United may promote from within: Jonny Evans had a fine season; Phil Jones may return to the position where he made his name at Blackburn; perhaps Chris Smalling's injuries will cease. Or the search could become as traumatic as years of failing to replace Paul Scholes in midfield.

Barcelona are suffering already. Carles Puyol's body is repeatedly giving out; the need for a centre-back is pressing. Pep Guardiola never had much of an eye for one. The signing of Gerard Pique in the summer of 2008 landed a player who better fit the Barca way than Manchester United. Beyond that, there was the disastrous signing of Dimitri Chygrynskiy, shifted back to Shakhtar after considerable financial loss.

Javier Mascherano, an anchorman by trade, became an ad hoc defender, and Guardiola began to think that he might not need centre-backs after all. He had won the 2009 Champions League final with Yaya Toure partnering Pique, and the theorising reached its apex when his team lined up in August 2011 against Villarreal with just one proper defender on the team, Eric Abidal, in a 3-4-3 formation. Barcelona won 5-0, with Mascherano and Sergio Busquets completing the defensive trio.

The central defender began to go out of fashion, or at least not be seen as such a necessity. Even Sir Alex Ferguson took to playing Michael Carrick at the back when injuries made it necessary. Teams began to play just one centre-back against lesser opposition. Vicente Del Bosque used Busquets as a "spare man" against Belarus and France last year. Swansea City won last season's League Cup final with Ki Sung-Yueng at centre-half against Bradford City. The Korean barely had to make a tackle all match, as Swansea kept the ball flowing from his withdrawn playmaking.

However, some harsh lessons have been dealt to those who have broken the sanctity of paired centre-backs. Carrick was monstered by Everton's Marouane Fellaini in United's opening match of last season. Barcelona paid the price Champions League of having to play novice Marc Bartra alongside Pique when being beasted by Bayern in the semifinals.

A curious transfer policy that had targeted Javi Martinez but then settled for Alex Song for a purported ability to play both midfield and defence had backfired. In two successive semifinals, Barca's defeat came about because of a weakness against the fast attacking break into the heart of defence. Chelsea's 2012 victory was less spectacular but took full advantage of Pique's departure through injury in the second leg.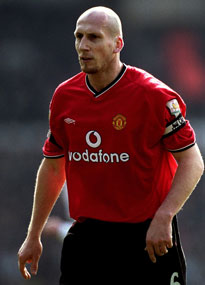 PA PhotosJaap Stam was a beast at the back for Manchester United.
A redrawing of the central defender's worth became obvious. The specialism of playing in central defence is far beyond being a decent ballplayer, and Barcelona's pursuit of Silva and now David Luiz and Vincent Kompany is recognition of this. A change in outlook on the game has precipitated change. Possession play has become of paramount importance. Teams able to play from the back have to defend less. FIFA's crackdown on tackling also lessens the usefulness of the traditional stopper whose job was to hit hard and ask questions later. Defenders need to stay on the pitch. Such a combination narrows the field of players the elite will place on their wish lists. Rather than midfielders able to play in defence, defenders able to step up into midfield are best suited.

Last season's Premier League team of the year paired Jan Vertonghen with Ferdinand, a partnership to personify the new line of thinking. Both are footballers in their own right. Spurs' Belgian often figured in midfield, and were Ferdinand to have his time again, he may even have come through as a midfielder rather than defender. The Champions League offered similar. Mats Hummels was perhaps the most hailed defender even if a sense of adventure proved costly in the final. Bayern's Dante offered matching facets too.

Players capable of marrying defensive qualities with ease of possession are now very costly indeed, and highly coveted too. PSG's July capture of Roma's 18-year-old Marquinhos for 35 million euros took many aback, but the logic was clear enough. The Brazilian's game is built on anticipation and passing, rather like Raphael Varane, the powerful starlet whom Real Madrid snapped up from Lens when still a teenager a year ago. Even Italy, the home of hard-nosed defending, pair Giorgio Chiellini and Leonardo Bonucci, two fine footballers who employ a watered-down version of the dark arts that predecessors like Cannavaro, Franco Baresi and Claudio Gentile might execute.

With leadership qualities complementing an ideal physique and ball-playing ability, Silva best completes the modern central defender's checklist. Perhaps he is worth the money after all. It seems certain that his type are going to be very costly from now on.