Suarez saga leads to regret over Reina's Liverpool exit
This week, Pepe Reina left Liverpool. He was the club's vice-captain, after the retirement of Jamie Carragher, one of its longest-serving players, and one of the most charismatic, influential members of its dressing room. He was the goalkeeper whose penalty saves took the club to the Champions League final of 2007, less than a year after similar heroics had won them the FA Cup. He had his own flag on the Kop, an image of his face contorted in joy, scrawled with the slogan: "No pasaran." They shall not pass.

This week, Luis Suarez did not leave Liverpool. He may still, of course – that particular mind-numbing transfer saga has some time left to run – but this week, in the interminable matter of the Uruguayan's future, not much has changed.

Many of the news updates have focused on things that he has not done: He has not handed in a transfer request; he has decided not to ask the Premier League to arbitrate on the meaning of the clause in his contract which triggered Arsenal's brilliantly sarcastic second bid of £40,000,001. He has not gone on strike. He is, according to Liverpool, not for sale to a domestic rival.

So all-consuming is the focus on his fate, though, so wretched is the prospect to Liverpool of his departure and so enthusing is the idea to Arsenal of his arrival, that even as nothing happened, the wrangle over Suarez still managed to cast such a shadow over Reina's departure that it would have been easy to think the Spaniard was nothing more than a fringe player, squad filler, an afterthought.

That is not the case. Indeed, in terms of how posterity will remember the two men – if, indeed, this is Suarez's last summer at Anfield – then it is Reina who is of more significance. He has the medals, he has that victory against Chelsea, he has the fond place in Liverpudlian hearts. Suarez is the club's best player, of course – that is not in doubt – and his loss would affect Liverpool's future more keenly, but the sum total of his achievements in his two-and-a-half seasons on Merseyside is that he scored quite a lot of goals for quite a poor team. History's perspective is often very different from our own. History will judge Reina as a more important player for Liverpool than Suarez.

It is a shame, in that sense, that the goalkeeper slipped out of the door comparatively unnoticed. Suarez, when he goes, will attract far more column inches, far more opprobrium, far more slavering outrage and far more trembling fear. It is a shame, too, because the circumstances of his departure are instructive.

There was Brendan Rodgers's blatant mistruth upon the signing of Simon Mignolet – insisting the two would compete for a place – and the subsequent clarification of what the truth was: that Reina had asked for a move, should Barcelona seek his signature, and that Liverpool decided at that point that they needed to sign a replacement.

All of that is understandable. That is how all clubs work; they rarely make their intentions plain until they know exactly what the consequences will be. Even then, they may choose to omit salient facts; in Liverpool's case, that Reina had not been performing to his best – a bugbear, here: the club had not adequately replaced Xavi Valero, his trusted goalkeeping coach, with whom he will work once more at Napoli, thus effectively allowing him to stagnate – and was not justifying his £110,000-a-week wages. Fenway Sports Group, the club's owner, wanted a more economical goalkeeping option. Reina did ask to go to Barcelona if they came in, but the decision had long been made for him. Liverpool wanted rid.

Reina attempted to get that version of the story out there, publishing a commendably frank open letter on his website, thanking Liverpool for the privilege of playing for the club and explaining to the fans that he was "disappointed" at the owners' decision to "loan me to Napoli without telling me first; I thought I deserved better than that."

That is not an attempt to judge which version of the story is correct: truth is a fluid concept, and even Reina and Liverpool may not have a complete picture of what actually happened, what decisions were taken, by whom and when. But what we do know is that Reina was aware of what the club had said and took swift action to make sure his image was not tarnished in retrospect by allegations he considered unfair.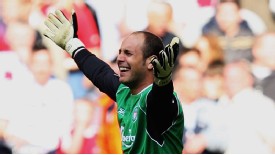 GettyImagesPepe Reina helped Liverpool to FA Cup glory in 2006.
This is the second significant element of Reina's departure: that clubs and players, in the course of a transfer, are engaged in a war for control of information, to make sure their fans, or former fans, believe they have acted correctly. Supporters' default position – though it is hard to speak of them as one homogenous mass – is Panglossian: they believe their clubs act in the best possible way for the best possible reasons. That is not always the case; pretending it is, though, is a powerful tool.

By far the most interesting lesson of Reina's exit, though, has to do with the concept of loyalty. It is convenient that the Spaniard left, accusing Liverpool of engineering his departure, just a few days after Rodgers tried to explain to Suarez that he owed the club a debt of loyalty.

The irony is clear: do as we say, not as we do. If a club – any club – wants a player out, they get him out. They do not think about all the things he has done for them; suddenly, the contract that binds footballer to football team is a mere business arrangement, to be cancelled or amended as they see fit. When a player wants to go, though, the view is very different: They owe the club, they should love the shirt, they should be grateful for the chance we gave them and the love they received.

This is not just ad hoc moralising. It strikes at the heart of how we see players. They, understandably, see themselves as workers, and as humans, and as such they feel they are entitled to take their services elsewhere if they decide they wish to do so. The rest of us can do that – whether we have contracts or not – and our employers are unlikely to be richly compensated when we do. Why shouldn't they?

Because, from a club's point of view, they are chattel. That was how they were seen in the early days of the game. In the era of maximum wages, players were not even entitled to leave a club if their contracts were not renewed and their salaries not paid. Though the power shift between the two parties is almost total now, that sense still lingers. Players do not work for clubs. They belong to them.

This is absurdly old-fashioned. It has been quite refreshing that, throughout the sagas over Suarez and Gareth Bale, nobody has cried about either man being "tapped up," or illegally approached by a suitor. Of course they have been. Everyone is, all the time. Players know their market worth and how much they might stand to earn elsewhere. That is a basic right. You have it; so should they. The idea that they might not is slowly but surely being eroded; everyone is being altogether more adult about it than they used to be (mainly because even football clubs are not quite that hypocritical, they're all approaching players all the time).

The logical next step is to assume that, just as you working for your employer is a mutually beneficial deal – they pay you in exchange for your services; nobody, except in certain circumstances, owes anyone anything, as long as that arrangement remains in place – so is the relationship between a player and a club. Neither one owes anyone any loyalty. If we understand that, then the information war comes to an end. We can simply thank them for their service, their help and their time, and wave them on their way.