What's keeping Ed Woodward?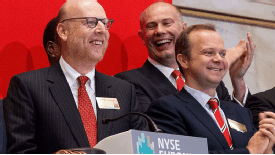 GettyImagesMan Utd CEO Edward Woodward has the unenviable task of following in the footsteps of successful predecessor David Gill.
Football glory seldom extends to those who wear suits. Bean-counters are rarely idolised - there are no terrace anthems regaling executives. Well, none of a complimentary nature, anyway.

Consider the mockery extended to Chelsea CEO Peter Kenyon when he collected a loser's medal at the 2008 Champions League final. Kenyon's opposite number that night was Sir Bobby Charlton, and there are few more distinguished football figures than Manchester United's record goal scorer. The NFL's Vince Lombardi Trophy may be presented to the owner of the organisation before the coach and players get their mitts on it, but soccer is yet to follow such a trend. In fact, it is impossible to ever think of such a practice becoming acceptable. Money men are rarely football men.

A few years back, United's merchandising department was lampooned for the appearance on Amazon of a series of jigsaw puzzles. Keen fans could pass away a rainy day piecing together the rictus visages of former finance director Nick Humby or director of communications Phil Townsend.

David Gill's face featured on such a collector's item. The former chief executive was not a popular man among much of the club's support - a cordial working relationship with the Glazer family saw to that. To the zealots, his hypocrisy was proved by him stating that "debt is the road to ruin" a year before United's leveraged 2005 takeover by the Americans, and then taking their shilling for another seven years.

Yet suddenly - and so soon, too - there is a pining for the good old days of Gill, who followed Sir Alex Ferguson from United's frontline in May. If fans did not like his take on club politics, there might now be a respect for his handling of football affairs. Edward Woodward, Gill's successor, must live in the shadow of the man once sarcastically nicknamed "Capable Hands."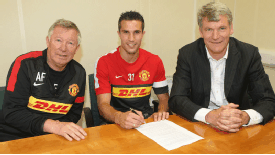 GettyImagesDavid Gill and Sir Alex Ferguson forged an imperious transfer partnership, which helped attract stars such as Robin van Persie.
On July 17, Woodward departed the club's preseason tour on "urgent transfer business," according to a club media briefing. On Wednesday, David Moyes and squad will return home from their long trip away. Apart from Guillermo Varela, a Uruguayan kid returning from FIFA's Under-20 World Cup, there will be no fresh faces to greet Moyes and his jet-lagged squad at the club's Carrington training ground.

It is presumed that Woodward did not use a student travel company to fly to Ringway Airport from Sydney via Bali, Bahrain, Addis Ababa and Vienna. He should have been back in England by July 19. Almost two weeks have passed without any significant movement towards a major signing. It suggests a banging of heads against brick walls, a running down blind alleys. As yet, there has been no marquee deal to usher in Manchester United's new era.

Robert Lewandowski, Thiago Alcantara, Cristiano Ronaldo and Cesc Fabregas are all either going nowhere, or somewhere other than United. The club has missed out on players before, but usually without the growing hint of desperation that has accompanied this summer's public movements.

Sir Alex Ferguson failed to sign a litany of players who looked made for Manchester United: Paul Gascoigne, Alan Shearer, Marcelo Salas, Ronaldinho, Mesut Ozil and Wesley Sneijder. United hardly suffered for their absences. Business carried on as usual, and Ferguson kept on collecting trophies.

For the last decade of Ferguson's reign, he had Gill at his side. Together, the pair negotiated some initially choppy waters to take the club back to primacy in the English game. The moneyed likes of Chelsea and Manchester City were beaten away as a new order was accepted and then surpassed. Ferguson was allowed to focus on the football. Gill, a natural diplomat whose politicking has also led him into influential positions within the FA and UEFA, provided a buffer between Ferguson and the owners.

Woodward, the new executive vice-chairman with the famous actor namesake was less an "Equaliser," more a monetiser. He has been key to the club's huge growth in commercial revenue to offset the Glazers' debt model. The former investment banker, just a few months older than Ryan Giggs, is yet to become a football transfer finaliser.

Gill, despite some notable reverses, got some big deals done, and those who did not sign were treated as if they had never existed in the first place. He became almost as good as Ferguson at the bending of truths, the art of revealing nothing when asked a difficult question.

Gill also had the Ferguson effect to hand. When Robin van Persie was signed in 2012, the deal was only sealed after the manager put in a personal call to Arsene Wenger. Young players were given the full charm offensive; Wilfried Zaha was the last to receive it. And when matters needed taking in hand, Ferguson would take the bull by the horns. Dimitar Berbatov's August 2008 signing came after he was personally driven from the airport to Carrington in the manager's Audi.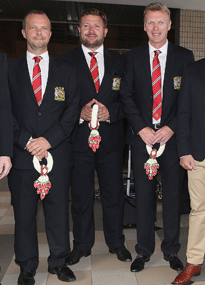 GettyImagesEd Woodward has not yet finalised any transfers for David Moyes.
Woodward is not quite so lucky with Moyes, despite the new manager's long experience in the game. They have the month of August in which to learn together. The so-far failed attempts to buy Fabregas had a neediness the Gill-Ferguson axis never displayed publicly. While circumnavigating the Pacific Rim, Moyes has been able to talk of business being done thousands of miles away. He and Woodward will soon be in tandem on home soil.

Establishing a strong alliance is vital to United's continued success, but the club's new figureheads have looked green and wide-eyed in a difficult summer market. Moyes was never afforded the funds at Everton to complete the type of megadeal he would like to complete now.

As Moyes has admitted, Ferguson is utterly irreplaceable. Administrators like Gill are supposed to be easier to find. However, the football business can often involve swimming with a different type of shark to those in the corporate waters from which Woodward has swum.

The canny Gill eventually became a football man in a contemporary, ultra-commercial sense. Just like Moyes, Woodward faces the steepest of learning curves to emulate his predecessor.