Di Canio conducting summer clear out at Sunderland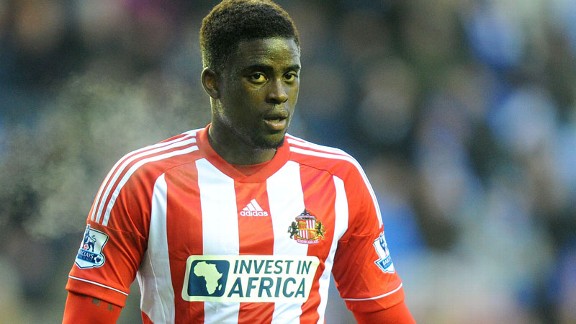 PA PhotosAlfred N'Diaye's leaves Sunderland on loan with a feeling of what might have been.
'Change' was the underlying theme of what Paolo Di Canio promised for Sunderland under his guidance. During the now infamous 24-minute final day rant at White Hart Lane he promised wide-sweeping alterations.

It's a pledge he has duly delivered on during the summer transfer window. Eight new signings from across Europe is the fruit of the club's labour, with more new faces still expected to pose for the obligatory scarf-holding photograph on the club's website.

Yet in ushering those players through, Di Canio has also been keen to jettison those he deems not fit for purpose. His assessments have been blunt. Before the season's end, a clutch of reserve team players along with Matthew Kilgallon and Titus Bramble were told their time with the club was over, despite attempts by Bramble to elongate his stay through the local press.

Those departures were inevitable, but some of his more recent moves have seemed far more cut-throat. A consequence of which has seen the final remnants of Martin O'Neill's tenure with the club removed.

A bleak first half of the season cast the January window as an important juncture for O'Neill. He had clearly stated what his side needed in the preceding months, looking mainly to add athleticism. Having been lamented for his inability to shop outside of the UK, he also ventured into foreign markets for two thirds of his business.

Kader Mangane, was one of those players. Arriving from Al-Hilal, his intimidating look was wrapped in amongst a two-month ban he suffered in France for breaking a player's leg, a situation that upon closer inspection seemed far more clumsy than malicious.

His departure from the club was swift and quiet. Asking a 29-year-old to adapt to such a physically demanding league was a considerable task. As his name continued to be pencilled in on the substitutes' bench and defeats piled up, concern and questions were raised over why he was not chosen. The true answer never really emerged, and all that would come from his time with the club were two brief appearances.

Also in dire need of a consistent supplement to Steven Fletcher's goals, Danny Graham arrived amid a convoluted mixture of emotions from the terraces. Swansea's willingness to sell was a concern. And while his ties to Newcastle were not a desirable quality for fans, he was still afforded the chance to impress. It was one he did not take. By providing solid hold-up play, he presented an admirable skill, but not the one in short supply at the club.

Playing in a side that was often stifled creatively last season, he was still presented with chances. Graham's own disappointment at being so frugal with goals painfully evident every time another half chance would be squandered. Shipped out on loan to Hull City and former Sunderland manager Steve Bruce, it would be of little surprise to see his long-term future far away from the Stadium of Light.

The first man to arrive that month was also the last depart Wearside. At 6' 2", Alfred N'Diaye looked an intimidating proposition as he waited to be substituted in for his Sunderland debut against West Ham. Firing a shot wide moments after coming on, his other notable contribution that day was a thunderous challenge that elicited a roar of approval from his new public. However, in retrospect it felt like something of a false dawn.

He will now return to familiar surroundings, back to the Turkish league from which he was purchased - working under his manager at Bursaspor - now in the dugout at Eskisehirspor - Ertugrul Saglam. Of the trio, he is the only one to depart with a tinge of regret, timing perhaps his biggest obstacle to surmount.

His signing was another attempt by O'Neill to show he and chief scout Bryan 'Pop' Robson could cast their eye far. A French Under-21 international, he arrived in the same month Moussa Sissoko joined Newcastle. Of similar build, and both hailing from France, comparisons were both inevitable and somewhat unfair. Charged with leading a midfield, it was a considerable task for a 23-year-old to undertake irrespective of the difficult situation the club found itself in.

Like many of his team-mates, under Di Canio he displayed potential. His ability to keep the ball moving and carry it well on the break was an asset. However, with the summer signing of Cabral from FC Basel, two defensive midfielders into one position would not go.

Couple that with the tempting proposition of money from a permanent sale (should Eskisehirspor decide to keep him) and his departure is understandable if not celebrated.

And with it so gone are the final reminders of O'Neill's tenure at the club. The negative atmosphere that hovered over the Stadium of Light pitch for much of last season is now slowly draining away, replaced with Di Canio's new faces and high energy.

Such wholesale changes come amid the caveat of potential instability, of moving too quickly, but given last season's flirtation with relegation, change was not just Di Canio's best option, it was his only option.