Money already talking but Monaco doing more than walking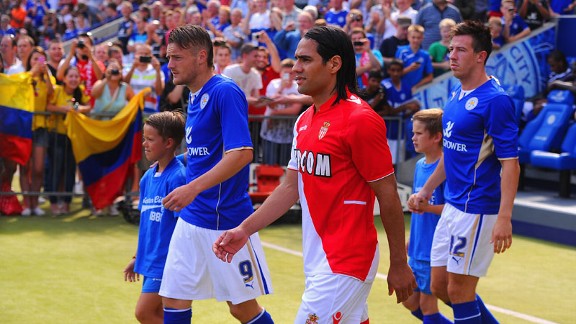 GettyImagesRadamel Falcao was the star attraction before a sparse crowd at the King Power Stadium.
LEICESTER, ENGLAND — The answer, straight away, is no. The question, however, isn't whether Radamel Falcao is really 29, whether cash was the sole motivation for his move to AS Monaco or even whether his new club are equipped to challenge Europe's elite.

Instead, it is whether the media will get the chance to put such issues to the principality team's new stars at all. Monaco's press office decided that, for Sunday's friendly at Leicester's King Power Stadium, none of them would be up for interview: they're all being saved for the start of the French season. Instead, only those squad members who were part of last season's Ligue 2 victory were permitted to venture through the mixed zone.

Of course, it was the likes of Falcao, James Rodriguez and Joao Moutinho that most of the media and fans turned up to see as Monaco romped to a 3-0 victory over their Championship opponents – although, curiously, there weren't too many fans present. Just 10,063 turned up to see the Colombian player who is now arguably the best pure forward in the world. Several French journalists joked that this would be the perfect preparation for playing in front of the Stade Louis II's notoriously limited support.

The game certainly provided a suitable context for what has been one of the most fascinating football stories of the summer so far.

Monaco have always been a club of odd contradictions and juxtapositions. They may be the ultimate example of the new breed of super-club, but they are hardly without history. Propitiously situated in a tax haven — something that has become even more of an issue for their domestic rivals of late — they have become one of Ligue 1's most successful teams, with seven league titles.

To put it in modern terms, Monaco are much older and have won far more trophies than the Paris Saint-Germain side they are perceived as pursuing, and are one of only four French clubs to have reached the final of the European Cup. Stars like George Weah, Glenn Hoddle and Thierry Henry have played for a team whose surroundings match their glamorous talent, but their support is limited. Monaco simply lack the kind of working-class fan base that rivals like Marseille, Lyon, Saint-Etienne and PSG have built themselves up on. In Monte Carlo, the earthiest of sports is watched by the wealthiest of spectators.

The circumstances of Dmitri Rybolovlev's acquisition of the club have only emphasised those contrasts. His stewardship means they have embarked on one of the most lavish spending sprees global football has seen. Despite the absence of Champions League football, they have signed a series of players coveted by many of the top Champions League clubs. Around £120 million has been spent on Falcao, Rodriguez, Moutinho, Ricardo Carvalho, Jeremy Toulalan and Eric Abidal, while Hulk may yet arrive.

The curious make-up that has given what was previously a second-tier squad could be seen in the opening goals against Leicester.

After eight minutes of a match Nigel Pearson's side had started the stronger, a corner was swung in for promising youth product Layvin Kurzawa to head home. After 38 minutes, a 30-year-old midfielder with three caps for his country played the incisive through-ball from which one of the finest players in the world scored: Morocco's Mounir Obbadi opened up the defence for Falcao to tap in.

Despite what had been a difficult start to the game in which he was frequently frustrated by Kasper Schmeichel and often dominated by Wes Morgan, the Colombian naturally found himself in the right place at the right time.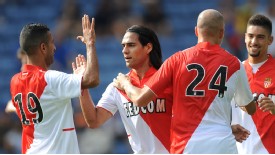 PA PhotosFalcao was on target at the King Power Stadium.
One of the most pertinent questions surrounding the whole Monaco project is why Falcao finds himself at this particular club, at this early stage of their development and at this point in his career. The £60 million transfer was accompanied by all manner of discussion about who exactly owned Falcao, with the story made stranger by the report that he is actually 29 rather than 27.

Now, a top-class player who has barely played in the Champions League runs the risk of not appearing in the game's elite competition while in his prime. It seems a waste of his talent, if not entirely finance-motivated.

Falcao didn't really explain the reasons for his move in the initial press conference to present his transfer, other than saying the usual platitudes. Beyond the money and the logistics, however, a few other possible factors are proffered by manager Claudio Ranieri.

The former Chelsea manager was hugely enthusiastic and expressive when explaining the club's plans. He was also able to joke when asked about Falcao's age. "It's not true," the Italian laughed, before feigning an angry tone. "I asked him: 'Hey! What happened?'"

What is happening at the Stade Louis II is the construction of something to last and be properly competitive. Rybolovlev is not just throwing money from the top down but attempting to enhance structures from the bottom up. As he said when Falcao signed: "There are many large well-organised clubs, but we want to develop our own style with our management structure quality."

This is clearly how Monaco plan to eventually conform to UEFA's Financial Fair Play rules, while there are plans to create around 6,000 luxury seats for which spectators would pay €2,000 a game.

Ranieri is evidently in tune. "I am very happy [overseeing this project]," he said. "We won the title in Ligue 2 and I am very happy to build. I love to build. I built in Valencia, I built in Chelsea, and then there is another good challenge for me. At the moment, we are at the base. Now we are going step by step to improve and arrive at the top of Europe."

That over-arching goal is described with a degree of understatement because, despite their expenditure, Monaco have balanced the most ambitious of long-term aims with more measured short-term realities. Ranieri played down talk of a title challenge this season, albeit with a caveat.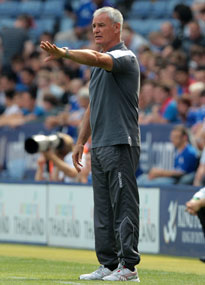 GettyImagesClaudio Ranieri is excited by the chance to build a top team at Monaco.
"We are at the beginning, at the basement, then slowly, slowly," he said. "In this moment I think we are ready to achieve from third to seventh position, but of course I am an ambitious man. My chairman is ambitious. Maybe something could happen."

One common expectation is that if Ranieri fails to even get Monaco close to the Champions League places, he will be sacked. Speaking to those around the club, however, a different view emerges. One official spoke of how the plan is to stand by Ranieri, saying the hierarchy have a lot of faith in him.

Similarly, Monaco do not see themselves as a stepping-stone for Falcao to go to Real Madrid, rather than move directly — and controversially — to the Bernabeu from Atletico Madrid. They are putting together a proper project.

The fact that it is still in its nascent stages was evident from some of the play at Leicester. Falcao looked about two weeks away from full fitness, while there was the occasional breakdown in passing as the home side got among them early on.

Ranieri insisted that was natural, saying: "It's quite normal the team was not performing fast today. Falcao is working little by little. The new team-mates have to know him very, very well. Falcao started fast but it is not enough at the moment. I think in 15, 20 days he is ready 100%. It is important for the team to have better relationships between the previous players and the new ones. The group will get better and better."

That was the case on the day. Despite Ranieri making the full 11 changes in the second half — and giving rise to some old "Tinkerman" jibes — there were spells when Monaco's passing looked high-quality and cohesive. Moutinho was excellent playing just off Falcao, while young Argentine winger Lucas Ocampos constantly caught the eye. Despite the fact that Leicester have their own wealthy owners as well as all the structures of a Premier League club, they couldn't keep up.

In time, it is a feeling the rest of France and Europe may well become accustomed to. Certainly, Monaco could become a very difficult club for players to say no to.