Higuain continues Napoli's Argentine tradition
A crowd gathered at Rome's Fiumicino airport Thursday afternoon. There must have been at least 200 people waiting. Some had driven two and a half hours or so from Naples just to be there. Others had taken the train, a slightly longer journey.

They all had one thing in common: They were Napoli fans and by the way they kept looking at their watches and the arrivals board, it was clear that they were expecting someone.

"Had the Alitalia flight from Madrid landed yet?" one of them asked. "Is he here?" another inquired. There was a feverish sense of anticipation.

And then, at just past 4 o'clock, he finally appeared. There he was: Gonzalo Higuain. The crowd went wild. For a moment, airport security tried pleading for calm. But there calls were in vain. Asking Napoli fans to contain their emotion is a bit like attempting to halt the tide of a deep blue sea. Sooner or later it washes over you and oh how it roars too.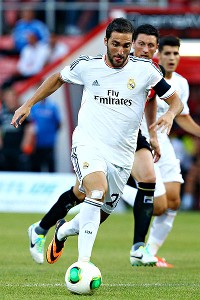 Jan Kruger/Getty ImagesNapoli fans expect much from Gonzalo Higuain, and comparisons to countryman Diego Maradona are sure to follow.
"Gonzalo, one of us," they shouted before giving a rendition of an old song adapted for a new hero. It's based on a programme that gets interrupted to break the news that a Napoli player has scored away at rivals Juventus and it goes a little something like this: "Intervengo ... da To-ri-no ... ha segnato Hi-gua-in."

A blue and white scarf was placed around the player's neck. Diego Maradona Jr. even arrived from training with Italy's beach soccer team to have his picture taken with him. And as airport security pushed their way through to the exits, one fan pursued Higuain waving an Argentinian flag.

"I didn't expect this unbelievable reception," was all he could say.

The footage of it would later be played, rather poignantly, alongside Edinson Cavani's arrival in Paris. It's worth noting that the only people there to meet the player who Higuain replaces were a handful of journalists and PSG personnel. As a contrast, it was stark. "Look what you're leaving behind, Edi!" was one response to it. "You were a God in Naples. Now you're just a regular guy in Paris."

It's something Ezequiel Lavezzi also had to get used to after his move there a year ago. "Here the people know who you are and recognise you," he told Sportweek. "Perhaps they'll ask you for a photo or an autograph, but they're not intrusive. Above all they're not impressed by your hunger and by your profession.

"In Naples, but also in Milan, I could call any restaurant even at 10 o'clock on a Sunday night and be sure of getting a table. Here, if the restaurant is full, they tell you it's full. If you want, you can wait. If not, ciao. Even if you're called Lavezzi. In Paris, you're just like everybody else. No one looks at you any differently and that includes the traffic cops. But that's fine by me."

It's been reported that, as a compatriot and teammate of Lavezzi's at the international level, Higuain sought his advice while considering Napoli's offer. If that really was the case, one wonders what was said. Perhaps he warned that it can all get a bit overwhelming and that Higuain should prepare himself for that: for if he thought that the welcome he received in Rome was "unbelievable," then just imagine what it'll be like this Monday night when he is presented in Naples.

More than 47,000 tickets have already been sold for the friendly against Galatasaray at San Paolo, before which Napoli's other summer signings Dries Mertens and Pepe Reina will be formally introduced to the fans along with Higuain's fellow arrivals from Real Madrid, Raul Albiol and Jose Maria Callejon.

It promises to be a truly box office affair. But what else would you expect from a club presided over by a movie mogul? An official cheerleading troupe will be presented. A new arrangement of the club's anthem "O surdato 'nnamurato" will be released. And then there's the launch of the new kits, the speculation being that the away shirt will be a camouflage design.

Not since Maradona performed keepie-uppie in a white T-shirt and jeans during his presentation at a sold-out San Paolo on July 4, 1984, has there been an unveiling quite like it. And it's because of him that Napoli resonates in Argentina like no other Italian club.

The appeal of following in his footsteps, emulating the success he had there and being adopted by a city, which has a long tradition of going out of its way to make itself a home away from home to Argentines from Guglielmo Stabile and the great Omar Sivori to Bruno Pesaola, Roberto Sosa and Lavezzi, is undeniably powerful. It's a dream of many and as such shouldn't be underestimated as one if not the decisive factor in Higuain's decision to join Napoli.

So when people ask why he has gone to play there and not to the other clubs with whom he was linked so strongly throughout the summer, they should reflect on that.

There are, however, other considerations to make too. For one, Napoli were the only team prepared to pay the sort of money Real Madrid were asking for Higuain. At one stage, Juventus were reportedly willing to bid €23m for him but mindful of their budget, they came to the conclusion that a better use of their resources would be to sign another striker in Carlos Tevez for less money and the centre-back they coveted, Angelo Ogbonna, for around the same amount in total.

Arsenal, on the other hand, bid a little higher but not as high as Napoli who gazumped the competition by putting €37m on the table with a further €3m in add-ons.

The received wisdom, considering how their offer appears to have been far in excess of the others Real were made, is that they have overpaid for Higuain. He becomes the seventh most expensive player in the history of Serie A and the biggest signing made by an Italian club since 2002.

But is he worth it?

Only time will tell. Higuain might have cost too much but it's also true that too little is made of his talent. Maybe that's because he was never a Galactico. Remember, Ramon Calderon was president when he arrived at the Bernabeu in the winter of 2006, not Florentino Perez.

You might argue that this was at a curiously anti-Galactico point in Real's recent history. David Beckham was frozen out [though would later be brought back in from the cold] and coach Fabio Capello was most unimpressed by the lack of fitness and commitment shown by Ronaldo and Antonio Cassano.

So the decision was made with Franco Baldini and Predrag Mijatovic to bring in talented young players who Capello could be sure would give everything and who he could shape. They were Higuain, Fernando Gago and Marcelo. Little was expected from them. Few kids are given a chance at Real and even fewer make it. But, impressively, Higuain [and Marcelo] did. They played a not-insignificant part in Real winning La Liga that season.

To begin with of course Higuain didn't score many goals, but those he did, as was the case while at River Plate when he struck twice in a Superclasico against Boca aged just 18, were almost always important. For instance, in his first full season at the club it was a goal from Higuain that clinched Real their second straight title. And although they relinquished it to Barcelona the following year over the course of it he evolved into a prolific striker.

How to explain his development?

"Above all, I believe that Higuain had the fortune of working with Raul, a player who is always in the right place at the right time in the penalty area," Capello explained to Il Corriere dello Sport. "I said to him: 'Copy Raul and learn how to move with and without the ball like he does.' I'd say he listened."

It was under Juande Ramos and in particular Manuel Pellegrini, however, not Capello, nor Bernd Schuster that Higuain exploded. Which was kind of awkward when Pérez returned to the presidency in 2009 and rebooted the Galacticos project. Why? Because Higuain was a Calderon signing and Perez had brought in his own man, Karim Benzema, to be Real's striker. Guess who he wanted to be a success?

Articles began appearing in the Madrid press questioning Higuain. He didn't score enough goals, some wrote. He wasn't versatile enough, others opined. He'd prove them wrong.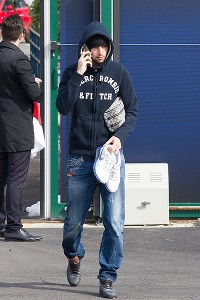 Marc Piasecki/WireImageArgentina teammate Ezequiel Lavezzi is said to have advised Gonzalo Higuain regarding Napoli's offer. Lavezzi made a move from Napoli to Paris Saint-Germain.
Higuain outscored Benzema in the league that season and would do so in three of the four years they were at Madrid together. Blame a back injury for the one in which he didn't finish on top. Throughout that time he'd also shown himself capable of playing wide on the right as well as operating as a lone front-man. He was quick, intelligent, hardly a one-dimensional player. The one criticism that you might level at Higuain is his Champions League record, which stands at eight goals in 48 games. But he's only 25. He can and will improve.

Why? Because he's a fierce competitor. Just think of the players Higuain has had to jostle with for a first team place over the years: Ronaldo, Raul, Ruud van Nistelrooy and Benzema. Many would have thrown in the towel, but Higuain leaves Real with 122 goals to his name, the same number as Real legend Juanito and for that, he really deserves greater appreciation. The lack of it was the principal motivation behind his decision to leave the Bernabeu and if it's appreciation he's looking for then, in Napoli, he's definitely gone to the right club.

For all the romanticism around the move, you get the impression that Higuain wouldn't have joined Napoli unless there was a realistic chance of winning major honors [another thing that perhaps might not have convinced him about Arsenal]. The ambition is there for all to see. Only Monaco, Man City and PSG have spent more than Napoli this summer and president Aurelio De Laurentiis has promised more signings. "We won't stop here," he tweeted, which only adds to the sensation that Napoli are going to run Juventus closer than they did next season. Like in the mid-'80s the title race looks to be between them -- and Fiorentina and Milan too.

There are many layers to this narrative, one of which reduces it to a contest between Higuain and Tevez. At Napoli's training camp in Dimaro last week, fans held up a banner featuring a provocative quote attributed to Maradona. "True Argentines don't play in Turin." Juve fans replied: "Oh, and what about Sivori?" Much has also been made of an interview Juventus defender Leonardo Bonucci gave earlier in the summer. When asked who'd he prefer out of Higuain and Tevez, he replied: "Higuain."

The rivalry promises to grow in intensity as the season goes on and should make for a memorable spectacle. When Maradona led Napoli to their first Scudetto in 1987, fans daubed graffiti in local dialect on the wall of one of the city's graveyards. "Lads, you don't know what you're missing," it read.

Will Higuain make them wish they were still with us too? Napoli sure hope so.