Match-fixing allegations embroil El Salvador's 'Selecta'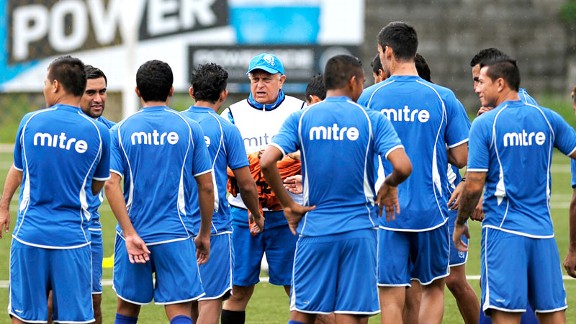 Jose Cabezas/Getty ImagesMexican Juan de Dios Castillo had a brief tenure as coach of El Salvador national team in 2012.
SAN SALVADOR -- The former coach of the El Salvador national team (Selecta), Juan de Dios Castillo, told ESPN's E:60 Deportes that while he was the head of Selecta the leaders of the El Salvador Football Federation (FESFUT, by its Spanish acronym) asked him at least once not to include a player in order to allegedly fix matches to benefit gamblers.

That player was Jose Mardoqueo Henriquez, who played in the 2013 Gold Cup.

In an interview with ESPN in November, Castillo said the following on the topic:

Did they refuse to let you name any specific players (during the process)?
No, no... um, one, yes. When I went to do the game with Roma, I knew the El Salvador players. And there was one, Mardoqueo Henriquez. That player caught my attention because he could really deliver. He would come and go. A good player, good presence. A player who, for me, was fundamental. And I asked for him and they told me: "No ... well, it's that he has problems ... match-fixing ... but if you want him, you can take him." I called him up and I took him. He played just so-so. I think that with so many problems, sometimes they get lost. And then I come, and then for the next selection, the selection coordinator says to me: "Coach, you're not going to be able to ask for Mardoqueo now." And I say to him, why? "No, it's the match-fixing thing ..." And so, well, fix that [I told him].

- Turcios: "Our team is implicated in match-fixing
- FESFUT admite no convocar a Enriquez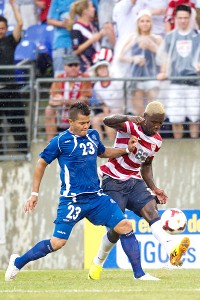 Jim Watson/Getty ImagesMardoqueo Henriquez (L) battles with Eddie Johnson in Gold Cup 1st round action.
Jose Mardoqueo Henriquez is a defender who currently plays for Aguila. He was chosen at the last minute by Alberto Agustin Castillo, the current Selecta coach, to play in the 2013 Gold Cup. Henriquez was a sub during El Salvador's first game of the tournament against Trinidad and Tobago, and he was a starter in the other three games against Honduras, Haiti and the United States.

Mexican Juan de Dios Castillo headed the El Salvador national team for just three months. On July 14, 2012, he was announced as the replacement for Ruben Israel as the head of the national team. His final match as coach took place on Oct. 16, when El Salvador was eliminated in the Brazil 2014 qualifying matches.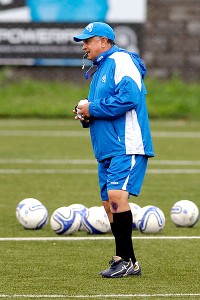 Jose Cabezas/Getty ImagesJuan de Dios Castillo couldn't qualify El Salvador for the Hexagonal.
In his first game at the helm of Selecta, Castillo called up Henriquez against Roma (a match played in New Jersey on July 27, 2012). But he later left him off the squad for two friendlies against Guatemala and Jamaica in August of last year. Henriquez was called up again for the World Cup qualifying matches against Costa Rica and Mexico in October.

During his time at the helm of El Salvador's national team, Juan de Dios Castillo worked alongside Ernesto Gochez as the head scout. Gochez continues to play this role for the team.

In his interview with ESPN, Castillo hinted at his concern about the role that the leaders of FESFUT have in working against match-fixing on the national team. These are his words:

Does this make you believe that the Federation is aware of the issue?
Ah, I think ... I'll explain to you what's happening. For example, they say to you: You can't take that guy. Whoa, I don't know what the situation is like here. If I take him, they can say that I'm behind this. Wait, I don't know anything. The problem is that then the games came along against Guyana and we realized that we were lacking quality players. And then I told them, well, defensively ... "Why don't you call Enriquez again?" [they tell me] Well, wasn't it that I can't? "No, well, if you're interested, then we'll see." Oh my gosh, and why was it no before and now it's yes? What does that make you think? There's something going on. You couldn't before and now suddenly you can.

Castillo and FESFUT are currently in a legal battle over payment for the termination of the coach's contract.